Rated for several years as best in class for "offering of investments," Ally Invest has competitive fees and low commissions and caters to both the new investor and the experienced trader. Ally offers two ways to invest – self-directed trading or via a managed portfolio.
Self-directed trading addresses the hands-on investor willing to trade stocks, ETFs, options, and more, in a low-commission trading environment.
But Ally also thought of the potential investors with little or no knowledge or that simply do not want to take the responsibility of investing their funds. Via managed portfolios, Ally Invest offers a portfolio for every type of individual investor. What's even more interesting is that the minimum amount to start with is just $100.
According to
On Ally Invest Secure Website
– Stocks / ETFs / Options
– Bonds / Mutual Funds / Forex
How's Ally Self Directed Work?
Ally Invest is part of Ally banking options, and offers two methods of investing: Self-directed trade or through a managed portfolio. 
Self-directed trade allows hands-on investors to trade stocks, options, and ETFs in a low-commission environment. However, Ally also considered those potential investors with limited knowledge or those who don't want the responsibility for investing their own funds.
Through its managed portfolios, every type of individual investor has an option with Ally. Additionally, the minimum amount is just $100. 
Ally Invest is a great option for those who are interested in margin trading. The company's margin account rates are among the lowest in the industry, and there is a range of products to trade.
However, the low commission structure also makes it competitive for any U.S. citizen looking for a broker. This makes Ally Invest a solid all rounder that caters to experienced traders and beginners. 
Like any other broker, there are pros & cons for investors/traders. Here are the main benefits and drawbacks you should know before applying:
Not many brokers offer managed portfolios to their customers, but Ally Invest does.
Moreover, it structured them in four categories, giving investors the possibility to choose the type that suits best and to customize it later.
Furthermore, investors can monitor the evolution of their portfolios while Ally Invest makes sure there's a 30% cash buffer present at all times. Not bad!
As a member of Security Invest Protection Corporation (SIPC), Ally Invest protects up to $500,000/client.
Ally Invest makes it easy for investors to open an account as it doesn't impose a minimum amount to fund it.
On top of that, it runs various promotions encouraging investors to start discovering the benefits of investing.
There's always a real person at the other end of your inquiry, regardless if it is during the week or not.
Ally's customer service deserves a special mentioning as the firm goes the extra mile to serve its clients.
Margin trading with Ally Invest benefits from one of the lowest rates in the industry.
When compared with the competition, Ally Invest is very well positioned – its margin account rates range from 4.25% to 8.75%. Competitors lag, with rates between 8.25%-10.25% at T.D. Ameritrade or 7.5%-10.5%
Ally Invest allows the transferring of individual stocks from most other online brokers into the Ally account.
Moreover, for transfers bigger than $2500, it reimburses the transfer fee ($150).
When trading currencies with Ally Invest, there's the possibility to start with a 50k virtual money deposit, so to get familiar with the trading platform and the broker's F.X. conditions (e.g., spreads, execution, etc.).
In general, demo trading is a plus for every broker because it lets the trader decide before dedicating some funds to the trading activity.
The dedicated F.X. platform makes it easier for Ally Invest to focus on the F.X. traders and improve the conditions on this market.
Separating the F.X. activity from the main one and offering the MetaTrader as a second-choice, shows how flexible the broker is and the focus on its F.X. trading arm.
Ally Invest only takes the business of U.S. customers.
In other words, you need a Social Security Number and a U.S. address to open a trading account with Ally Invest and to be a citizen or a permanent resident of the United States.
This is a major blowout for a brokerage house competing in an industry where other brokers accept international customers.
Bonds, for instance, or mutual funds, are not explicitly detailed for the customer to know features like the number of mutual funds, for instance.
This way, any comparison with other brokers' offerings is out of the question unless the trader decides to open and fund an account.
By adding markups on both buying and selling, on top of its commission on the fixed-income products, Ally Invest diverts commissioning in a non-transparent way.
All one can learn prior to the opening of a trading account is that the trading platform offers some features presented as screenshots.
However, better info would go a long way, detailing the platform's capabilities, if any – web-based, desktop (does it exist?), on-the-go.
In general, very little info about the trading platform's features and capabilities. 
Still on the fixed-income, there's little info on the pricing policy.
And, when Ally says something about the commissioning, it does it in a general manner, without going in too many details.
Ally Invest has little or no trading education for its customers.
The few articles that exist cover general topics, and it feels like it lags competitors at this chapter.
Ally Invest Trading Products
For a full understanding of what Ally Invest offers to the individual investor, we must look at each of the two categories closely.
Ally Invest offers more details on the self-directed trading opportunities available to the individual investor.
Self-Directed Trading:
| Product | Description |
| --- | --- |
| Stocks | Commission-free trading on all U.S. exchange-listed stocks |
| ETFs | Wide selection from Vanguard, GlobalX, IShares, and more |
| Options | Option-trading for just $0.5/contract |
| Bonds | Government and corporate bonds to diversify the portfolio |
| Mutual funds | Invest in various mutual funds worldwide |
| Forex | 50 F.X. currency pairs to trade the world's largest market |
| Margin account | Trade on margin by borrowing from the broker |
Managed Portfolios:
| Product | Description |
| --- | --- |
| Socially responsible | Invest in companies with environmental-friendly initiatives |
| Tax optimized | Maximize your investment when making after-tax contributions to an investment account |
| Core | Fixed-income, internationally diversified portfolio |
| Income | High dividend yields while maintaining a conservative risk profile |
Ally Invest does not charge a commission for trading stocks or ETFs.
When compared with competitors (e.g., Schwab, TD Ameritrade, E-Trade), Ally Invest applies a similar commission-free structure but then charges some extras depending on what is traded.
For instance, when trading stocks with a value of less than $2, a $1c/share fee applies.
ETF trading is commission-free as well with Ally Invest. Moreover, Ally offers a wide range of Exchange Trading Products (ETPs), from Exchange Traded Funds (ETFs) to Exchange Trading Notes (ETNs) and other non-traditional ETPs.
Options trading is commission-free as well, but Ally Invest charges a $50c/contract fee. Moreover, it charges an additional $35c/contract on specific option index contracts.
When trading mutual funds with Ally Invest, the level of commissions and fees depends on the type: load or no load. For load funds, both the selling and purchasing are cost-free but subject to changes from the mutual half. For no-load funds, $9.95 applies to both selling and purchasing.
The fixed income part contains bonds, CDs, and treasuries. For bonds and U.S. treasuries, Ally Invest charges a $1/bond commission, while trading CDs comes at the cost of $24.95/transaction.
What's important to know is that Ally Invest acts as a principle in fixed-income trading. It effectively means that it adds a markup on purchases and subtracts one on sales.
In other words, it gains a bit from the spread on both buying and selling, without calling this gain a commission or fee. In fact, clients end up paying for it.
The self-directed trading account gives access to the entire product range Ally Invest offers. The account holder can trade stocks or options, ETFs or mutual funds, fixed-income, and also use margin trading.
The managed portfolio accounts provide a good alternative for investors willing to diversify their holdings (e.g., having a regular trading account at Ally or other broker and opening a managed portfolio account to diversify the exposure).
Ally's four portfolio types offer enough flexibility to anyone interested in managed accounts, and it constantly keeps 30% as a cash buffer. Among other benefits, investing starts with as little as $100, traders can build their own portfolio and let Ally managers handle it, and there's 24/7 support, day or night.
An interesting feature is the F.X. account. While most brokers choose to offer F.X. products in the main trading account, Ally decided to separate it from the self-directed trading account.
It seems to be a good idea because F.X. traders rarely choose to trade other products, and keeping the F.X. business separate gives Ally the ability to better understand the needs of its customer groups.
This is a weak spot for Ally Invest as it doesn't offer too much info regarding its trading platforms.
For self-directed trading, the Ally platform offers an ETF screener, options chains, research & market data, probability calculator, a profit and loss graph, and gives traders the possibility to build a watchlist.
Also, we know a mobile version exists, so trading on-the-go is enabled. However, that's pretty much all the info about the trading platform, with many important questions remained unanswered (e.g.,web-based platform only?)
On the other hand, F.X. trading with Ally Invest has a dedicated trading platform offering access to fifty different currency pairs.
Web trading and mobile solutions also exist for the F.X. trading platform, not to mention that Ally gives its traders the possibility to download and use the MetaTrader platform too.
As a side note, MetaTrader is the most popular trading platform in the world among retail traders.
24/7 customer service says pretty much everything about the attention Ally Invest pays to its clients.
No matter the moment during the week, there's always a real person at the other end of the line, listening and offering solutions for whatever the problem an investor may have.
How to Open a Brokerage Account With Ally Invest ?
Step 1:
Visit the Ally Invest homepage and click "Get started."
Step 2:
Type in your name and email and click "Register."
Step 3: 
Now, you insert other basic info like birth date, marital status, personal phone, etc.
Step 4:
Supply details about your employment as well as your financial ability.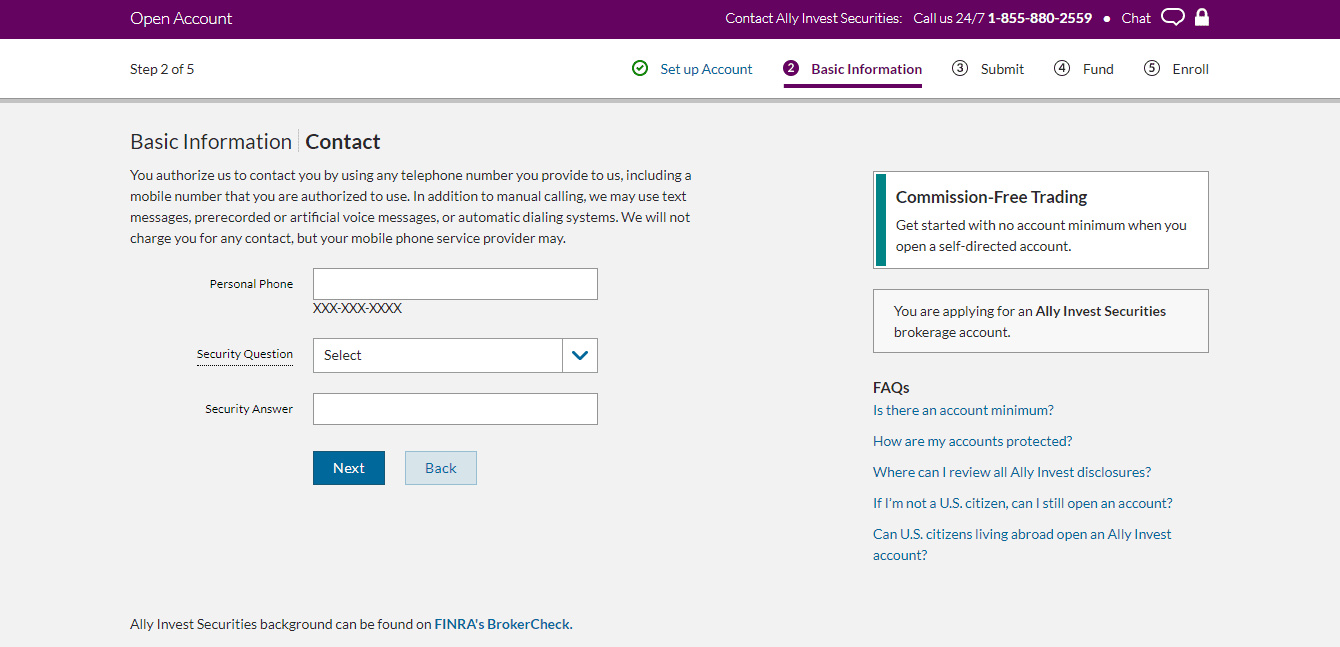 Step 5:  
Go through the investment objective and choose whichever appeals to you.
Step 6:
Finally, review your application properly,
Step 7: 
Click "Agree and Continue" to complete the whole process.
3 Great Alternative Brokers to Ally Invest
Here are our 3 choices of brokers which can use as a great alternative to Ally Invest: 
SoFi invest is NOT just another brokerage house into the niche of fractional shares investing. Instead, it is a non-bank extending its services into the investing world.
SoFi is a good broker for those that do not afford trading with a regular, traditional investing house. High transaction costs and other barriers to entry (e.g., high minimum initial deposit) keep many wannabe investors aside – investors that just cannot afford the services but are willing to take a chance.
For such investors, SoFi is the ideal choice. No commissions or fees for transactions, easy-to-understand products (crypto, stocks, ETFs), one account to trade them all from, a friendly app, and the ability to start investing with as little as $1.
On the other hand, it signals a lack of expertise. It only shows how easy it is to enter the brokerage industry should one has the funds to meet all the compliance required by the SEC. And SoFi does have the funds from the other businesses that generate more cash flow.
The house of Morgan has deep roots in the international financial system. You Invest by J.P. Morgan is just that – the low-cost arm of J.P. Morgan. While aiming for low-cost transactions and a limited investing offering, they feel safer knowing that the J.P. Morgan's expertise is behind You Invest. After all, the two entities share the same customer service and educational material.
You Invest is best for traders not affording a traditional brokerage account and will settle with similar features but at a lower cost. Yes, the product offering is limited. Not all markets are present, and one may lack the flexibility to diversify the portfolio the way it may wish to.
All in all, this is one of the best brokerage houses tackling the new generation of traders. Born out of the desire to compete with rising stars like Robinhood, You Invest comes with J.P. Morgan's expertise and knowledge in the brokerage industry.
Even among its own competitors, You Invest stands out. For instance, it has a strong social media presence and a simple pricing and product structure.
Fidelity Investments has millions of customers across the USA and overseas. The company has been around for fifty years and is considered one of the largest brokerage houses in the world. The majority of Fidelity operations are in the USA, and it operates various investor centers and regional offices across the country. 
Fidelity investment products range from annuities, mutual funds, and options through to sector investing and managed accounts, catering to advisors, institutions, employers, and individual investors. However, Fidelity also offers its investment services to international clients, but this is only in a limited number of countries, and it is via a separate, dedicated site. 
Although it is not the cheapest brokerage house, Fidelity does excel in many areas where other companies lack. So, if you are prepared to pay a premium for outstanding trading education and excellent customer service, Fidelity could be the broker for you. 
Ally Invest is a broker, among other things. It also offers bank services, auto, and home loans. For this reason, the investing arm is only secondary to the overall business and justifies the lack of attention to some important points.
Ally Invest is best for U.S. clients interested in margin trading. Ally Invest margin account rates are one of the lowest in the industry and have an extended range of products to trade from a margin account.
Also, Forex trading benefits from a separate platform and account and traders used to the MetaTrader platform find it convenient to open an account with Ally Invest.
On the other hand, the low commissioning structure and low rates on the margin account make it competitive for U.S. citizens looking for a broker.
If you add to this the managed portfolios feature, Ally Invest deserves to be considered as a brokerage house that caters to the U.S. trader and has a diversified offer for both the beginner and sophisticated investor.