Due to the rising inflation, the FED has to find ways to cool the market. 
One of the best tools it currently has is the interest rate – by the interest rate increase.  As of November 2023, the FED rate is 4.75% – 5.00% . In the following table, we can see the drastic increase during the last two years. 
Why Should You Care About a Fed Rate Increase?
Without a doubt, the fed funds rate, as financial experts commonly call it, is perhaps the most influential interest rate in the U.S. economy, if not in the world market.
It affects all monetary and financial conditions, directly or indirectly, and the effect ripples down on the broad economy.
This will sway growth, employment, inflation, and the investment climate. So, when interest rates go up, consumers and businesses will feel its effects, especially on access to credit, purchasing power, and financial planning.
Equally important is its pull on the level of nearly all other significant interest rates.
We're talking about bank deposit interests, loan interests on short-term and long-term credit, business and industrial loan rates, and consumer loan rates such as credit cards, auto loans, and mortgages.
Interestingly, the fed funds rate also stirs the value of the U.S. dollar, which in turn affects the value of other global currencies.
Here are ten things in your life that the fed funds rate will impact:
When the Federal Reserve raises interest rates, it becomes more expensive for banks to borrow money. As a result, they may pass on the higher costs to consumers by raising their mortgage rates.
This can make it more expensive for people to buy homes or refinance existing mortgages, leading to lower demand for housing. On the other hand, savers may benefit from higher deposit rates.
If you have an adjustable rate mortgage (ARM), your monthly mortgage payment could increase as a result of a Federal Reserve interest rate hike.
The interest rate on your ARM is tied to a benchmark rate, such as the prime rate, which is influenced by the Federal Funds Rate set by the Fed. If the Fed raises rates, your mortgage interest rate could go up, causing your monthly payment to increase.
If you have a fixed-rate mortgage, your monthly payment will remain the same, but it could become more expensive if you decide to refinance or take out a new mortgage in the future, as interest rates will likely be higher.
If you're looking to get a mortgage, a Federal Reserve interest rate hike can make it more expensive. As interest rates go up, mortgage rates generally follow, meaning the cost of borrowing money to buy a home will increase.
This can result in higher monthly mortgage payments, making it more difficult for some people to qualify for a loan. Additionally, higher mortgage rates may cause some potential buyers to delay purchasing a home, as they wait for rates to come down or for their financial situation to improve.
Overall, a Fed rate increase can make the home buying process more challenging and expensive.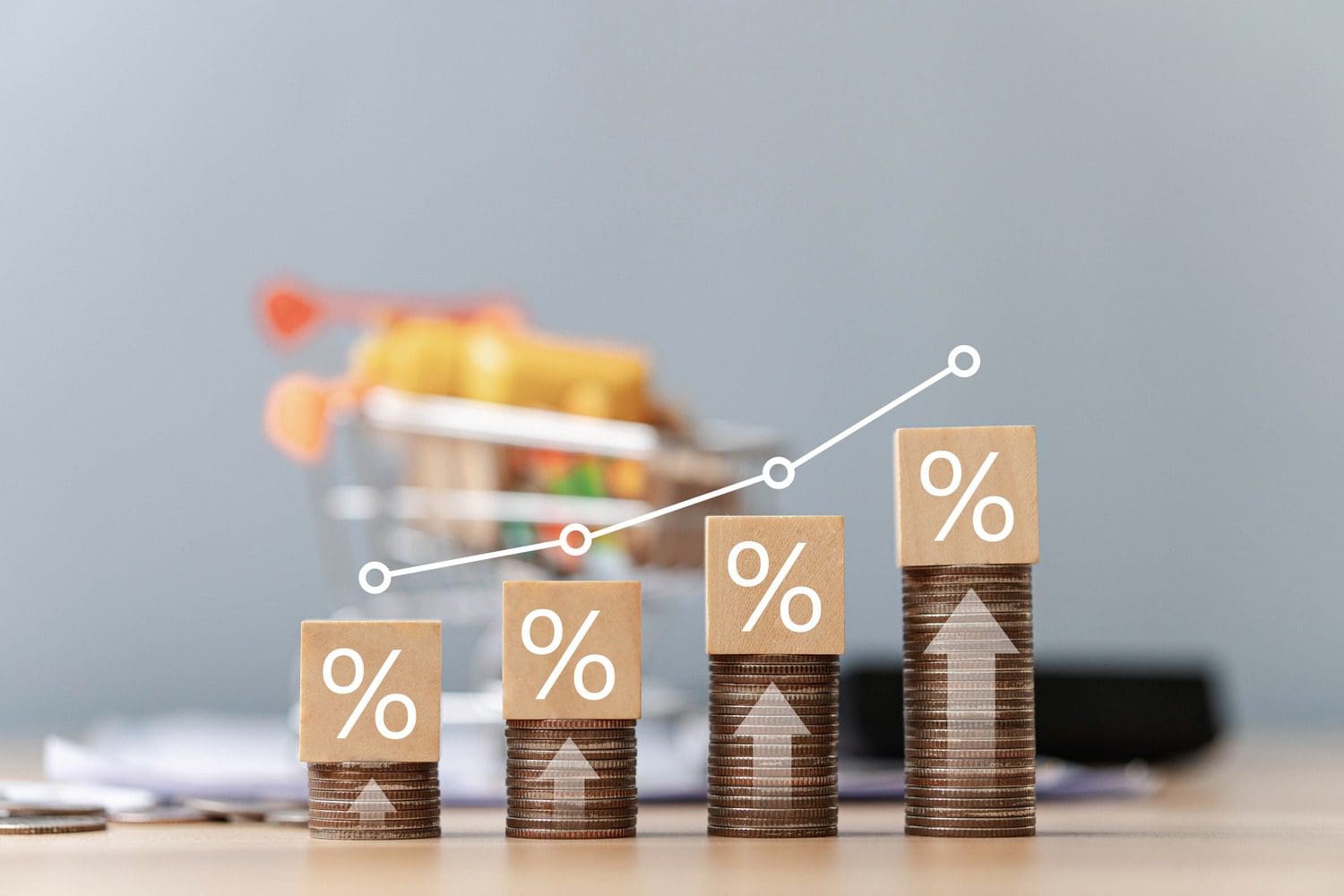 A rising fed fund usually benefits consumers with interest-bearing bank deposits. This is because as the rate increases, the interest rates for savings accounts, certificates of deposit, and money-market accounts follow suit.
However, it is the banks that set how much increase to effect. You can check with your bank to see how much more you'll be getting on your deposits or placements using the adjusted rates.
When the prime rate increases, it directly pushes the money market and credit deposit rates.
Theoretically, increasing deposit rates should move consumers and businesses to save more because they can get more interest income.
However, it could do the opposite since those with an outstanding credit card, home loan, or other debts would try to pay off their financial obligations to lessen the burden of increased credit rates.
How Much Interest Can I Get On Deposits?
The interest rate you can get on a certificate of deposit (CD) or savings account depends on several factors, including the type of account, the term length, and the financial institution offering the account.
In general, CDs offer higher interest rates than savings accounts, but require you to keep your money in the account for a set period of time (the term). If you withdraw funds from a CD before its term is up, you may be subject to penalties.
As of November 2023, savings account interest rates are typically higher compared to previous years, ranging from 3% to 4% or more, depending on the bank and the type of account. CD rates can range from 3% to 5% or more.
Both are influenced by the Federal Funds Rate set by the Federal Reserve. If the Fed raises interest rates, CD rates will likely go up, and vice versa.  Keep in mind that interest rates can vary widely, so it's important to compare rates from different financial institutions to find the best deal. 
Nearly every credit card has a variable rate, which lenders benchmark to the Fed rate.  As the Fed rate goes up, expect the cardholders to experience the crunch. Any time the Fed raises the benchmark rate, banks immediately follow by pushing their prime rates up and, since they use this to set many consumer rates, they all go up as well – including credit card rates.
So, it's good to check your bank and see if they are raising their prime rate because they might be charging more for credit card balances.
Don't forget that credit card issuers compound the interest so that magnifies the effect and you tend to pay more in the long run.  This means that you begin to pay interest on your actual fund usage plus interest on the interest that you owe.
How can you get out of it?  The best solution is to pay off your total credit card balance.  If you don't have the money for that, shop around for a card with a lower rate. You can also consider a balance transfer promo offer and insulate yourself from additional rate hikes.
But watch out for the fees and terms.  Those credit card companies don't give away things for free – there might be some charges and fees that they've hidden somewhere in the fine print.
According to the  G.19 consumer credit report from the Federal Reserve, the average interest rate on credit card account is the highest in the last 15 years:
4. Stock Prices (Businesses Profitability)
When interest rates climb, stock prices descend partly because the higher cost of loans tends to eat into corporate profits, and investors have less money to use for investment.
Higher interest rates might hinder business growth in general, and slow growth means lower profitability, which in turn, causes stock prices to fall.  Only banks and other lending institutions benefit from interest rate hikes by increasing their profitability.
The more the Feds raise their rates, the more likely the banks gain profits.  Banks raise their lending rates much faster than their deposit rates, widening the spread between the two and generating more income.
They source funds at a very low rate (thru deposits) and lend them out at a much higher rate (thru consumer and commercial loans) – this is a basic banking concept.
You may have heard that the rates for personal loans are already clambering up in anticipation of the Fed rate's impending hike.
The good thing is that personal loans are short to medium term loans, so there's ample time for borrowers to do some remedial measures.
Obviously, when banks borrow more expensive money to fund for personal loans, the new rates they will pass on to the borrowers will carry the hike as well.
Existing loans with fixed rates will not experience any changes in the amount of monthly payment for the rest of the term.  New loans that lenders approved after the rate increase will surely be more expensive than before.
The most unique thing about the Federal funds rate is that it is an overnight interest rate, so it is extremely short-term in nature.
That being so, when the Federal Reserve moves to hike interest rates, the decision materially shakes short-term loans such as car loans because they normally carry a term of only 48 to 72 months.
All institutional lenders, whether it is a bank, credit union, or financing company, will depend on the prime rate to price their auto loans.  And, as we've mentioned earlier, this rate keeps in step with the movement of the federal funds rate.
In the United States, student loan debt stands at around $1.48 trillion spread out to more than 44 million borrowers.
If you've borrowed a student loan from federal funds, the good news is, the Fed rate hike will not affect the fixed rate of your loan.
But, if you take out a new fixed-rate federal student loan or the loan that you took charges variable rates, there is a high chance that you will be paying much more.
The higher rates may take effect soon because the government resets the rate it charges on new federal loans, fixed-rate and variable, every July.
If you took a private student loan with a variable rate, prepare yourself for an interest rate hike.
In times of accelerating rates, you can avoid paying more by refinancing your loan, so you can lock in on a more affordable fixed rate.
8. Home Equity Line of Credit (HELOC)
If you have a mortgage, you can apply for a Home Equity Line Of Credit (HELOC) if you have increased your equity by paying off a substantial portion of your loan or if your property has increased in value.
You can then draw from the line of credit to get funds to renovate or upgrade your home.
But take note that HELOC rates behave the same way as auto loans:  they closely follow the movement of the prime rate, which follows the movement of the federal funds rate.
If the Federal Reserve steps up the target rate, then you can be sure that HELOC will follow.  This is why you should monitor what the Fed announces with its federal fund's target rate.
If you have a variable HELOC, you can well end up paying higher monthly payments in the coming months should the Fed funds' target rate keep going up.
It is a common misconception that the U.S. Federal Reserve dictates all interest rates in the market.  The truth is, the Fed only controls one rate, and that is the federal fund rate.  This is the rate that depository institutions charge other banks for overnight loans.
However, that rate causes all other rates, both borrowing and lending, to sway accordingly directly or indirectly across the economy – from credit cards to mortgages, all the way to the federal debt.
The Fed will strategically raise the fed funds rate to control the pace of economic activity so that inflation does not go insanely wild.