In the U.S., if you have a checking account, you can write a check out of that account. Generally, you can only write a check-up to the amount of money you have on your account. But if you took overdraft protection from your bank, you may be able to write a check for an amount beyond your current account balance.
Fill Out A Check In 5 Steps
Regardless of the amount, there is only one way to write a check. You can either write a check addressed to a recipient or yourself.
Also, the payment amount must be entered in words and numbers to avoid any discrepancy. Here's how to make it:
1. Date Of Payment
Technically, this tells you when the account holder wrote the check, which is normally the case. But some people write post-dated checks by writing a future date on the line.
When examining a check, this check doesn't necessarily tell you when you can already deposit it.
2. Pay To
Also, on the left side of the check below the account holder's address, you will see the "Pay-To" field. It tells you the name of the person that the check is for or who the account holder is paying.
This can be a business or company name or the name of a person. You can also write "Cash" in this field if your purpose for writing the check is to withdraw money from your account.
3. Add The Amount (Number & Written)
This field should hold the amount that the account holder wishes to pay.
For instance, if he wants to pay fifty dollars to someone, he should write "$50.00" in this field. To make the check easier to read, the issuer should indicate the amount using numbers (instead of words, which has a special field in #5).
This states the written amount of the check but this time, in words. So, for a $150 check, the issuer should write "One Hundred and Fifty" and the common practice is to put a line after the last word to prevent anybody from adding anything to the amount.
Technically, the amount written in words is the official amount of the check.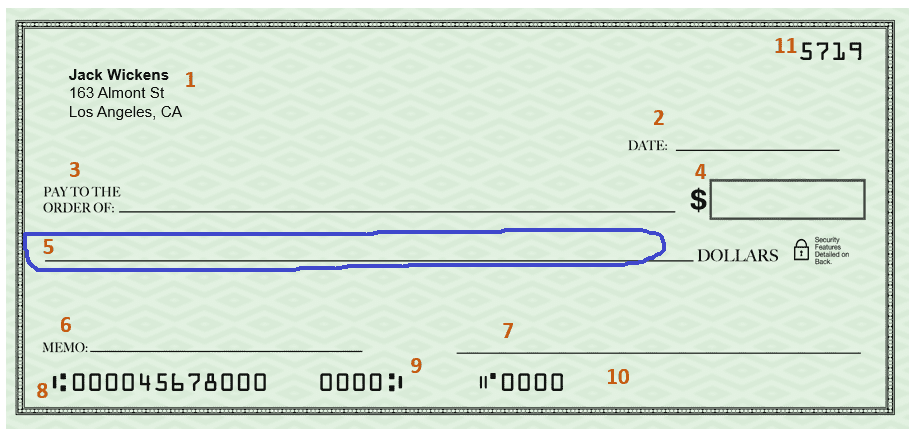 4. Memo Line (Optional)
Underneath the bank's name and address are the "Memo" section where the account holder can write a short note to remind him why he issued the check.
For example, if you're writing a check for this month's country club membership dues, you can write "Club membership dues for June" in this portion.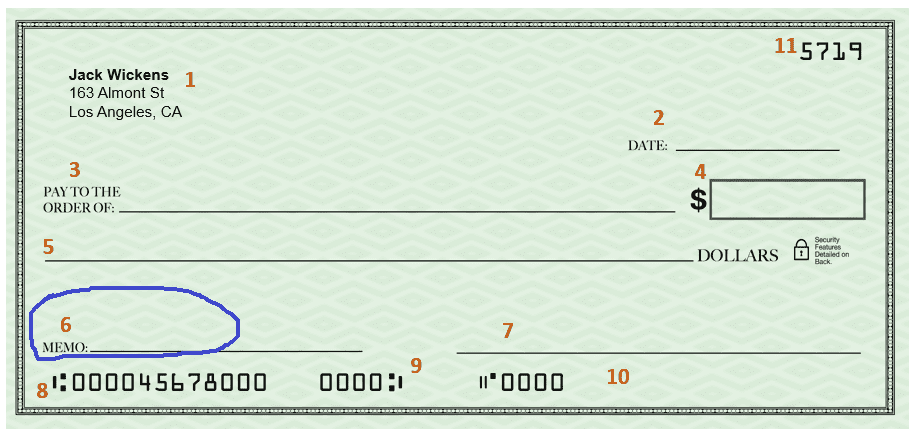 5. Sign Over
This space is where the account holder places his official signature to authorize the check. If there is no signature on the check, the recipient could have a problem cashing or depositing the check and might have to pay his bank additional fees if the check bounces.
In such a case, the payee should contact the one who issued the check.
What Should I Do if I Make a Mistake?
If you make a mistake while writing a check, there are a couple of things you can do to correct this mistake. You can cross out where the mistake was made then append your signature or initials above the alteration. signature implies that the mistake was made by you and not someone else.
Alternatively, you can void the check and write a new one if the mistake is not fixable.
Should I Sign The Back Of The Check?
When writing a check, your signature on the signature line on the front of the check is enough – it should be the only place where your signature should appear. You may use the back portion to write a few instructions to the bank or to the payee of the check.
If someone pays you with a check, you should sign the back to deposit or cash the check. Together with your signature, you can include notations that restrict how the payee can use the check.
Can I Write a Check for "Cash"?
You can write a check for cash, when doing so, you do not need to input the recipient's name. All you need to do is write a check that says "Pay to the Order Of: Cash." However, be careful not to lose the check as this means it can be cashed at on ATM or banks by anyone.
Writing a check for cash can attract some charges if you are drawing funds from an account domiciled with another bank. If the check is drawing funds from the same bank, then no charges would be placed on the transaction.
Can You Write a Check Online?
It is very possible to write a check. Several platforms such as online Checkwriter  allow customers to fill out checks online. It is also very possible to email a digital version of your check to a recipient through apps such as Checkbook. This service allows customers to sidestep traditional charges such as routing fees, plus they are cheaper to issue.
It is important that you have proper security measures in place for your checks. Ensure that your check is kept in a secure and safe place to protect it from theft or damage. Checks which are made to "Pay to the Order Of: Cash" should be treated with utmost care because they can be cashed by anybody.
Also ensure that when you make cancellations, they are duly signed. Also, set in place, transaction confirmation procedures with your bank to prevent any unauthorized withdrawal. Most preferably, use black ink when filling out checks.
Can You Write a Check For Small Expenses?
There's nothing wrong if you write a check for the small expenses, like those amounting to just $2.50. Most Americans don't always bring a lot of cash with them. They make most of their payments through credit card or check.
Nevertheless, we recommend that you carry some cash (about $20) all the time for emergencies. If you are in the habit of writing checks all the time, you must have your checkbook with you each time.
Issuing a bouncing check (a check that the bank dishonors because of insufficient funds) is an offense in the USA. The payee (person or merchant) may charge you around $30 to $35, while you may also have to pay your bank another $25 to $70 in charges.
If it involves a material amount, the recipient of the check may file for claims, bring you to court, and you might end up going to jail aside from paying for damages.
Check The Alternatives
Paying your bills by check is fine but you need to make sure that you are up to it. Preparing each check is cumbersome, and it's not the most efficient way to move funds. There are other more convenient options available for you – and they are even cheaper. Here are some of them:
Pay your bills online or arrange for your bank to automatically send a check each month. You'll spare yourself from writing the check, paying for postage, or getting the check in the mail.
Get a debit card and use it to pay bills. You'll still be using the same account, but you can transact electronically. You can give up your checkbook (which you need to re-order from time to time), and still have an electronic record of your transactions if you want to check who you paid, when, and how much.
Sign up for automatic payments for regular bills like utilities and insurance premiums. This service is usually free of charge and it makes your life easy. The only catch is that you should always have enough cash in your account to cover the bills you will be paying.
In each of the options, you should always make sure that you have sufficient funds available in your checking account. In case you fail to leave enough balance on your account, your payments may "bounce" and it will create problems such as additional fees and potential disputes from your merchants. In any case, if you feel your fees are higher than what it should be, you can always replace your account and lower your fees.