If you have good credit, you can dramatically improve your situation in life. After all, you'll have an easier time applying for a mortgage or car loan, and you'll be able to get the best terms.
Not only that, but you could end up paying even less in insurance, and you may be able to get benefits from your utilities and more.
In this chart using Experian data, you can see the average FICO score has increased significantly over the last decade.
On the other hand, if you've made some mistakes over time, you may find yourself struggling with some problems with your credit. And you'll have a more challenging time getting rid of those while you're at it.
What Does Rebuilding Credit Mean?
Rebuilding your credit means making radical changes to your lifestyle. This means adjusting your spending (often cutting back) and learning the ins and outs of credit agency requirements. In doing so, you will clearly understand what they require of you to rebuild your credit.
You'll need to assess your expenses carefully, create a budget, and reduce debt while striving to improve your credit score.
1. Make Sure You Can Pay Off Your Cards
Many people think that when they get a good job, they'll be able to pay off their credit cards. But what happens is that you end up with a lot of debt and many problems with your credit score. Think about this, approximately 30% of your credit score comes from the amount of debt that you have. So if you have a lot of debt and a large balance, you're already dropping that portion of your credit score.
The most important thing is to make sure that whatever you charge each month, you will be able to pay off.
To do that, you'll need to know how much you're spending, and you'll need to put some limits on that spending. For some, this means leaving their credit cards behind when traveling or shopping.
Your credit score can influence not only your credit card rate, but also your available credit limit. This chart using Experian data shows the average credit card debt by credit score. It shows that those with an average to good credit score have the highest amount of credit card debt.
2. Use Automatic Payments
It's always a good idea to use automatic payments because this will keep you from falling into the trap of late payments.
You want to ensure that everything you have to pay will automatically take care of for you. If your bills come out automatically, it's one less thing that you have to worry about. And it means you'll never have to pay a late charge either.
What's great is that you will have no worries about mailing or anything like that, either. After all, the company can charge you a late fee if your payment arrives late, even if you mailed it on time, with automatic payments that will never be a problem.
You can set up balance alerts that will send you a text message any time that you spend a large amount.
These alerts will let you know what's going on with your credit card and will allow you to stay aware of what you're spending, so your bills are never a surprise.
You even get to set your own limits if you want to, so make sure you set those limits to notify you as soon as you've spent 30% of your credit limit (or maybe even less).
4. Think Twice Before Cancel Your Cards
Unless you're paying a fee, your best bet is to keep your credit cards open and with a $0 balance. You can start using a different card, but keeping the old one open means lowering your debt-to-credit ratio. It also means you'll improve another area of your credit report.
You have a portion of your credit score from the 'age of credit.' This means you get a better score based on having had a credit card for longer. If you close out a credit card, you're going to affect this ratio, and you're going to lower your score.
Plus, there's the utilization rate that we mentioned. If you have less available credit and the same amount of credit that you're using, then you will be decreasing your score, which is something you don't want.
The only reason to close an old account is if it's charging you a fee or if you will be tempted to use that account. Otherwise, leave it open with a $0 balance and let it help you.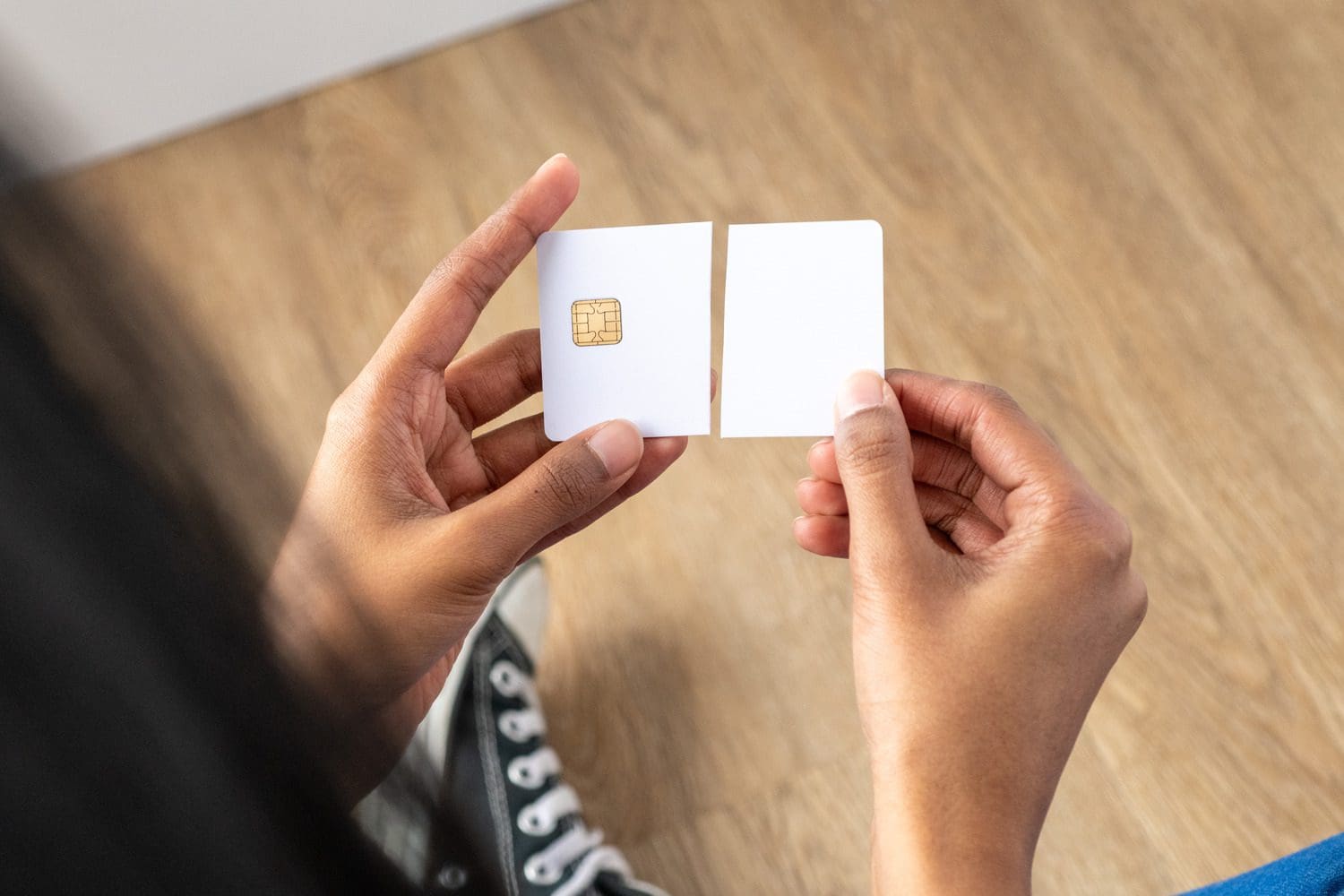 You don't want to open new credit cards all the time because they're only going to hurt you in the long run. Most stores will offer you discounts if you sign up for their card, but that makes it really hard for you to stay credit savvy. You end up with a lot of debt and you might not be able to keep track of all the due dates. That's going to make it harder for you to be smart.
If you're just starting out with credit it's a good idea to only have one to two cards at the most.
This keeps you informed about what you're doing and makes it super simple for you to pay attention to your spending and your payments. You definitely don't want to make things too hard on yoursel
6. Keep Your Credit Utilization Low
You never want to max out the amount of credit that you have available. The more money you spend on your credit cards the worse it's going to look on your credit score, so that's something to pay attention to.
If you've spent 40% or more of your available line of credit overall you definitely want to make some changes because that's going to cause a whole lot of interest and it's going to be difficult to get new credit if you need it.
There are a lot of different fees out there with credit cards, and you want to ensure you're not getting sucked into them.
Research suggests that as much as $163 billion of fees were charged in 2016 alone, which you do not want to be a part of. So, make sure you're watching out for different types of fees.
When choosing a credit card, one of the things you need to consider is the free structure. In this chart compiled with creditcards.com data, we can see that late payment fees are the most common type of fee. This is followed by cash advance fees. At the other end of the scale, we can now see that over limit fees and annual fees are far less common. This highlights the importance of making payments on time, which can not only save on fees but help you to establish a solid credit history.
If you have a card with an annual fee, you could be paying as much as $25 to $500 a year just for the privilege of using that card. Instead, look for cards that don't charge an annual fee or find a way to get the fee waived or even reduced. 
You'll need to make sure you're paying your credit card bill on time to avoid any other fees that can creep up on you.
8. Use a Secured Credit Card
One of the best ways to go is a secured card for those who don't have credit but want to start building it up.
These will help you prove yourself and build up your credit so that you can get the type of credit you're looking for in the future.
There are many secured cards out there, and some of them even don't charge an annual fee.
9. Don't Take a Cash Advance
A cash advance means you're taking money from your available credit card balance to use as cash. That's definitely not something you want to use because it charges you a whole lot of interest.
You'll start paying a high rate immediately after you take that money out of the account.
10. Maximize the Grace Period
Most credit card charges are going to come with a type of grace period. That grace period happens when your statement has closed but your next payment isn't quite due yet. Overall, it could be as much as 25 days. If you pay your statement balance before the date that your payment is due you don't pay interest, but you could actually maximize this even further.
If you make a large purchase at the very beginning of the statement period you're actually going to have a total of 50+ days to pay it, instead of the usual month. That's going to give you almost 2 months of that free money, so don't forget to ask your card company about this before apply.
Of course, you'll need to keep track of when the statement period is actually over and when you can make the purchases to take advantage of this larger period without having to pay for that purchase you really need to make.
Most banks offer some type of spending tool that will let you look at where you're spending the most money. You can even look at different categories and you can check them out month-by-month or over a set period of time. That way, you can see where you're spending is getting a little out of hand.
If you check out the online system for your bank you're probably going to find these tools. Then, make sure that you're keeping an eye on how your spending goes and where you may need to make some changes
12. Keep an Eye on Your Credit Report
You get a credit report from three different agencies: TransUnion, Experian, and Equifax. From them, potential lenders will get information about you, and they will decide whether or not to give you the credit you're looking for and at what interest rate. Your credit history will tell them how much of a risk you are.
Now, your report will include a lot of information, including your types of credit, whether you consistently pay on time, how many credit inquiries you've had, and more. So, if your report is accurate, it will display the type of risk you are at. If it's inaccurate, however, it could be a problem because you could get denied for credit without it being your fault.
You want to make sure that you're consistently checking your credit report to make sure that you don't have any errors showing up.
You can do this by checking out AnnualCreditReport.com, which will help you find it out of each of your credit reports once a year. If you want to maximize this opportunity, get only one credit report every four months, then receive an information from the next bureau the next time.
13. Only Apply for the Credit You Need
It can be tempting to open many credit accounts to increase your credit score, but that can backfire on you quite a bit. If you apply for credit, you get a hard inquiry, which shows up on your credit report. Too many of these make it look like you're trying to get too much credit, and you don't have the funds to support your spending. That doesn't look good on your credit report.
This affects 10% of your overall credit score, so you want to make sure that you're avoiding this problem. You want to get credit when applying for it and want lenders to think you're a reasonable risk.
14. Avoid Late Payments
Paying your bills on time will also be a huge portion of your credit report. That's why it's essential to watch your due dates and ensure that your bills arrive at the company by that date, not leaving your house by that date.
If you pay late, you could end up with penalties, higher interest, and bad marks on your credit report.
Setting reminders for yourself for when to make payments is a good idea. Also, you can set up automatic bill pay to ensure that your bank or other financial institution makes the payments for you. That way, you don't have to worry about being late on your payments again.
15. Use Credit Cards to Build Your Score
If you use your credit correctly, you can make a big difference in your life. You can increase your credit score and get some great credit options as a result. You'll be able to get the types of credit that you want when you want them. Make sure you're paying off those credit cards each month, so you don't have to worry about the interest charges and choose the right card for your needs.
For those who don't have a credit score, it's a good idea to look for a way to get one. A student card can be opened by college students and co-signed by your parent or guardian. For those who aren't in school, a secured card could be the way to go. These will allow you to put the money you're going to spend into a secure account, and then you can spend with the credit card. 
You get to use a credit card to build up your score, and the financial institution can ensure that they will get paid the money because it's already in your account and waiting. From there, you'll be able to get a standard credit card in no time. 
Top Offers From Our Partners
Reports to 3 Main Bureaus
Reports to 3 Main Bureaus
Advertiser Disclosure
The product offers that appear on this site are from companies from which this website receives compensation. 
Build or Rebuilding Credit - FAQs