How Does The Delta Sky Club Work?
If you regularly fly Delta and enjoy an enhanced travel experience, you may have considered the Delta Sky Club. This is Delta's airport lounge network and it allows you a place to relax, rest or even work before your flight.
There are approximately 50 Sky Club lounges across the U.S and 200 plus around the world, including partner lounges. Inside each of the lounges, you'll have access to seasonally inspired food, drinks, comfortable seating, WiFi and flight assistance.
However, the recent changes to Delta policy has made it a little more complicated to access Sky Club lounges. You can't simply present an economy ticket and your Sky Club membership and expect access. Delta has tightened the rules for accessing Sky Club facilities, which we'll explore in more detail now.
How To Get Into The Delta Sky Club
Unlike many airport lounge networks, you cannot simply purchase a day pass to access the Delta Sky Club. However, there are a number of ways that you can enjoy these facilities. These include:
The most obvious way to access the Sky Club is to purchase an annual membership. Standard membership currently costs $695 and it allows you to enter the Sky Club when you fly Delta, even if you're not joined the Delta SkyMiles Program.
You can also bring up to two guests with you, but there is an additional charge of $50 per guest, per visit. If you regularly have travel companions, you could upgrade to an executive membership. This currently costs $1,495 for an annual membership, but it allows you to bring up to two guests with you every time that you visit with no additional charge.
If you prefer, you can pay for the cost of your annual membership using your accumulated SkyMiles. The current cost is 69,500 miles for the standard membership and 149,500 miles for executive membership.
If you're flying first class on Delta or one of its partner airlines , you can access the Sky Club location at your departure airport. All premium cabin passengers on SkyTeam alliance airlines can enjoy access to the SkyTeam network of 750 plus airport lounges around the world.
This is a nice feature, considering it is also available if you've paid for your ticket using your accumulated miles.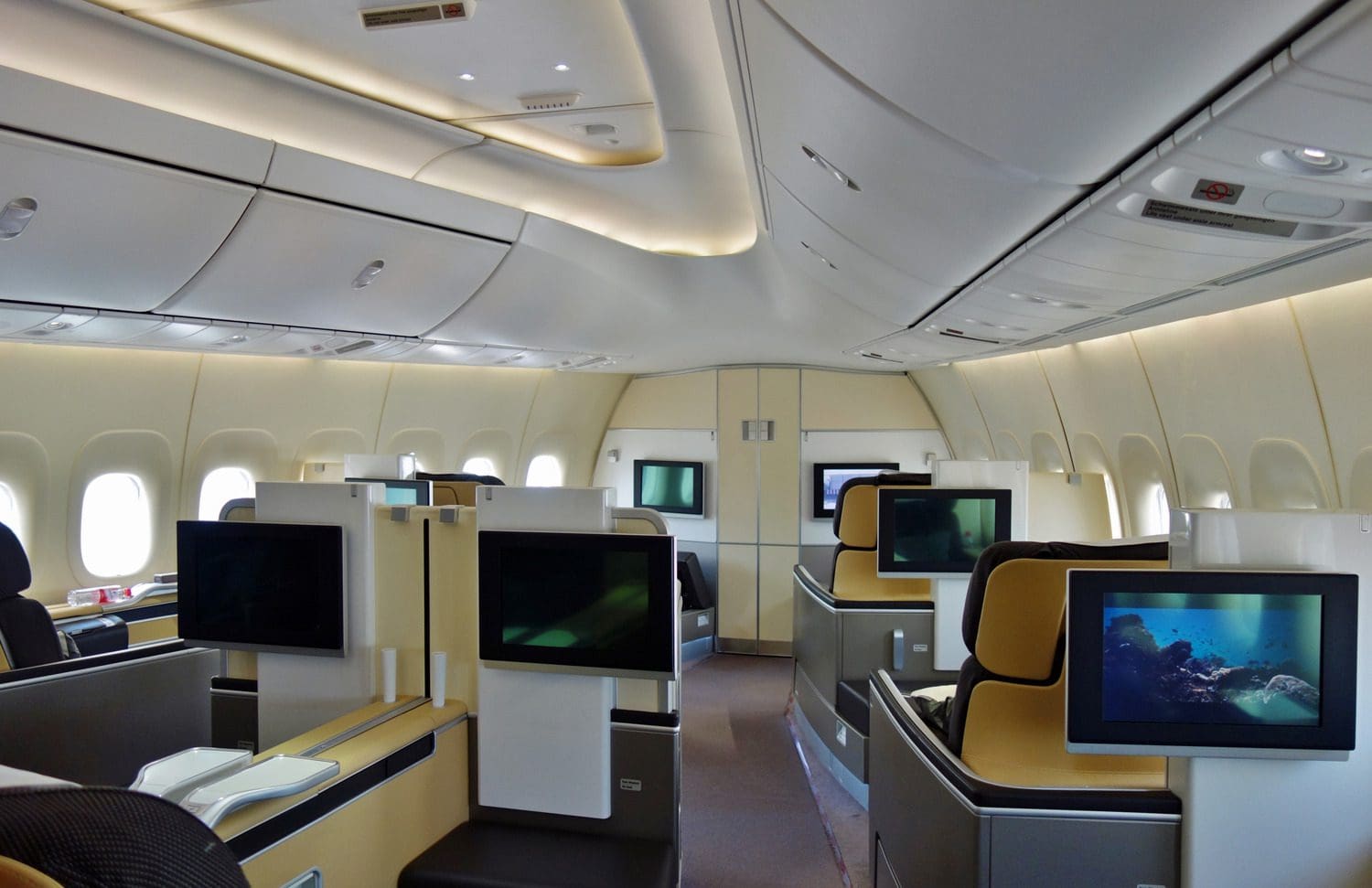 If you're an elite member of the Delta SkyMiles loyalty program and flying internationally, you can enjoy lounge access. This is available for Gold, Platinum or Diamond elite status members, but Delta has recently changed the policy, so that Elite members will not get access if they are traveling on Delta Comfort+ or main cabin unless they have other qualifying credentials.
With this entry method, you and a guest will be able to enter the lounge on an international travel itinerary. Diamond Medallion members can also select a guest pass, individual membership or executive membership as one of their Choice benefits.
Additionally, since Delta is part of SkyTeam, having Delta SkyMiles elite status will also provide you with benefits on other airlines. For example, if you have Gold Delta SkyMiles status, this will equal SkyTeam Elite Plus status. This level also offers lounge access when you're flying internationally.
So, even if your journey begins with a domestic Delta flight, provided you are connecting to a SkyTeam same day international flight, you'll be able to enjoy the lounge facilities before you depart. However, you will not be able to access the lounges when you land.
You can also gain access to Sky Club lounges if you are carrying certain credit cards. There are several co-branded credit cards that offer free or discounted access to Sky Club as a perk.
Delta SkyMiles® Reserve American Express Card

1X – 3X

3X miles per dollar on eligible Delta flights and Delta Vacations® with 1X miles on all other purchases

Delta SkyMiles Platinum American Express Card

1X – 3X

3X Miles on Delta purchases and purchases made directly with hotels, 2X Miles at restaurants worldwide including takeout and delivery in the U.S., and at U.S. supermarkets and 1X Miles on all other eligible purchases

1X – 5X

5X points on up to $500,000 spent on directly-booked airfare and flights and prepaid hotels booked through American Express Travel (per calendar year), 2X points on prepaid car rentals through American Express Travel and 1X points on all other purchases

The Centurion American Express Card
1. Delta SkyMiles Reserve/Reserve Business
If you have a Delta SkyMiles Reserve Amex or Delta SkyMiles Reserve Business Amex, you can access Delta Sky Clubs when you travel on Delta operated or marketed flights. If you're flying with a SkyTeam partner airline, you can access the lounge with a $50 fee.
Both of these cards have a hefty annual fee, but it is far less than the annual cost of membership. There are also some additional benefits and perks including companion passes, upgrade priority, free checked bags, reimbursement for Global Entry or TSA Precheck and a variety of travel insurance coverages. This makes it easier to offset the cost of the annual fee and enjoy lounge access.
2. Delta SkyMiles Platinum/Platinum Business
If you fly less frequently, the Delta SkyMiles Platinum Amex or Platinum Business Amex may be a better option for you. These cards provide access to Delta Sky Club lounges, but there is a charge of $50 per person, per visit.
However, the card itself has a far lower annual fee compared to the Reserve. There are also some great perks including reimbursement for Global Entry or TSA PreCheck application fees, free first checked bags, some travel insurance coverage and a Delta domestic annual companion certificate.
3. The Platinum Card from American Express
You don't necessarily need a co-branded Delta credit card to enjoy Sky Club access. The Platinum Card from American Express or the Business Platinum Card both offer cardholders or authorized users access to Sky Club when traveling on Delta operated or marketed flights.
The card does have a hefty annual fee, and the Sky Club access is similar to with the Reserve Amex. You can also access Centurion Lounges and those in the Priority Pass Network. However, the benefits package for this card does match its premium annual fee. The list of perks include hotel statement credit, airline statement credit, reimbursement for CLEAR and Global Entry or TSA PreCheck, and elite status with a number of partner loyalty programs including Hilton Honors, Marriott Bonvoy and Hertz Gold Plus.
The main drawback with this method of Sky Club access is that there are no guarantees that you will be able to bring a guest, even by paying a fee. However, there are some lounges where it is permitted.
4. The Centurion American Express Card
This is the white whale of credit cards as American Express only issues this card by invitation only. This means that it is not available to the typical traveler. However, if you are fortunate enough to carry a Centurion Amex, you will be able to enjoy Sky Club lounge benefits.
As you would expect with an airport lounge, access provides a number of benefits. These include:
A High End Experience: As you would expect in a lounge, there are comfortable seats and quiet areas in the Delta Sky Club lounges, but this network goes above and beyond. The overall decor is stylish and it creates an ambiance of being in a high quality hotel or a five star resort.
Great Food: Sky Clubs offer an excellent variety of complementary snacks, meals and other food. In fact, there is so much choice, if you time it right, that you are less likely to order off the menu. This means that you can fill up before your flight without needing to pay a dime.
Complimentary Drinks: When you visit the bar at any of the Delta Sky Club locations, you'll be amazed at the selection of free drinks on offer. Whether you need a stiff drink to get you through your flying nerves or you simply want to refresh yourself with a juice or soda, you'll have plenty of choice.
Flight Assistance: If you have any queries or ticketing issues, you won't need to waste time at the main helpdesk in the terminal. You'll find Delta employees at the lounge front desk who are able to assist you. The Delta team is ready and willing to help you to get any issues resolved without needing to leave the comfort of the lounge.
Connectivity: Finally, all Sky Club lounges offer great connectivity. There is complementary WiFi, plenty of outlets, and access to newspapers and magazines.
Can I Get a Free Delta Sky Club Membership?
As we have discussed earlier, there are a couple of ways to get a "free" Delta Sky Club membership. The most obvious method is to hold a credit card which offers Sky Club membership as a perk.
There are several card options which provide a membership at no additional cost; the Delta SkyMiles Reserve Amex and the Platinum Card, both personal and business cards of this name provide this benefit. You will need to pay an annual fee for these cards, but it is equal to or less than the cost of a standard membership, plus you'll get extra credit card perks.
The other way to get a free membership without needing to pay any cash is to use your accumulated Delta SkyMiles. You can purchase a membership using your SkyMiles at a rate of 1 cent per mile. This makes the standard membership cost 69,500 SkyMiles, while the executive membership costs 149,500 SkyMiles.
Where Are The Main Delta Sky Club Locations?
There are over 50 Sky Club locations throughout the U.S, but some of the best examples of what Sky Club has to offer are:
This is the flagship Delta Sky Club and it is in the Delta home airport.
It is a large space at over 25,000 square feet and it is decorated with modern furnishings, a gallery highlighting local artists and a wine wall that is curated by the Master Sommelier, Andrea Robinson.
The lounge has some superb views onto the tarmac, where you can sit and enjoy some delicious, locally inspired food.
The Delta Sky Club at Denver International Airport is one of the smaller Delta Sky Clubs, with a total area of approximately 4,600 square feet.
Despite its size, the lounge still offers a range of amenities and comfortable seating options for travelers including complimentary Wi-Fi, power outlets at every seat, a selection of snacks and beverages, and a full-service bar.
The lounge also features comfortable seating areas, a business center, and a conference room.
This Sky Club was opened in 2020 and while it is smaller than some at 9,000 square feet, it does feature a fantastic Sky Deck. This is an outdoor patio where you can relax year round.
The Sky Club features artwork from artists who have a connection to Texas and you can enjoy seasonal snacks and drinks.
This is one of the newest Sky Club locations, as it was only opened in November 2022. This is located in Terminal 5 and has 22,000 square feet of space providing capacity for up to 400 passengers. The layout feels spacious and has some lovely modern finishes.
Since there have been complaints about Sky Clubs getting busy and feeling a little overcrowded, this new design layout feels that it could accommodate higher traffic without leaving you feeling crowded.
This is the largest Sky Club in the network and it immediately outshone the previous members favorite in the Terminal 2 mezzanine level.
This lounge is over 30,000 square feet and it includes a Sky Deck, two buffet areas, eight showers and plenty of comfortable seating.
This Sky Club opened in late 2019 and it has some beautiful design touches that were inspired by the New Orleans culture.
There is a variety of seating options that don't compromise the spacious feel of the lounge, a full service bar and some delicious regionally inspired cuisine.
This is the JFK flagship Sky Club and while it is a 10 minute walk from the security checkpoint, it is worth taking the time.
It has its own Sky Deck, plenty of seating with some terrific views, showers, a full service bar and a variety of hot and cold food options.
This Sky Club is considered to be one of the best locations in the Delta network. This is mainly due to its size as it spans two levels and has floor to ceiling windows.
There is a full bar, showers and lots of food and drink options. The sheer size of this lounge provides plenty of room for you to spread out before you fly.