What Is The Delta SkyMiles Program?
Delta SkyMiles is the Delta Airlines loyalty program and it is a popular option for Delta frequent flyers.
Delta serves up to 200 million passengers each year, flying to almost 300 destinations in more than 50 countries. And, as a SkyMiles member, you can accumulate miles according to the amounts you pay for Delta, Delta Shuttle or Delta Connection flights. You can also earn miles when you fly with Delta partner airlines. You can then redeem your accumulated miles for free air travel or other rewards in the SkyMiles Marketplace.
Earning SkyMiles is quite simple as you can also earn miles using a Delta co-branded credit card. Delta has also made a number of customer friendly changes including for earning and keeping your elite status, such as adding an ability to work towards elite status on award tickets.
Each time you fly, you will also earn MQMs or Medallion Qualification Miles, MQSs or Medallion Qualification Segments and MQDs or Medallion Qualification Dollars. These help you to gain access to perks through the Medallion elite membership program.
What Rewards Can You Get With Delta SkyMiles?
There are a number of rewards that you can get with Delta SkyMiles. These include:
One of the easiest ways to redeem your Skymiles is by booking flights. Delta has award flights from only 4,500 miles, so you don't need to accumulate hundreds of thousands of miles to be able to fly for free. To book an award flight you simply need to use the Delta.com search tool to find award flights.
Delta does not publish award charts, so the pricing is entirely dependent on the travel dates, destination and origin. For example, you can fly Boston to New York in Basic Economy for 4.500 miles or the same route in the main cabin for 6,000 miles or First Class for 39,000 miles.
Here's another example of how many miles you'll need for a flight from Boston to New York in there main cabin, comfort+ and first class:
The fees and taxes on award flights typically start at $6 for one way. Since Delta does not use an award chart, if you want to check you're getting the best value for your miles, you'll need to compare the cash price with the miles price.
Generally, you will get a better value if you redeem your SkyMiles for premium cabin fares, but certain destinations can have high pricing, so you may need to play around with your flight details if you are not tied to a particular destination or travel date.
Similar to how you redeem your miles with United or flights with American Airlines, Delta also offers SkyMiles Flash deals routinely with destinations around the world. These are limited time promotions, where you can access flights for a discount, representing excellent value.
You can also use your SkyMiles to pay for cabin and seat upgrades. You can upgrade using your miles when you book or after you purchase your fare. Tickets eligible for an upgrade using miles will show an option on your Trip Summary page.
Delta makes it easy to see what upgrades you can purchase and how many miles it will cost you. For example, you could upgrade to Refundable Comfort+ for $90 or $9,000 miles.
After booking, you may see an option to upgrade on the Fly Delta app or the Delta website. You simply need to check your reservation to check if this is an option. You can also speak to a Delta representative to discuss your miles upgrade options.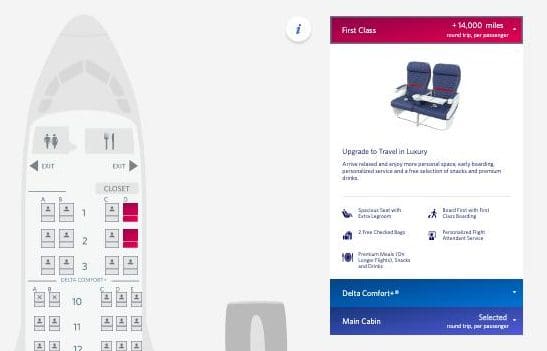 Delta is a SkyTeam Alliance member, which means that you can also use your SkyMiles with over 20 airline partners including Hawaiian Airlines, Virgin Atlantic and Aeromexico.
The basic principle for using your miles in this way is the same as we discussed above for Delta flights. You can visit the Delta website to check for specific flights.
4. Hotels, Rental Cars and Vacations
Delta also has a Vacations platform where you can search for hotel and car, flight and car or flight and hotel packages. You can simply search for your destination and travel dates, but there is an advanced search tool to look for hotels with particular amenities.
If you find a package that you'd like to book, you can select miles for your payment option and then enter the specific number of miles that you want to use. You'll see a mileage discount in your payment overview.
5. Other Redemption Options
If none of the above options appeal to you, there are other redemption options including:
Magazine subscriptions via the MagsforMiles program
Gift cards for a selection of retailers
Charitable donations to a variety of causes via the SkyWish program
Transferring miles to someone else.
How Much are Delta SkyMiles Worth?
As with most airline loyalty programs, how much your miles are worth will depend on your redemption method. The best value redemption method is to use your miles for flights, where you can expect an average value of 1.3 cents per mile. But, the specific redemption values depend on the travel dates, flight itinerary and cabin.
The only way to clearly determine your miles value is to divide the ticket cash price with the cost in miles. For example, if a flight costs $5,000 and you would need 25,000 miles, the value of each mile is 2 cents each.
However, there are some redemption methods that offer less than this average. For example, flight upgrades typically provide a value of 1 cent per mile, but there are other methods that offer even less value. For example, if you choose gift cards or a non flight redemption method, you are likely to only get 0.5 cents per mile.
So, if you want to be sure that you're getting the most for your miles, you'll need to compare all your redemption options. Compared to other loyalty programs, Delta miles worth is quite high – United miles worth 1.2 cents on average, American Airlines 1.5 cents, and Southwest miles worth 1.3 cents  on average.
How Can You Join the Delta SkyMiles Program?
It is free to join the Delta SkyMiles program and signing up is simple. You can sign up on the Delta website in a few simple steps:
Visit the Delta Website: If you head to the official Delta website, you should see "SkyMiles" as one of the tabs on the header bar. If you click "join," it will direct you to the enrollment page for the program.
Enter Your Personal Details: You'll need to complete the basic sign up form with some basic details including your full name, date of birth and your contact information.
Create a Log In: The final step of registration is to create a log in profile. This involves setting a password and some security questions.
Click "Submit": This will finalize your registration and Delta will assign up a unique SkyMiles membership number. The Delta team will also send you an email with your number, but it is a good idea to take a note of it.
Limitations & Restrictions
Although the program is free to use, there are some restrictions and limitations that you need to be aware of.
Earning rates can vary: While you can earn SkyMiles with partner airlines, you may not receive the same number of miles as you would with a Delta flight.
Fees and Taxes: Award flights do incur fees and taxes and you cannot use your miles to cover these additional costs.
Pay with Miles: We'll go into this feature in more detail below, but you need to have a co-branded Delta credit card with a minimum of 5,000 miles accumulated on your account to use the Pay with Miles feature.
Transfer Limits: You can transfer SkyMiles to the accounts of other members, but there are some limitations. For example, you can only transfer in 1,000 mile increments and a fee of one cent per mile plus a $30 transaction fee applies. Additionally, you can transfer up to 150,000 miles out of your account in any calendar year, with a maximum of 30,000 miles per transfer.
As we touched on earlier, there are a number of ways to earn miles. These include:
When you fly Delta, you'll receive SkyMiles according to the ticket base price. However, your Medallion elite status will also impact how many SkyMiles you'll earn. If you have a higher status, you'll earn more miles.
For every dollar, you'll earn:
5 miles with no elite status
7 miles with Silver status
8 miles with Gold status
9 miles with Platinum status
11 miles with Diamond status.
For example, if you book a ticket costing $250 before taxes, you'll earn 1,250 SkyMiles if you don't have Medallion status and as much as 2,750 SkyMiles if you are a Diamond member.
Another way that you can earn SkyMiles is by booking flights on partner airlines. However, how the miles are calculated varies according to how you book your flight.
For example, if you book a partner airline fare on Delta.com, you will earn the same miles as you would with a regular Delta flight, despite the flight being operated by a partner airline.
If you book on a carrier website, you may have the option to add your Delta SkyMiles number, which means that you'll earn SkyMiles based on the distance you're flying. But, the number of miles will vary according to the partner airline, the booking class and if you have elite status.
You can also earn SkyMiles when you're shopping online. Delta has its own online shopping portal, where you can access approximately 1,000 popular retailers and earn miles as you shop.
You need to register with your SkyMiles number, which will allow your bonus miles to be credited to your account.
Once you're registered, you can search for stores or products and compare prices and mileage cost. Just be sure to look for featured deals and bonus offers, which allow you to earn even more bonus miles.
After you select a merchant, you can click through to the store's website and shop as normal. The store will alert the portal if you've made a purchase and your miles will be added to your account. You'll typically receive an email within three to five days confirming your miles have been posted.
There are a number of co-branded Delta cards that not only allow you to earn SkyMiles, but offer other great incentives. These include:
Delta SkyMiles Gold American Express Card

1X – 2X

2X miles on delta purchases, at restaurants worldwide (including take-out and delivery in the U.S) and at U.S. supermarkets, and 1x miles on all other eligible purchases

Delta SkyMiles Blue American Express Card

1X – 2X

2X miles for every dollar spent at restaurants worldwide and Delta purchases and 1X miles for every dollar spent on other eligible purchases

Delta SkyMiles® Reserve American Express Card

1X – 3X

3X miles per dollar on eligible Delta flights and Delta Vacations® with 1X miles on all other purchases

Delta SkyMiles Platinum American Express Card

1X – 3X

3X Miles on Delta purchases and purchases made directly with hotels, 2X Miles at restaurants worldwide including takeout and delivery in the U.S., and at U.S. supermarkets and 1X Miles on all other eligible purchases
Editorial Note: Terms apply to American Express benefits and offers. Enrollments may be required for select benefits. Visit americanexpress.com to learn more
Delta SkyMiles Gold American Express Card: This card has a $99 annual fee (see rates & fees), which is waived for the first year. You'll also earn a generous miles bonus if you spend a modest amount within three months. Additionally, this card offers first checked bags for free on Delta flights, discount on Delta in flight purchases and a MQD waiver if you reach the minimum spend during the calendar year .
Delta SkyMiles Platinum American Express Card: This card has a more expensive annual fee, but the welcome bonus is larger and you can access a wider variety of perks including MDQ waiver, a MQMs bonus with spending tiers, credit for Global Entry or TSA PreCheck fees, first checked bag for free on Delta flights, priority boarding and a domestic round trip, main cabin companion certificate on your card anniversary.
Delta SkyMiles® Reserve American Express Card: This is a premium Delta card with a premium annual fee and premium benefits package. This includes impressive mile and MQM bonuses with spending tiers, annual companion pass, Centurion Lounge access and Delta Sky Club membership.
Delta SkyMiles Business American Express Card: There is a Gold, Platinum and Reserve Business card offering similar benefits for business owners as their personal customer counterparts.
Delta SkyMiles Blue American Express Card – this is the basic card with fewer rewards than other Delta cards, but the card has no annual fee, and you can still earn Delta miles for every purchase.
Which Credit Card Programs Allow Transferring Points to Delta?
Some credit card programs allow you to transfer points into your account if you need to boost your SkyMiles balance.
Delta SkyMiles Elite Status
We've touched on elite status, but now is a good point to explain the elite status program. There are several elite status tiers that are designed for frequent Delta flyers. You can qualify for one tier of status and you will enjoy the benefits for the remainder of that year and the following calendar year.
To qualify for status, there are MQM, MQS and MQD requirements.
MQMs are Medallion Qualifying Miles and you'll earn theses according to your ticket fare class and how far you fly. For example, regular economy earns one MQM per mile, with up to two MQMs for higher classes.
MQS or Medallion Qualifying Segments refer to the number of flight segments you take. A segment refers to a take off and landing. So, if you fly non stop from San Francisco to New York, this is one segment and you'll earn 1 MQS. However, if you changed planes, it would mean you're flying two segments and therefore you'll get 2 MQSs.
MQDs or Medallion Qualifying Dollars refers to how much you spend on Delta flights. You'll earn one MQD for each dollar including airline fees and your fare, but you'll not earn on government fees and taxes.
| Delta Medallion Status 2023 | | |
| --- | --- | --- |
| | 25,000 MQMs or 30 MQSs AND | $3,000 MQDs or MQD Waiver |
| | 50,000 MQMs or 60 MQSs AND | $8,000 MQDs or MQD Waiver |
| | 75,000 MQMs or 100 MQSs AND | $12,000 MQDs or MQD Waiver |
| | 125,000 MQMs or 140 MQSs AND | $20,000 MQDs or MQD Waiver |
What You Can Get With Each Status Tier?
Now, we'll explore the status tiers:
Silver: This is the lowest tier. With this status level, you'll get unlimited first class and Comfort+ upgrades on domestic flights and when you're flying from the U.S to Central America, Canada or the Caribbean, 24 hours before departure.
Gold: This tier offers complimentary first class upgrades on short haul international and domestic flights three days before departure, upgrades to Comfort+, waived baggage fees and waived same day confirmation changes.
Platinum:  This tier offers all the perks of Silver and Gold with unlimited upgrades five days before departure, and a Choice Benefit. Choice Benefits include options such as a 20,000 SkyMiles Bonus, four Regional Upgrade Certificates or the ability to gift Silver Medallion.
Diamond:  In addition to the perks of the lower levels, you'll also get three additional Choice Benefits, higher upgrade priority and complementary CLEAR membership.
Bear in mind that if you have a co-branded card, the MQD requirements can be waived if you reach the spending requirement in a calendar year.
Buying, Giving or Transferring Delta SkyMiles
Delta does operate a Buy Miles program that allows you to buy between 2,000 and 60,000 miles in 2,000 mile increments. These currently cost $0.035 each, but if you're close to the miles you need for a specific deal, it may be worthwhile purchasing a few extras.
You can also transfer or give SkyMiles to other program members. You can transfer up to 150,000 miles from your account, with a maximum of 30,000 per transfer. You'll need to transfer in 1,000 mile increments and fees do apply. The cost of transfers is one cent per SkyMile with a $30 transaction fee.
So, if you transfer 5,000 SkyMiles to a family member, you'll need to pay $80 in fees.
Review Airline Credit Cards
Delta SkyMiles Blue American Express