How Do Marriott Bonvoy Points Work?
The Marriott Bonvoy loyalty program is one of the largest hotel reward platforms in the world, with over 7,000 properties included in the program. You can earn rewards points when you stay at Marriott properties or use a Marriott co-branded credit card, one of the top cards when it comes to hotel rewards.
Additionally, this program can help you with your elite status; the higher the elite status you can reach, the more additional points you'll earn over the standard base rate.
You can accumulate your Marriott Bonvoy points and use them for free nights in Marriott properties, flights, cruises, gift cards and merchandise, which we will discuss in more detail below.
Marriott Bonvoy Boundless® Credit Card

1x – 17X

up to 17X total Bonvoy points per $1 spent at over 7,000 hotels participating in Marriott Bonvoy® with the Marriott Bonvoy Boundless® Card, 3X on the first $6,000 spent in combined purchases each year on grocery stores, gas stations, and dining and 2X Bonvoy points for every $1 spent on all other purchases

5 Free Nights

5 Free Nights (each night valued up to 50,000 points) after qualifying purchases

Marriott Bonvoy Brilliant™ American Express® Card

2X – 6X

6 Marriott Bonvoy points for each dollar of eligible purchases at hotels participating in the Marriott Bonvoy™ program, 3 points at Worldwide restaurants and on flights booked directly with airlines and 2 points on all other eligible purchases

95,000 points

95,000 Marriott Bonvoy bonus points after you use your new Card to make $6,000 in purchases within the first 6 months of Card Membership
How Much Are Marriot Points Worth?
As with most loyalty programs, there is no hard and fast points value. The typical average value is 0.7 cents each, but some redemption methods will offer more and others may offer less. The value of your points can vary depending on how you choose to redeem them.
It's quite similar value to Hilton Honors points but less than how much Hyatt points are worth as they are generally valued at 1.8 cents per point.
To determine the value of your points, you'll need to do a little calculating. You'll need to divide the cash price by the number of points required.
For example, if the cash price is $100 and you need 10,000 points, you're getting a points value of one cent each. Obviously, this is a simplified example, but the basic principle to calculate the value of your points remains the same.
Since 0.7 cents per point is the rough average value, it is important to try and achieve a redemption rate above this point to get the best value.
How to Redeem Marriott Bonvoy Points for Free Nights
As you would assume, the best way to redeem your Marriott Bonvoy points is by booking free nights at one of the Marriott properties around the world. 
However, the hotel chain recently eliminated its award chart, which previously provided a points estimate for booking specific hotels with peak, off-peak and standard pricing.
Redeem Points for Hotel Stay: Short Guide
Although these bands do still apply to most properties, the point ranges are no longer published. Instead you need to search for properties to see how the dynamic pricing affects the point requirements.
1. Search Hotel On The Marriott Bonvoy Website
If you visit the official Marriott Bonvoy website and click "Use Points and Awards". This will take you to a search bar.
Then, provide your hotel requirements. You'll need to enter your destination and stay dates along with the number of visitors. Just remember to tick "use points/awards" before you click search.

After you click search, you'll be presented with a list of search results. You can browse the particular hotel locations in your destination city. You can view the hotel details and if you find one of interest, just click view rates. This will allow you to see the room details and the points, cash and cash & points totals needed to book the room.
For example, in New York, you can book a one night stay at The Courtyard Manhattan/Fifth Avenue for 60,000 points or $322 dollars. This works out at a points rate of 0.54 cents per point. However, if you were to stay at the Sheraton Batumi Hotel in Georgia on the same dates for 17,500 points or $114, which is a redemption rate of 0.65 cents each.
3. Provide Personal Info And Complete Your Booking
If you find a room that you'd like to book, you just need to click through. You'll see a prompt to log into your Marriott Bonvoy account. You can then provide the guest details to complete your booking.
Bear in mind that the Marriott Bonvoy program offers its members an additional perk. You'll get the fifth night for free with all award stays. This means that if you book four nights or more, you'll enjoy the fifth night free.
However, if you use cash and points, you need to ensure that you have a total of five award nights to have the fifth night free.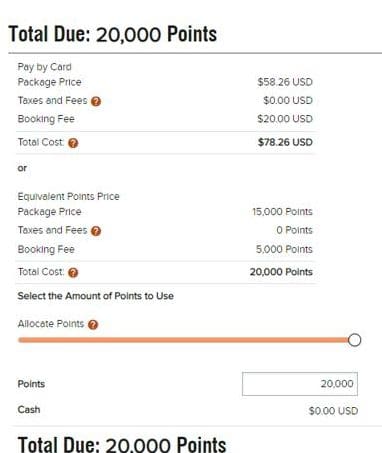 Redeeming Points for Marriott Moments
Another interesting use of your Marriott Bonvoy points is with Marriott Moments. This feature offers destination-specific activities such as tours, sporting events, and even culinary experiences in many cities with a Marriott hotel presence.
You can book the experiences with your points and they are often awards that you could buy with cash, so they offer some unique activities for when you plan your next trip.KL
There is a wide variety of Marriott Moments, you can book some with a specific number of Marriott points, but others are offered on an auction basis, so you will be competing against other bidders. Just be aware that most are nonrefundable, so read through the terms and conditions before you agree to a purchase.
How to Redeem Points for Marriott Moments: Step By Step
Visit the Marriott Bonvoy Website: On the home page, click the Marriott Moments link under the "Use Points and Awards" tab.
Enter Parameters: You'll need to enter a city and a keyword. This could be something like "concert" or "football". However, if you're not sure what you would like to experience when you visit a city, you can browse the moment categories or featured moments.
For example, you could bid for a sightseeing and meditation experience at the Great Pyramids of Giza with a stay at the Sheraton Cairo Hotel and Casino. The bidding starts at 60,000 points and there are several auctions that run for approximately one month.
3. Bid or Book: If you find a moment that you would like, you can either place a bid or book it, depending on the offer. If the moment has a set points cost, you simply need to sign in to access the offer.
Converting Marriott Points To Airline Miles
Marriot offers the longest list of airline partners – 38 airline partners, a great diversity compared to other hotel programs. For example,  you can redeem Hilton points on 26 airline transfer partners, or redeem Hyatt loyalty program points on 25 airline transfer partners
Depending on the airline's frequent flyer program, you will need to transfer at least 3,000 points with a 240,000 point per day maximum. Most programs offer a transfer ratio of 3:1, which means that you'll need 3 Marriott points for every airline mile. There are some exceptions to this including:
Air New Zealand Airports: 200:1
United Mileage Plus: 3: 1.1
While these rates may not be particularly advantageous, you will get a 5,000 miles bonus for every 60,000 Marriott points that you transfer. So, if you transfer 60,000 Marriott points, you'll get 25,000 miles in total with most loyalty plans.
How to Transfer Marriott Points To Airline Miles
Unfortunately, transferring your points to miles is a little more complicated, as you need to associate your airline's frequent flyer program with your Marriott Bonvoy account.
Log into Your Marriott Account: Log into your account and then click on the Transfer Points link.
Complete the Transfer Form: You'll need to fill out the form with details of where you would like your points to go, including your frequent flyer number and how many points you want to confirm.
Click Continue: Once you click continue, you're confirming your transfer. You can expect the miles to arrive in your airline loyalty account in three to five days. However, some programs show the updated miles balance within 24 hours.
How to Redeem Bonvoy Points for Shopping
Marriott Bonvoy also offers a "Shop with Points" option. There is a wide variety of items you can buy via this shopping portal including tech and fashion. However, there is no set point value when you use your points in this way. This means that you need to manually check the best retailer prices for each specific item.
For example, you can buy a Weber Q1200 LP Gas grill via the Marriott shopping portal for 67,500 points. On the official Weber website, this product is available for $259. This means that you're getting a points value of 0.38 cents each.
This low level of redemption even applies to larger items. Another Weber product is the S-670 Gas Grill, which you can purchase for 892,500 points, but with a retail price of $3,649, you're only getting a slightly higher points value of 0.40 cents each.
Of course, there are sometimes more favorable deals, but the fact that you have to do some serious comparison shopping makes this a tricky redemption method to use.
How to Redeem Points For Rental Cars
If you want to use your points to round out your vacation, you could consider redeeming the points for rental cars. You can search for rental car deals using the search tool on the Marriott Bonvoy website. You'll need to enter:
Pick up and drop off location
Pick up and drop off times
Car preference
There is also an option to select if you want to drop the vehicle off at a different location.
The search tool checks availability with a variety of car rental companies including Hertz, Thrifty and Dollar. You can then browse the deals to see which one appeals to you.
For example, a rental car deal from LAX could cost you as little as $80 or 20,625 points per day. This works out at approximately 0.39 cents per point.
However, the specific prices can vary according to the location, rental time and other factors. While this may not be the best value for your points, if you're planning a vacation and want to use points for all aspects of your trip, it could appeal to you.
Other Ways to Redeem Marriott Points
If all of the above redemption methods are not a good option for you, there are a few other ways that you can use to redeem your Marriott points. These include:
Hotel and Air Packages: You can use the search tool on the Marriott website for Hotel and Air packages. The packages start at approximately 250,000 points and typically include a seven night hotel stay and 50,000 or 100,000 airline miles with your preferred airline program. There are dozens of partner programs, so you can enjoy a vacation package with your points.
Gift Cards: This is not the most efficient redemption method, but if you need to use some points, it could provide an option. There is a list of popular merchants including Applebees, Best Buy, Bloomingdales, Macy's, Red Lobster and Starbucks. However, they don't represent the best redemption value. For example, you'll need 5,000 points for a $10 Starbucks gift card, but the point requirements do drop for larger denomination cards, such as a $100 Starbucks card that costs 30,000 points. This works out at 0.2 cents to 0.33 cents per point.
Pooling Points: If you have a family member or friend who is short on points for their stay, you could pool your points. You can transfer points up to a 100,000 cap per calendar year and you can only receive up to 500,000 points from your friends or family members. However, there are no fees for this service. If you want to initiate a transfer to someone, you simply need to speak to a Marriott representative.