The process of purchasing a home can be intimidating. Most people's biggest financial purchase is their home, and mortgages are often an afterthought after a long hunt for the perfect home. Getting the appropriate loan, on the other hand, can save you hundreds of dollars. 
If you're looking for a new home, you may wonder about the most common types of homes purchased today. In this chart using 2020 NAR Trends data, 83% of homes purchased are single family homes. This is significantly more than the second most popular homes, which is townhouses at 6%.
When it comes to deciding on a mortgage, you need think about your financial status as well as your possibilities. You can compare lenders and offers once you have a good idea of the type of loan you desire. You'll be able to make a better-informed judgment regarding your loan offers if you understand your needs and some basic loan terminology.
Finding the appropriate property is only half the battle unless you can buy it totally in cash. The second half is determining which mortgage is best for you. Because you'll most likely be repaying your mortgage over a long period of time, it's critical to locate a loan that matches your demands and fits within your budget. When you borrow money from a lender, you are entering into a legally binding commitment to repay the loan over a specified period of time (albeit with interest).
What Is a Mortgage and How Does It Work?
Your mortgage payment is made up of two parts: principle and interest. The loan amount is referred to as the principal. Interest is a fee charged by lenders for the privilege of borrowing money that you can repay over time (measured as a proportion of the principal). You pay monthly installments based on an amortization schedule specified by your lender for the length of your mortgage.
The annual percentage rate (APR), which calculates the entire cost of a loan, is another consideration to consider when pricing a mortgage. The interest rate and additional loan expenses are included in the APR.
Top Mortgage Offers From Our Partners
Advertiser Disclosure
The product offers that appear on this site are from companies from which this website receives compensation. 
How to Prepare For Mortgage Application?
Assess your situation and needs before examining your lending choices. This can assist you in selecting a loan that is tailored to your specific needs. Here are a few of the most crucial factors that will almost certainly influence your financing options:
Affordability – your mortgage payments will be mostly determined by the cost of your home, which may vary based on where you want to buy and what kind of property you want. Use this calculator to see how much house you could be able to purchase.
Plans for the future – you may move soon after purchasing a property or stay for decades, depending on your work or life circumstances. This may have an impact on the mortgage option you select. The longer you anticipate to stay in your house, for example, the riskier an adjustable-rate mortgage (ARM) becomes.
Financial security – your loan options are influenced by your credit history and the amount of money you have for a down payment. Mortgages with lower interest rates are more common for people with good credit scores. A greater down payment can also help you pay less interest in the long run.
Mortgage debt accounts for the majority of consumer debt. This 2020 NAR Trends chart highlights that the average mortgage loan debt has steadily increased between 2015 and 2019. The total four year increase in this segment is a significant 10%. This suggests a trend of increasing mortgage debt that correlates with the rising house prices.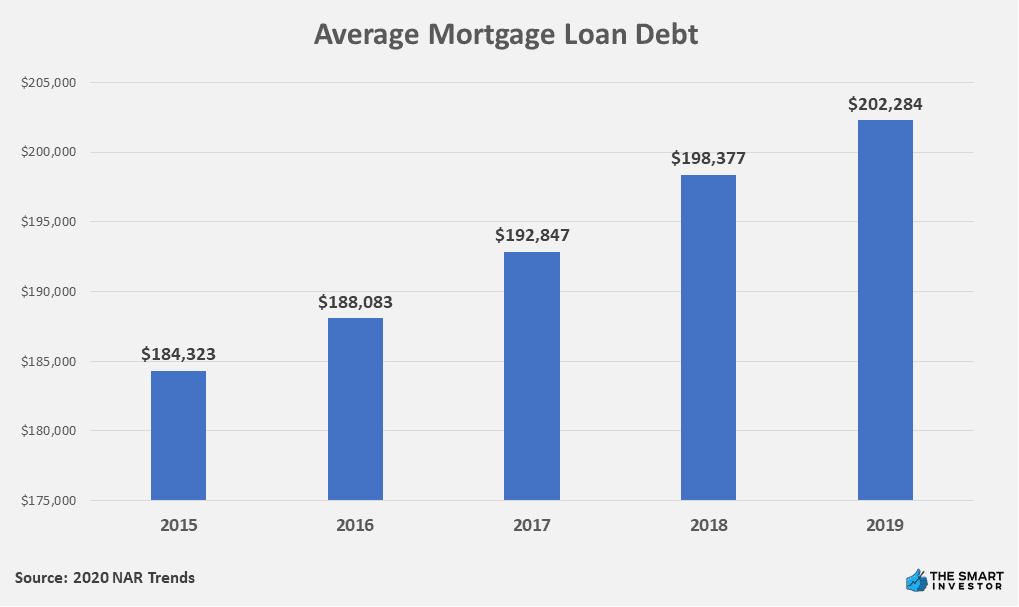 1. How Long is the Mortgage?
First up, the loan term tells you how long your loan is going to take for you to pay it off entirely.
The term of your loan is going to have an impact on everything about the loan itself. This impacts what you pay each month and how much your interest costs. If you have a longer-term you're going to have lower payments, which makes it a draw for many people.
On the other hand, you're going to pay more interest if you take out a longer payment. That's because your loan takes longer to pay off and you pay the same percentage of interest throughout the entire term. That is definitely not the type of outcome you want, right?
On the other hand, a shorter term is going to give you the opportunity to have money available more quickly. You'll pay off the mortgage faster, which means you can use that money on something else that's more important. Keep in mind that your payments will be higher and you'll still have to pay property taxes and insurance at the same time. Plus, if you pay less than 20% down you have to pay private mortgage insurance, which adds to the cost of your payment.
2. Interest Rates and Types
Fixed-rate loans mean that the interest rate that you pay is not going to change. An adjustable-rate loan means that your interest rate will change, usually specified times. Still, either of these can be a good idea for different types of homeowners.
Take a look at just how the different options could work for you.
Benefits of Adjustable Rate Mortgages
There are a few reasons to opt for an adjustable-rate mortgage. Some include:
Lower Interest Rate to Start – You'll usually get the benefit of a low introductory rate, like when you sign up for a new credit card. You get a set rate for a period of 3-10 years (depending on what you agree on when you sign) and then you'll get adjusted rates every 6 months to a year for the rest of the loan term.
Greater Flexibility – If you're planning on changes soon, like moving to a new house, you can get a great rate from the beginning of the loan and then get rid of the house before the rate starts to go up or readjusts.
Lower Starting Payment – If you don't have a whole lot of money right now but you're expecting to be making more soon you can use this type of loan to start with lower monthly payments, making it easier to afford.
Caps Available – Most adjustable mortgages have caps on just how much they can charge you as a total monthly payment and just how much your interest rate can go up in one period.
Advantages of Fixed-Rate Mortgages
Now, with a fixed-rate mortgage, you are going to have some really good benefits as well. For those who have a stable job and want to stay in their house for a long time, this is generally the way that you want to go. You'll have benefits like:
Consistent Payments – There's no problem with changing monthly payments because your interest rate won't change the amount that you borrow is divided evenly amongst the number of payments in the term you agreed to.
Interest Rate Remains Constant – No matter what happens with interest rates in the market your interest rate is going to stay exactly the same. That means you won't have to worry about changes and increases.
Comparison is Super Easy – You'll be able to compare just interest rates and closing costs rather than having to factor in the different lengths of time between interest rate changes with adjustable mortgages.
3. Mortgage Types to Choose From
Once you've decided on the type of loan you want between fixed and adjustable-rate mortgages, you'll also need to look at government versus conventional mortgages. Each one has benefits and drawbacks, so take a look at what you should be considering before you make a choice.
These are the standard types of mortgages that many people get through their credit union or bank. They're not insured by the federal government, but they do come in fixed and adjustable-rate mortgage varieties. There are also other combinations that you can choose from.
With this type of mortgage, you only have to make payments on the interest of the mortgage for a set length of time. It is usually about 5-7 years but could be any period that you and the lender agree to. For that period you only pay the interest that accrues on the loan, not the principal. After that, you have to make payments that include the principal of the mortgage and the total owed is divided between the months left on your term.
Benefits
Keep introductory payments low
Maximize tax deductions
Great for money in short-term
Drawbacks
Pay more in interest overall
Payments increase dramatically after the intro period
No equity included
With this type of mortgage, you get to make set payments for a period of time, which is usually the same 5-7 years as the interest-only mortgage (but could be any agreed-upon amount). For those first years, you will pay a set amount every month. Then, when that term is over you are required to pay off the remaining balance in one lump sum.
Benefits:
Low introductory payments
Low-interest rates
Easy to qualify
Easy to refinance
Drawbacks:
Interest rates increase dramatically
The principal is large when the full payment comes due
Financial difficulties can arise during the intro period
Real estate market could fall, leaving you with a house worth less than you owe

Reverse Mortgage
This is actually not quite a mortgage, but a home equity loan. Generally, older homeowners are the ones who are eligible to get these. Here, the repayment is only needed when the actual borrower moves out of the house or dies. This is because the homeowner always keeps that title or ownership and it never transfers back to the lender even after the homeowner has passed away.
Now, the amount that the individual can take out will vary based on age, how much the home is worth, the rate of interest at the time and other costs.
In general, however, the older the person is the more money they may be eligible for within approximately a 12 month period. If you're eligible for $100,000 you would be able to get a total of $60,000, for example, then after the first 12 months pass the rest of the money is able to be taken out.
Benefits:
Get to keep ownership of your home
Options available for removing funds
Funds can be used to pay off the mortgage
No mortgage payments while you still live in the home
Drawbacks:
Balance of the loan will increase over time because loan and fees accumulate
The mortgage could become due at many different points in the process
Home equity counts against the assets left behind at death
4. Government-Insured Loans
The first type of government-insured loan is the FHA loan, which is insured by the Federal Housing Administration. These work well for first-time buyers because if your credit score is at least a 580 you only need 3.5% down for your house. On the other hand, you do have to pay mortgage insurance and now you have to pay it for the life of the loan.
If you have that 580 credit score and at least 3.5% to put down on the house you can get approved for an FHA loan.
If you have 10% to put down you can get approved with as low as a 500 credit score. Make sure you notice, however, just how much interest you'll have to pay. It increases as your score gets lower.
These are a great option for those who have served or are serving in the U.S. Military. The Department of Veterans Affairs backs these loans and works with private lenders to get you into a house. All of these are backed through different companies and for different levels of individuals who serve. There are specific requirements which you can find online or through the VA to see if you qualify.
The biggest benefit for those getting a VA loan is that you actually don't need a down payment at all.
You can get into a house quickly and easily and you'll be able to get a mortgage for the full price of the house instead. This can make it a lot easier for some who don't know how to get a larger sum of money ready to make that one-time payment.
These are a little less well known, but they're backed by the United States Department of Agriculture and it offers rural borrowers assistance in buying property. It's actually through the Rural Housing Service and it works for those who are unable to get housing with conventional financing, but who still have some form of income coming in.
They must have an income of 115% of the adjusted area median income or below in order to qualify for this program. Once they do, however, they may be able to get assistance in buying.
One of the most important factors mortgage lenders use to make a decision is income. Many lenders have a strict policy of only allowing less than 30% of income on mortgage costs. In this chart with 2020 NAR Trends data, it shows the household income of homebuyers. The most popular income bracket is $100,000 to $125,000. Conversely, the lowest income bracket of homebuyers was less than $25,000.
5. Compare Your Options
There are a few distinct reasons why comparing mortgage providers is a good idea. First and foremost, you want to find the most cost-effective solution for your unique requirements. This entails locating the lowest possible rate of interest while still working with a trustworthy lender.
Even tiny variances in interest rates can pile up quickly over the course of your mortgage. Some lenders will have special deals for the first few years of your mortgage where you can get a lower rate.
Loan origination expenses, third-party fees, mortgage insurance premiums, and other fees and charges should all be considered. All of the rates, fees, and charges that a certain lender will require you to pay should be clearly obvious to you.
A loan may also take longer to close with some lenders. If there is a house on the market that you want to buy, you should consider one of the solid options that are known for closing deals swiftly.
The more lenders you compare, the more likely you are to get the best offer. Choosing a lender with the best rates can save you hundreds of dollars per year and thousands of dollars over the life of your loan.
You'll probably establish a shortlist of potential lenders once you've become familiar with the mortgage application procedure. Before making your final decision, make sure they've all been thoroughly vetted:
Budget-friendly – While it is not the be-all and end-all, the interest rate you will pay on the borrowed funds is extremely important. As a result, when choosing a lender, the cost of a mortgage will be a major factor. Make sure you read the fine print and are familiar with all of the fees and charges that will be applied.
Deal only with recognized lenders – There are a plethora of mortgage lenders in the United States nowadays. Not all of these lenders will have a solid track record. While they may appear to offer attractive rates on the surface, they can actually cause a slew of issues. As a result, you should only make a shortlist of suitable lenders with a decent track record.
Get assistance – If you're feeling a little overwhelmed by the whole thing, you might want to hire an expert to assist you. Mortgage brokers are registered specialists who can determine the best available solutions for your needs on the market. In exchange for their services, they will receive a percentage of the total loan amount. You can also inquire about your friends' and family's mortgage experiences.
Choosing a Mortgage - FAQs