For many people their mortgage is their largest debt. Mortgages are the most common way to finance a property purchase and according to Experian, mortgage loan debt in the USA is steadily on the increase. In this chart, using the Experian data, you can see that over the last ten years, mortgage loan debt has increased from $8.2 trillion in 2010 to $9.5 trillion in 2019. Although there was a dip in 2011 and 2012, overall there has been a general upward trend.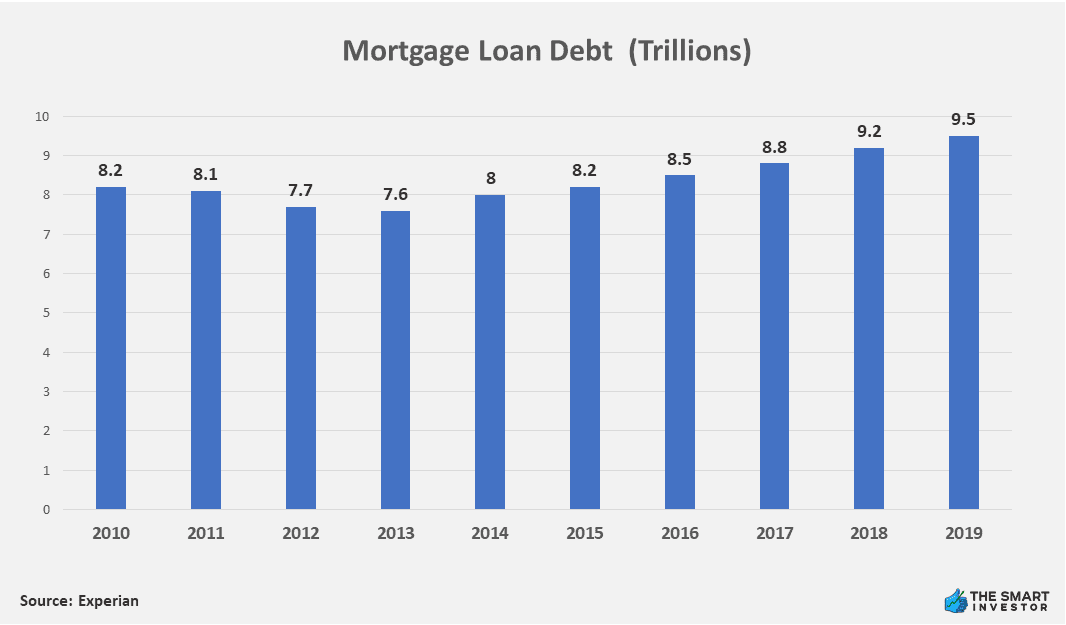 Before embarking on the process of refinancing, a borrower should consider the reasons for their decision. Usually, problems arise when a person is not informed sufficiently and not prepared.
In this article, you will find easy to follow guide on what and how to do when deciding and applying for the new loan.
What is Mortgage Refinance?
A borrower can refinance a mortgage loan to replace their present debt obligation with one that has better terms. A borrower takes out a new loan to pay off their existing debt through this method, and the conditions of the old loan are replaced by the revised arrangement.
Borrowers can restructure their loans to achieve a cheaper monthly payment, a longer term, or a more convenient payment schedule. The majority of traditional consumer lenders also provide refinancing options. Refinancing loans, on the other hand, tend to have slightly higher interest rates than purchase loans for things like mortgages and vehicle loans.
Homeowners refinance their mortgages for two major reasons: to lower their monthly payment or to shorten the term duration.
Borrowers refinance for a variety of reasons, the most common of which is to obtain a more inexpensive loan. A refinancing can frequently cut the interest rate.
A homeowner with solid credit who took out a 30-year mortgage in 2007, for example, would likely pay an interest rate of between 5% and 8%. Currently, the best qualified borrowers can get much lower interest rates. Borrowers can also refinance their debts to pay them off faster. Longer terms may result in a lower monthly payment, but they can result in a greater overall cost due to the additional time the loan spends accruing interest.
According to data obtained from Freddie Mac, the interest rate on a 30-year conventional mortgage has been on a gradual decline. In 1975, the rate of the 30-year conventional mortgage was 13.74%, and it has declined to 3.08% in 2021. Mortgage lenders lower mortgage rates as a way of stimulating growth in the housing market.
Can I Refinance Mortgage With Bad Credit?
It may be possible to refinance your mortgage if you have bad credit, but your credit score will impact the rates and deals available to you. Your new lender or current lender will run a credit check when you apply for a new loan. So, you may find that your new offer has a higher rate or worse terms than your current mortgage. In this case, you would be better to stick to your current loan and consider refinancing when you've had a chance to boost your credit score.
Can I Refinance Mortgage While on Unemployment?
It may be possible to refinance your home when you're unemployed, but it can be tricky. Many lenders don't include unemployment payments as income on an application, which means that your income to loan ratio will be poor. Additionally, the lender may have concerns about affordability and whether you will be able to manage the loan repayments in the future.
However, there are some lenders that will allow unemployment as income on an application, which may make it easier to qualify for a loan.
Should I Refinance Mortgage Now?
The decision to refinance will depend greatly on your current circumstances, existing deal and the market. If the base rate has dropped significantly since you took out your original mortgage, you may be able to secure a better rate. However, if your credit score has dropped in the intervening months or years, this may impact whether you can get a better offer.
It's crucial to remember that closing costs can be fairly significant, so refinancing to shorten your term or lower your monthly payment by $100 or $200 may not be worth the time and money it takes to secure a new loan.
So, think carefully about your current mortgage and whether a refinancing would be financially beneficial in the short and long term. These are just some of the reason one might consider before refinancing:
Lower Interest Rates
No matter how low the rates on your loans are, you always wish them to be lower. Let's imagine you have taken out a mortgage, but the interest rates have been reduced since then. Why not refinance your mortgage and enjoy the benefits?
White House statistics showed that the average homeowner could save $3,000 a year by refinancing their mortgage. This money could be your tropical summer holiday.
Good Credit Score
Has your credit score skyrocketed?
This would be great because it may guarantee a homeowner better loan terms, even if the interest rates have not gone down. If not, read Baruch's great post about the different ways to increase your credit score.
Lower Monthly Installments
Who doesn't want to pay less each month for their credit? Sometimes, whatever the reason, you cannot qualify for better terms. If you can refinance your mortgage to be repaid for a longer period of time, this will definitely reduce the amount of money you pay each month.
However, issuing a new debt means that you will pay for your house even longer than previously expected. Consider the interest paid already and how much you will pay in the future on the new loan. Which is the perfect scenario? Reduction of the loan term and lower interest rates, which could substantially reduce your monthly payments.
Fresh Cash
These are the so-called cash-out refinances. The value of the new loan exceeds that of the old one and the difference is cash you can use if needed. However, this money should be paid back, with an interest. Unlike taking out a separate home equity loan, a cash-out refinance replaces your current mortgage with a new mortgage.
Keep in mind, this option is super risky – If you're unable to repay your loan, you could lose your home. In addition, You'll restart the clock on all of your housing debt, so you'll increase your lifetime interest costs (borrowing more also does that).
8 Steps to Refinance Your Mortgage
Often, homeowners who've decided on taking this step are not prepared or ill-informed. Do not make this blunder. Now, let's assume you have a solid reason for refinancing your mortgage and you have decided to do it.
Below you will find an easy to follow guide divided into 9 steps:
1. Prepare Your Documents
Before putting your signature on the papers, make sure your credit score is really good.
For a refinance additional factors to your credit score play into whether or not you may get approved.  These factors include the equity you have in your home, the type of mortgage you currently have, your saving and overall debt, your debt-to-income ratio or DTI and your loan-to-value ratio or LTV.
You'll need to prepare things such as verification of employment and pay stubs in order to prove continuity of income. If that's not the case, the chances are slim for the borrower to get a lower interest rate, which in a way makes the refinancing pointless.
It's advisable to consult with a loan officer and determine whether it's beneficial or not.
2.  Estimate Your Home's Value
Logically, if a bank lends money for a property, it needs to estimate the value of it. Basically, this is what a mortgage is – money for your house's value. Homeowners tend to overestimate the real price of their home.
When it comes to refinancing your mortgage, the appraisal is crucial. You can't refinance if the value of your house is so low that you're underwater. If your home equity is less than 20%, you'll either have to pay private mortgage insurance (PMI) or bring some cash to the table to complete a cash-in refinance. Furthermore, because lenders perceive borrowers with less equity to be riskier, you could not get the best interest rate available.
An appraisal is performed by a licensed or trained professional who acts as a neutral and unbiased third party in determining the value of a residence. The appraiser is compensated for assessing your home, but he or she has no stake in whether or not you are able to refinance as a result of the value they arrive at.
The appraisal protects the bank in a refinance deal by guaranteeing that it does not lend the borrower more money than the property is worth. If the property is later foreclosed on for any reason, the lender wants to be able to resell it and recoup its investment.
The Federal Housing Administration's (FHA) streamline refinance and the Veterans Administration's (VA) Interest Rate Reduction Refinance Loan are two types of refinancing deals that don't require an appraisal. An appraisal is required for all other types of refinancing deals.
Find a place where you can compare the prices of your home to others with similar features that are currently in the market. This check will help you have a real idea of your home's worth.
3. Review Your Current Terms
To some people, information is the most powerful thing in the world.
Being well informed is indeed key to succeeding in anything, notably financial matters. Go to your bank and get some crucial information on your current mortgage terms as well as the future one – monthly payment, interest rates, application fees and so on.
Should I refinance mortgage for 1 percent lower?
One percent represents a significant drop in your rate, which could generate meaningful savings each month. For example, if you have a $250,000 loan and your rate drops from 3.75% to 2.75%, you could save $250 per month, which is almost a 20% reduction in the monthly payments.
However, it is always carefully comparing your current mortgage terms with any new deal. Remember that you will need to factor closing costs and any fees into your calculations. For example, if you are tied into a deal and will need to pay an early repayment fee, it could significantly negate the potential savings.
4. Use Tools to Calculate Your Mortgage
At this point in the process, you are well acquainted, your credit score is great and the value of your house is really what you've expected.
The next move is simple maths. This tool comes in handy – mortgage refinance calculator. Pay attention that you have to be well aware of some data – your current monthly installments, your current rate, the years you have to pay, etc. Use it to figure out your current interest rate, the new possible rate, closing fees, and how long you plan to stay in your present property. The mortgage refinance calculator can help you sort through the jargon and figure out whether refinancing your mortgage is a good financial move.
Not only will this give you the chance to know what to expect from your future refinancing but also you'll be able to compare different proposals and decide on which one you'd like to accept.
5. Shorter or Longer Term?
This is another aspect worth mentioning when choosing to refinance your existing loan.
Here you have two options – to shorten or to extend the term. For example, if interest rates have become lower, it's highly likely that your 30-year fixed mortgage can be shortened to 20- or 15-year term keeping the same interest without much change in your monthly installments. On the other hand, extending your term is a good option if you face difficulties with your monthly payments.
Switching to a 15-year mortgage can be beneficial if you can afford it. Homeowners who have lived in their houses for several years and who have monthly budgets and incomes that can comfortably manage the higher mortgage payments are the best candidates.
The rate on a fixed 15-year fixed-rate mortgage has been below 7% from 2005 to 2021, according to Frediemac. The highest mortgage rate recorded in this period was 6.07% in 2006, and this period was followed by a gradual decline until 2012 when the interest rates fell to 2.93%. The lowest rate on a fixed 15-year mortgage was reported in the first quarter of 2021 at 2.28%.
If this describes you and you're thinking about switching, you should evaluate current refinance rates to ensure you can receive a good rate for your situation. Your Caliber loan expert can help you with this.
More budget freedom is available with a 30-year mortgage with lower monthly payments. This is especially crucial if your income fluctuates, if you lose your work, or if you face financial difficulties. It's crucial to think about how increasing mortgage payments may affect your ability to cover current and unexpected monthly costs. It's hazardous to have too much of your monthly income invested in your property.
Definitely, the extended period will decrease the amount you have to pay monthly, but generally, the interest on the loan will increase the total value of the debt substantially.
6. Review Your Refinance Agreement
If you have been successfully approved, you will receive the so-called letter of approval before finally signing the contract and receiving the new loan. There you will find the terms and conditions of the deal. Don't just scroll down and glance at it, examine all the points listed. Determine if this is what you have expected.
Why are you doing this in a rush and under duress? You can instead get a copy of this material ahead of time. This gives you the option of reviewing the materials at your leisure. You can also ask your attorney or closing officer questions regarding anything you don't understand.
On your closing day, you'll be required to sign a number of papers, notes, and instruments. One of the most crucial is the final reveal (CD). As a result, three working days before your planned closing, your lender must provide you with this paperwork. Check with the Consumer Financial Protection Bureau to see if:
Your name is spelled correctly.
Your most recent loan estimate matches the loan amount, period, purpose, product, and loan type.
Interest Rates
Is there a penalty for paying off your loan early?
Is there a balloon payment on your loan?
That your most recent loan estimate matches your projected total monthly payment
If there are any things in your estimated taxes, insurance, or assessments that are not in escrow.
Your closing expenses are consistent with your most recent loan estimate
That your cash-to-close figure is consistent with your most current loan estimate.
Once you sign, the process is irreversible.
7. Lock in Your Rate
Some people prefer to have a steady rate during the whole term. A rate lock is when a lender has to agree on a fixed rate in advance notwithstanding the movement of the rate throughout the years. It's entirely up to the borrower whether to choose this option or not.
If you don't secure a mortgage rate lock, you risk paying a higher interest rate between the time you started the loan procedure and when it's finished. By the time the loan is up, you may have spent a lot more money than you anticipated. Not to mention that if your interest rate rises, you'll have to pay more money up front. You'll either have to pay more points or put down more money on the house. Making every effort to obtain a favorable interest rate will normally benefit you.
It has the potential to save you a lot of money. This is where discount points come into play. You may buy those points for a lot less than you would throughout the life of the loan. If you're refinancing, a minor difference in the interest rate can represent a significant difference in your costs, which means you might not obtain the refinancing you wanted.
8. Closing
The last and final step is the closing procedure. If completed successfully it guarantees the borrower fresh funds. Before you sign the documents, keep in mind the following: if a lender has approved your refinancing, they will send you a commitment letter in which you could find all the conditions, terms and fees of the new debt.
Examine them carefully as you will be given several days to do so. On the closing day, do not fret (yes, legal documents are pretty tough to understand), again read and go over the papers and then put your signature. On the closing day, be ready and prepare some money to pay for various expenses related to the procedure.
How To Refinance Your Mortgage - FAQs
Top Mortgage Refinance Offers From Our Partners
Advertiser Disclosure
The product offers that appear on this site are from companies from which this website receives compensation.