If you are a first-time homebuyer, you might have realized that it's not very easy to get into the real estate market.  It has always been difficult and recent events show us that this is an accurate assessment.
Mortgage debt accounts for the majority of consumer debt. This 2020 NAR Trends chart highlights that the average mortgage loan debt has steadily increased between 2015 and 2019. The total four year increase in this segment is a significant 10%. This suggests a trend of increasing mortgage debt that correlates with the rising house prices.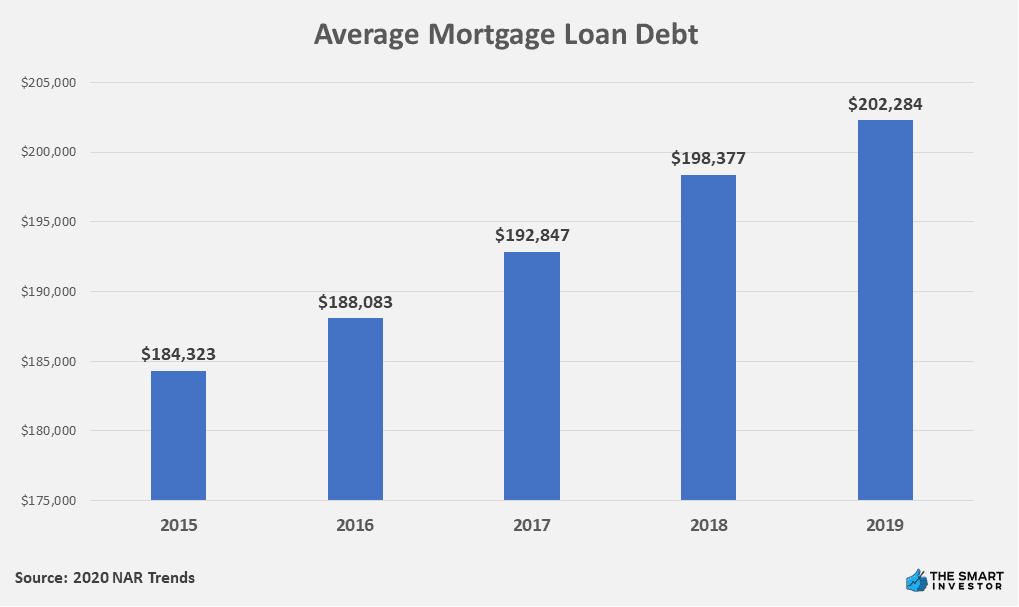 We know the excitement that abounds when you're ready to buy your first home – after all, it is one of the major milestones of your life.  You will finally have your own real estate property and more significantly, a place that signifies your true independence and personal freedom.
However, you should not get caught up in the thrill but rather look at the reality you should face.  There is a learning curve in this and it's rather steep for a first-timer.  The good news is, you can avoid many mistakes (and heartaches) in the process by doing some simple financial homework.
So, if you want the road to your first home to be smoother and less bumpy, we offer some tips to guide you through the process and hopefully spare you some headaches and pain on your pocket.
1. How Much Can You Afford?
The first thing you should understand is how much you can afford. Here are some tips that can help you during the process:
Sit down and seriously write down your game plan
Some things can end up well even if they happen by accident. This is not one of them. 
You need to make a plan.  Do not let your imagination get the better of you or worse, just copy what other people did to buy their home.
Your situation is not the same as theirs.
Pin down what you can afford
First things first: determine how much home you can actually afford to pay for realistically. You can use any online home affordability calculator to help you determine how much you can spend for your home without breaking the bank.
Many homebuyers do not take this seriously and end up in trouble.
Make a list of all your monthly expenses and we mean ALL.
So, if you're paying for gym membership or subscribing to online TV/Movies, they go in along with the groceries and gas and card amortizations.
This way, you can see where you can cut your spending to save money or add to the home purchase fund.
You might have heard some financial advisors tell you that you should not spend more than 30% of your before tax income on housing.
A more conservative approach would be to keep all your debts below the 30% limit – house amortization, student loan repayment, car loan payments, and all other debts included.
If you use up all or most of your money to pay for your house, you might neglect other important matters like saving up for your retirement.
Keep calm and take it easy
The market is so competitive that many lenders liberally pre-approve buyers to get customers.
Getting a pre-approved loan may lead you to think that you've got it made financially and drive you to be reckless with the rest of your finances.
If a bank pre-approves you for an amount higher than your original budget, think first before you take out all of it.  It's better to just stick to your original personal price limit.
2. Check Your Credit Score
A wise home buyer will factor in his credit score in the decision-making process. Lenders will always use this 3-digit number in their risk assessment and pricing decision.
So, a higher credit score will work better for you in terms of more chances of getting approval and securing a lower interest rate.
You can check your credit scores from the three popular reporting agencies – TransUnion, Equifax, and Experian.  Note that you might need to pay a small fee for their services, usually around $20 per score.  Your credit score can help you assess what kind of borrower you will appear to your lender so you can prepare accordingly.
If you have a score of 600 or higher, you're in good shape and have a high chance of getting a favorable deal.  More so if you have a score of 700 which they consider as excellent. However, if you have a score that's below 600, you might have a harder time getting approval.
Here's the good news:  that's just the general rule and some lenders can work out a compromise for you.  Just remember that keeping a good credit score is very, very important.
Top Mortgage Offers From Our Partners
Advertiser Disclosure
The product offers that appear on this site are from companies from which this website receives compensation. 
3.  When You Don't Know The Market – Use Realtor
A good realtor can make your home buying experience delightful and a bad realtor can make it a nightmare.
As soon as you've made up your mind on where you want to live, find and get a referral for a good realtor.
According to the National Association of Realtors, buyers largely found their realtor through personal referrals or from previous dealings with them.
You can ask your friends, family or acquaintances who live in or near your area of interest for their recommendations.  If that doesn't work out, there's always the Internet.
Websites like Streeteasy, Naked Apartments, Trulia, and Zillow publish lists of local realtors with appropriate reviews and ratings.
If you can get a realtor who has great knowledge of the area you're looking at, we assure you, you'll save a lot of time.
And if your realtor has the heart and ability to really listen and try to understand what you want, he or she will be able to execute your desires to your satisfaction.
A good realtor also follows through up to the closing – though there are exceptional ones who still take care of you even beyond that point.
One other valuable advantage of a good realtor is their network of loan officers, real-estate attorneys and even people from government agencies.
He can offer you tips and some tricks-of-the-trade that you won't find in textbooks.
So, do some legwork and look for the best realtor you can get – it will be worth all the trouble.
4.  Don't Forget to Buffer
We understand that it is tempting to go all the way to stay competitive especially if you receive a nice offer. We recommend that you try to keep some good amount of money after closing on your home.
Sounds easy enough?  You be the judge.
If buying your house will leave you with just $1,000 in the bank or will force you to just pay the minimum amount on your credit cards, your house is probably too expensive for you.
A good figure is at least three to six months in savings on the day you close – and this amount should already be on hand.
Remember that having a house is like having an additional family member so you need to build up more emergency funds than before.
Let's face it:  when your cash level is near the bottom of the barrel, even a minor crisis can turn your financial situation upside down.
When you're already maintaining your own house, the probability of having a crisis escalates.  A leak in the basement, a broken window or a faulty wall outlet – these things can become major expenses.
When you see that purchasing your dream home will spread you too thinly, why not consider waiting?
You may want to build up more cash savings or simply settle for a cheaper house.
5.  Stick to Your Budget
One of the most important factors mortgage lenders use to make a decision is income. Many lenders have a strict policy of only allowing less than 30% of income on mortgage costs. In this chart with 2020 NAR Trends data, it shows the household income of homebuyers. The most popular income bracket is $100,000 to $125,000. Conversely, the lowest income bracket of homebuyers was less than $25,000.
Supposing the house you're really interested in is over your price range, what would be your probable reaction?
If you say you will definitely struggle inside, that's normal.
You need to have self-discipline in this area even before you start looking at houses.
Settle the important issues first such as your ideal price range and how much is the maximum amount that you can spend without sacrificing your financial future.
Use the online calculator to determine the maximum monthly payment you can make based on the actual down payment you will be able to put up.  Have the will power to stick to your budget.
How can I get money for a downpayment?
There are a number of ways that you can get money for a downpayment. While borrowing the money is a common option, this can put you under financial strain. Additionally, your mortgage lender may look unfavorably at borrowing the downpayment, since it suggests you may not be able to afford the costs of the loan.
The best way to get your downpayment is to think about your current finances. You may be able to budget and save money on your typical expenses, which can go into a savings fund. Another option is to take on additional work, start a side hustle or take on overtime at your current job.
Purchasing a home is a long term goal, so it is a good idea to start thinking about regularly saving for a downpayment as early as possible.
6.  Consider Future Expenses
You may say that your present financial situation would enable you to come up with the down payment and closing cost as well as pay for other fees.
However, you must consider the financial impact of paying for the house and maintaining it.  These are real and unavoidable expenses that will take most of your monthly income.
So, you may find the house of your dreams but if you see that the monthly payment, maintenance costs plus your other fixed expenses will put you in the red, it's better to move on.
You are no expert in this area so it's better to let the other people with experience and knowledge to help you.
For example, your bank's loan officer might be able to prepare some calculations for you to arrive at a realistic figure for your budget.
He or she will also be in a better position to tell you how much interest rate you're likely to get for your loan.  This way, you'll have a better idea of what you are going to face in your quest for that dream house
7.  Make Your List of Negotiables and Non-Negotiables
Deciding on a house is not just about how it looks from the other side of the street – there are a lot more important things to consider. So, sit down and start thinking about what kind of house would fit your lifestyles and values.
For example:
What features do you want in your house that would basically let you enjoy staying there?
What kind of neighborhood would you want to live in?
On which part of the street would you want it to be?
How big should it be?
Do you need an attic or a basement? Or both?
Do you want a patch of ground where you can do some gardening?
Your list would be of great help to your realtor.
You are extremely fortunate if you will be able to find a property that matches your list to a T.
The simple truth is, it's very difficult to find everything you want or need in one property.
 Our advice is for you to visit open houses in the area and get a feel of the local market.
Check out apartments that are both a little over and below your price range to see how values differ depending on features and location.
As you go through the different properties, you can review your list and reevaluate what you want so you can somehow align it with what is really out in the market.
The location of a property can be a massive factor when choosing a home. But, what determines your neighborhood choice?
In this chart using 2020 NAR Trends data, the quality of the neighborhood was the most popular factor. This was followed by the convenience to work and the overall affordability of the homes. At the other end of the scale, walkability, larger lots and convenience to recreational facilities and schools were the least important factors.
8.  Prepare For The True Cost of Home Ownership
Many home buyers focus too much on the down payment because it could be the biggest obstacle to owning a home.
And a good many of them also neglect to prepare for the other costs that accompany the whole process:  appraisal, origination, credit report, inspection, and notary fees.
When you take all these together, they constitute a substantial amount that buyers must pay out of their own pockets.
Significantly, the expenses won't stop when you get the keys to your house.  In fact, the moment you open the door, you likewise open a whole range of new expenses for your household.  You spend on the moving expenses, new furniture to fill up the house, new appliances and maybe even a new lawnmower.
It's normal that as you begin to live in the house, you'll notice additional needs – and these are additional costs.
Maybe the wall needs a nice wall clock or the corner would look better with an antique jar or the hallway might use a few more lights.
Most people fail to take this into account so it is better to prepare yourself.