TradeStation is a brokerage house that strives to offer low or no commissions but won't budge on the quality of its services. For this reason, the majority of its products and services have fee or commission in-line or slightly above the market.
While there's room for improvement on transparent pricing, the standard offer doesn't deviate much from the industry norms. TradeStation managed to build a solid brand name for itself, and the rising number of new accounts proves it is respected in the industry by both retail and institutional investors.
By covering all market segments (stocks, ETFs, fixed income, options, futures, mutual funds, crypto), some in more detail than others, TradeStation stands as a brokerage house for the future. It remains one of the few brokers that integrated crypto trading, and its Japanese parent intermediates access to the U.S. market to Japanese investors willing to diversify their portfolios.
However, Tradestation is no regular brokerage – it runs a big business by "renting" its world-famous trading platform to traders all over the world, regardless if you have an account open with TradeStation. You can use the powerful tools that come with its flagship trading platform.
All in all, a well-respected broker running a solid business. A true partner for the modern investor.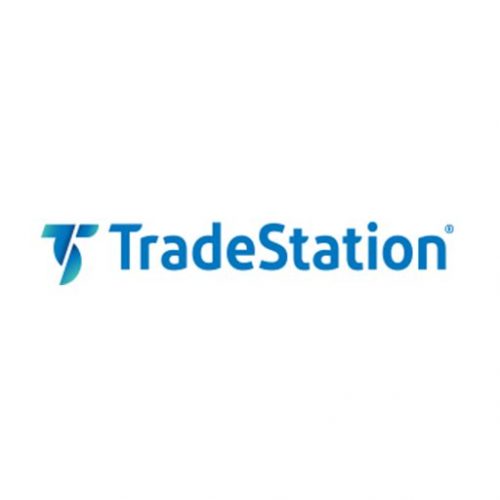 On TradeStation Secure Website
– Stocks / Options / ETFs
– Futures / Future Options
– Mutual Funds / IPOs / Crypto
By far, the major benefit when trading with TradeStation comes from the trading platforms offered. The seamless integration between the different components (desktop, web trading, on the go), combined with different apps especially created for running on the main station, make a powerful trading tool in the hands of the savvy investor.
The same with TradeStation, but on a different scale. Its database is full of other indicators than the classic ones you can find on a regular platform.
Another good part is that it is relatively cheap to check if you really want to trade with TradeStation. Simply pay for a month's worth of access to its Trading Analytics platform and check for yourself if the services, markets, spreads, fees, database, etc., match your expectations or not. If not, that's ok, but at least you don't need to go through the process of opening a trading account. Not that it is a hustle, but sometimes it takes more time than investors or traders are willing to wait.
The TradingApp Store stands out of the crowd. It is similar to what other retail trading platforms offer but built in a more professional way. For instance, let's take the MetaTrader – the most popular trading platform for currency and crypto trading, CFDs, and commodities. It comes with default indicators and some sample trading strategies, but then you can import custom strategies and indicators and upload them into the platform.
Independent developers built compatible indicators and strategies and offered them to anyone interested in paying a fee for running them.
The advantage, of course, is that TradeStation builds a large database this way and retains its customers by always having a high-quality offering.
It is unclear for the new customer how funding and withdrawing works. Probably the broker gives more details after the initial procedure of opening a trading account, but the info should be available beforehand. If it is, then for sure, it is well-hidden somewhere on the website's complicated structure.
Speaking of that, the products, types of accounts, and other features are explained in too many details that make it difficult to follow. Instead of structuring all the markets, products, account types and fees in one place, they're spread across the website in a confusing way.
For instance, the pricing structure is confusing, to say the least. While advertising $0 in capital letters for some of its services, in reality, there's a fee to pay, but the details appear in small letters, typically "hidden" at the bottom of the page as Additional Information on Pricing.
From the desire to offer as many services comes the difficulty of presenting them in a simple form. This is where most of the negative points lie with TradeStation, but not only.
All things are presented too complicated.
From services to fees and commissions, there's always the impression that you need to read all the notes and footnotes to fully understand what's in there.
It may be that the info is important, and you need to know it, but the way it is presented makes one wonder why did the brokerage house go an extra length to do that?
Trading Products
TradeStation's product range covers all the investment spectrum. From most U.S. stocks to ETFs to track different sectors or currencies, to options or futures options trading to crypto trading, TradeStation goes the extra mile to bring as many markets to its customer base.
Product
Description
Stocks

Access major U.S. exchanges and market centers
Decades of stock market data for back-testing strategies

ETFs

Choose from 2000+ ETFs to trade
Track different industry sectors, commodities or currencies

IPOs through the ClickIPO app

Access Initial Public Offerings (IPOs) before the shares are available to trade
Secondary offerings
Follow-on offerings

Options

Gain leverage, manage risk, and hedge stock positions in a low-fee trading environment

Futures

150+ futures products available to trade
24/6 trading hours
No short-sale restrictions
High liquidity market
Leverage opportunities available

Futures options

250+ futures options products
Extended trading hours

Crypto

Trade Bitcoin, bitcoin cash, Litecoin, Ethereum, Ripple, and XRP from one account

Mutual funds

Over 2000 mutual funds to choose from

Bonds

Vast selection of fixed income products
Commissions and Fees with TradeStation
TradeStation is a brokerage house that strives to offer low or no commissions but won't budge on the quality of its services.
For this reason, the majority of its products and services have fee or commission in-line or slightly above the market.
The services fees, in particular, looks heavy commissioned. However, it is the multitude of services and options available that the investor may choose from that dictate the number of various services to pay for.
For instance, stocks trading isn't commission-free. After the first ten-thousand shares, one needs to pay $0.005/share. While it may not seem a lot, it is a fee to consider. The same is true in the case of ETFs trading.
All products offered by TradeStation come with a fee or commission, but the broker argues that it compensates with great execution and unbeatable spreads on its products.
Account Types
The most popular account type with TradeStation, the Individual and Joint account offers access to all the market products listed earlier, under the same roof.
It makes it easier for the investor to monitor the trading account's evolution, to spot the weak and strong points, and to quickly react to changes in the trading environment.
The retirement and entity accounts look similar to the ones offered by competitors (e.g., E-Trade, Firstrade) – a must for any brokerage house of the size of TradeStation.
Account Type
Characteristics
Individual and Joint

Individual account – one account owner – available for crypto trading
Joint with Survivorship Right – two account owners – not available for crypto trading
Joint tenants – up to three accounts
Custodial – established for a minor, managed by a guardian – not available for crypto trading

Retirement Accounts

Traditional IRA
Roth IRA
SEP IRA
Simple IRA

Entity Accounts

Trust
Corporation
General Partnership
Limited Partnership
Limited Liability Corporation
Sole Proprietorship
Additional Services at TradesStation
This is one area where TradeStation enjoys a competitive advantage. Its institutional services arm generates a big chunk of its revenues while, at the same time, TradeStation maintains a solid customer retention rate.
The Brokerage Services account in particular stands out of the crowd. Besides custom trading solutions, it offers soft-dollar arrangements and enhanced reporting facilities to its institutional investors.
Trading Platforms
One of the strongest points in TradeStation's offering – the range of trading platforms offered.
These are not only some options the trader has at his/her disposal, but one of the best trading platforms in the market, difficult to replicate by competition.
The TradeStation Desktop is the cornerstone of TradeStation's range of platforms. Everything is based on it, and all the other products have integrated features to the desktop platform.
The Web Trading platform comes to complement the Desktop version, just in case investors are away from the office but still find a desktop with an Internet connection and an available browser.
On the go trading benefits from one of the most exquisite trading apps available to the modern investor. Since smartphones are everywhere and grow more powerful every year, investors expect more complex features from an app. TradeStation delivers at this chapter, with its main app available on both iOS and Google PlayStore. It even offers a preview for those interested to see how the app helps investors when not in the vicinity of their trading desks.
A special mention here for the ClickIPO app that doesn't belong to TradeStation, but it is integrated with the platform. This way, TradeStation gains and retains clients interested in the huge IPO market segment.
TradeStation Desktop, Web & Mobile
The TradeStation Desktop, in particular, is famous for its fast trade execution and its customizable charts. However, you need to have an open account with the brokerage house to use it, as it is offered internally only to TradeStation's clients.
It has incredible integrated features that do not exist at other brokerage houses, like the RadarScreen, EasyLanguage, or an advanced OptionStation Pro that lets you make the most when trading options.
On top of that, it has a Simulated Trading Mode, literally a demo account where anyone can test a trading strategy with virtual money before putting it to work in a live environment.
The TradeStation Web Trading and Mobile App platforms are accessible with the same credentials. They exist for the simple reason that they give investors the flexibility of accessing the trading account from anywhere with a simple Internet connection. Are you on a business trip? No problem – log to your hotel WiFi, open a browser, and the TradeStation Web platform is ready for you. The same with the Mobile App platform – trading on the go, wherever there's an Internet connection.
One of the interesting things about TradeStation is that it developed a TradingApp Store from where you can download specific applications to add as trading tools for the platform. This is something similar to what other brokerage houses try to do (i.e., offering additional services at an extra cost), with the difference that TradeStation charges a monthly subscription for the app, and the trading platform runs well without the apps. In other words, it is not mandatory to install the apps to run the trading platform. Of course, the downside is that they don't come for free.
And then there's the TradeStation Analytics. A premium platform featuring award-winning tools, it can be used by anybody.
No brokerage account with TradeStation is required, but access it comes at the cost of $99/month.
It has all the features offered by the TradeStation Desktop platform, albeit it doesn't give access to all the markets and products like when you have an account with TradeStation.
Customer Service
Live chat support exists during ET business hours from Monday to Friday, but TradeStation representatives are easily reachable by phone or email too. That's only normal if one considers the fact TradeStation has a trade desk that places trades for its customers. Against a fee, traders active on the stocks, options, futures, or crypto market can benefit from assistance when needed.
One thing is worth mentioning here. Because the TradingApp Store offers hundreds of indicators, strategies, and more, the new investor/trader feels overwhelmed. However, finding a TradeStation representative is easy, either by phone, email, live chat, or using the online Client Center.
Top Offers From Our Partners
Advertiser Disclosure
The product offers that appear on this site are from companies from which this website receives compensation. 
Trading Education
TradeStation's learning center offers a comprehensive guide to the world of trading and investing.
It literally leaves no stone unturned when it comes to financial markets, from technical to fundamental analysis of stocks and options, to various educational videos explaining market concepts.
How to Open TradeStation Brokerage Account?
Step 1:
Visit the TradeStation homepage and then click on "Open account."
Step 2: 
Next, go to the account setup section and create your customer profile by including your names, email address, and phone number.
Step 3:
Next give more personal information as well as your employment information and click "Next."
Step 4:
Talk about your trading experience and then go through your account summary.
Step 5:
Lastly, go through the agreements and then tick the box,
after which you can submit your application.
Here are our 3 choices of brokers which can use as a great alternative to TradeStation: 
Interactive Brokers offers services for both retail and institutional investors. It stands out from the pack as a broker that is best for gaining access to the worldwide markets. Interactive 
While it may not be the cheapest broker around, the access to global financial markets, competitive pricing, and premium technology make Interactive an interesting proposition. So, if you're in need of a professional, regulated, global broker, who brings together institutional clients and retail traders for mutual benefit. Interactive is a solid choice. 
Merill Edge offers self directed trading services that are specifically design for individual investors. This offers access to unlimited free trading with research and insights, seamless integration, and personalized online investments. There is even no minimum investment level. 
Merill Edge also offers its Guiding Investing, a portfolio account designed to suit individual clients' needs while being balanced and managed by a pro. This guided investment account has a minimum investment of $5,000. There is also an advisor program to assist those with complex wealth management requirements. For a minimum investment of $20,000 and a larger annual fee, Merrill can build a tailored investment strategy for individual clients. 
TradeStation Is Best For…
TradeStation's popularity among both the retail and institutional investors is justified by the range of quality products and services it offers. Its trading platforms are a bright spot in otherwise a qualitative offer from all points of view.
You should consider TradeStation for its:
Amazing trading platforms
Relatively low commissions on stocks and ETFs trading
Options trading arm – while commissioned, it compensates with distinct software and apps that more than cover for it
Making the most from an IPO
Mobile trading