To become a more successful trader, there are some essential rules to observe. One of the most important of these is the maxim, "the trend is your friend". You've probably already heard of this saying, and after all, what trader doesn't like to ride a trend?
What about you?
Many traders use momentum trading to take advantage of trends. They do so because they believe that this method can reduce trading risk and enhance their profits.
What Are Momentum Traders?
Momentum investors are usually day traders that take advantage of strong upward or downward price movements. Momentum traders look for entry and exit points within a trend – more specifically, they look out for either reversal or continuation chart patterns to confirm the direction of the trend.
What is a trend?
In our previous article about trend lines, we explained that there are 3 different kinds of trends: bullish, bearish, and flat.
When markets evolve sideways, there is a lateral consolidation, also called a range, mostly happening when market participants are undecided. According to the Dow Theory, an uptrend occurs when prices form higher highs and higher lows. Conversely, a downward trend is defined as a pattern of falling peaks and throughs.
Momentum Trading
It's often said that momentum trading is based on Newton's law of motion, where an object in motion is said to stay in motion until external forces change this state. In the same way, when markets are in motion, when they are trending, they tend to stay in motion rather than reverse.
If prices go up, they tend to keep going up.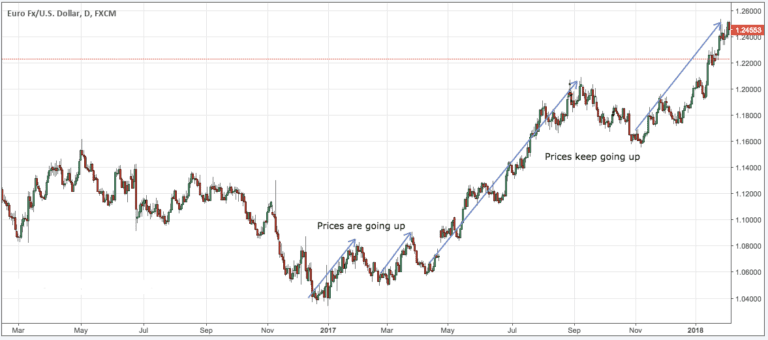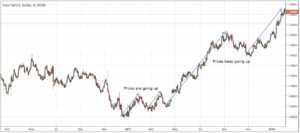 If prices go down, they tend to keep going down.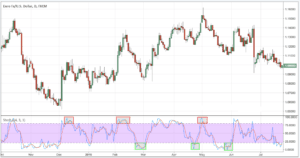 "Momentum traders can benefit from bull markets as well as bear markets"
Simply put, a bull market is characterized by a rise in prices, a period of sustained gains. When markets are going up, there is strong optimism amongst market participants, which attracts more bullish investors. Because investors are hopeful that prices will keep rising, it supports the upward direction of the prices. It's all about confidence.
Conversely, a bear market happens when prices go down for a continued period of time. Lack of optimism, lower than expected growth, wars, geopolitical tensions, and many other factors can trigger a downward movement. Extreme emotions from market participants can also reinforce the movement, such as panic.
Market Volatility As a Key Indicator
"Momentum trading relies on market volatility to make profits"
It's all about capitalizing on volatility.
Rather it is within a bullish or a bearish movement, momentum trading takes advantage of market volatility to make short-term profits. Consequently, trading strategies based on momentum have a higher degree of volatility than other strategies, which requires excellent money and risk management.
Use Momentum Oscillator Indicators In Your Trading Strategy
While prices are trading upwards, downwards, or sideways, oscillators usually look like a flat horizontal band plotted below the chart. Peaks and troughs typically, however, appear on the chart and on the indicators at the same time.
Most indicators have a midpoint value – usually a zero line – dividing the range into 2 halves: an upper part and a lower part.
3 Ways You Can Take Advantage Of Momentum Indicators
Oscillators are most useful when their values are located in extreme areas, such as near the upper and lower boundaries. The market is oversold when the reading is close to the lower extreme, while it is overbought when the reading is close to the upper extreme. These situations indicate that prices are vulnerable, and could possibly be about to reverse.
Divergences are also an important warning to take into consideration, as they could indicate that prices are losing momentum and could be about to reverse. Remember that divergence occurs when the evolution of the prices and the indicator "disagree" and evolve in opposite directions.
When crossing above or below the middle line, traders get potential important trading signals in the direction of the main trend. Many traders use the crossing of the zero line, as buying or selling signals. They will usually only buy an asset if the indicator is above the zero line, and conversely if they want to short-sell an asset.
What Are The Best Technical And Mathematical Indicators?
The Momentum Indicator
As John Murphy explained in his book about Technical Analysis, "momentum measures the velocity of price changes as opposed to the actual price levels themselves." It's all about determining the speed and the strength of the price movement.
The momentum indicator compares the most recent prices to previous closing prices to determine when prices are going upward or downward and by how much:
M = CP – CPn – where CP is current closing price, and CPn is the closing price of "n" periods.
10 is usually the default setup, as you can see on the daily EUR/USD chart below. If the momentum line moves above the zero line, like in the green circles, then the latest 10 day close is now above the closing price of 10 days ago, which could soon trigger a bullish leg, or confirm it. When the momentum line keeps going up above the zero line, then the bullish trend is gaining momentum and accelerating.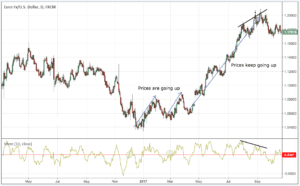 As you can see on the right part of the above chart, while prices were forming higher highs, the indicator line was creating lower highs, which was a sign that momentum was slowing down and formed a bearish divergence.
The Williams %R Indicator
This indicator, developed by Larry Williams, is very close to the way the RSI and Stochastic indicators work, as it spots overbought and oversold zones that could trigger price reversals. The default setting for Williams %R is 14 periods, regardless of the time frame.
As the Williams %R moves between 0 and -100, -50 the midpoint and is an important level to watch.
When the indicator is below -80, then these low readings indicate that prices are very close to their lowest level over the selected period – see the green rectangles in the above chart.
Conversely, when the indicator line is above -20, then these high readings show that prices are very close to their highest level for the given period – see the red rectangles.
Consequently, traders often see a buying signal when the indicator is between 0 and -20 and a selling signal when the line is between -80 and -100. Many traders wait for the line to exit the overbought, or oversold, situation to get a confirmation for trading signals.
The Stochastic (%K%D) Indicator
George Lane, the man behind this indicator, explained that the "Stochastic Oscillator doesn't follow price, it doesn't follow volume or anything like that. It follows the speed or the momentum of price. As a rule, the momentum changes direction before price."
This momentum indicator shows the relationship between closing prices and the high-low range over a given period of time.
The default setting for the Stochastic indicator is 14 periods, and it is computed as followed:

%D = 3-day SMA of %K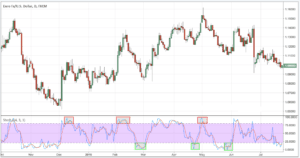 With this indicator, it's easy to identify overbought and oversold situations that could trigger price reversal. Readings above the 80-level mean that prices are overbought and that they could start heading downward – red rectangles. On the other hand, the oversold threshold is below 20 and prices might be about to head upward – green rectangles.
Trading signals can also be spotted when the %K (blue line) is crossing the %D line (orange line). When the blue line crosses below the orange line, there is a bearish signal – especially when the indicator is leaving the overbought situation. Conversely, when the blue line crosses above the orange line, there is a bullish signal.
Will Momentum Trading Work For You?
Because you need moving assets, it's important to be available to monitor the charts to spot relevant entry and exit points.
In addition, the time horizon is quite short, so it's an extremely stressful type of trading, which requires focus, discipline, commitment and patience.
Ready to become a Momentum Trader? Here is what you need to focus on.
Select your financial asset(s) wisely
If you're using momentum trading with stocks, take into consideration economic cycle, sectors' strength, seasonality and the performance of the major indices where the stocks belong
If you're using momentum trading in the Forex market, take into consideration monetary policy changes, inflation/employment/growth figures, as well as trade figures
Choose the right time frame
Use a volatile market, rather than a rangy one
Monitor trading volume
Follow the economic calendar and the news to catch market participants' reaction to important statistics and newsflash
Apply a favorable risk/reward ratio depending on your trading capital, your risk aversion, and the trading conditions
Do not jump into the market too soon, wait for confirmation
Do not close your position too early or too late
Keep focusing on the charts to spot any market reversals or signs that momentum is slowing down
Have a sound entry and exit setups that mesh with your trading style
The Smart Investor content is intended to be used and must be used for informational purposes only. We are not an investment advisor and you should NOT rely on this information to make investment decisions .