Owning your own home is one dream that is shared by many. It almost feels like you haven't really made it in life until you do.
However, owning your own home can seem like a pipe dream when you start looking at the prices of houses for sale. Here is where mortgage loans come into the picture, but how do you find the right loan for you that matches your needs and wants in buying your new home?
When it comes to looking for a mortgage loan there are a couple of things to think about before settling down with one. You need to look at mortgage rates, lenders, and a long list of other things.
Just like the loans themselves, not every lender is created equal. This is why we are here. 
We have taken into consideration what you will need to look for in a lender first and foremost. Then, we compiled a list of the top mortgage lenders around to help you in your journey of owning your first home.
Here are The Smart Investor select's picks for the top mortgage lenders for first-time homebuyers:
Flagstar Bank offers a wide range of mortgage division. The Bank allows you to open a number of different fixed-rate mortgages from home loans to VA Adjustable-rate loans, construction draw loans, refinance loans, jumbo loans, one-close loans, multiple property loans and government-backed-up loans such as; USDA Rural Development Loans, Federal Housing Administration Loan.
However, they do not provide renovation loans, and the home equity loan is limited geographically.
Fixed-Rate Mortgage
Adjustable-Rate Mortgage
Mortgage Refinancing
USDA & VA Loans
Home Equity and HELOC
HFA Loans
Better Business Bureau Rating: A+
Quick Quotes
Variety Of Products
Customized Calculators
Physical Presence
Customer Review
With the headquarter located in Chicago and licensed to lend in all the 50 states, this Bank provides a superb online mortgage experience with a unique digital application process. The Bank has an excellent reputation for an outstanding competitive rate and good customer service.
Guaranteed Mortgage offers both governments backed-up loans and conventional loans for purchase and refinance. Some of the loan products this bank offer include; Federal Housing Administration Loan, Jumbo Loan, Fixed-rate mortgage, Adjustable-rate mortgage, USDA mortgage, VA loans, and interest-only Mortgage.
Fixed-Rate Mortgage
Adjustable-Rate Mortgage
Mortgage Refinancing
Jumbo Loans
Interest Only Mortgage
FHA & VA Loans
Rate Lock Expirations
Simple Process
Turn Times
Customer Service
Underwriting Limitations
New American Funding Mortgage is ideal for individuals looking for safe and secure loans backed by the government. Some of the loan options provided by the lender include FHA, USDA, and VA government-backed loans. Jumbo loans, refinance loans, interest-only loans, and purchase loans.
New American Funding also provides individuals with access to community loans that may not be provided by non-bank lenders. You can start the loan application process online or in person, but the lender employs a physical underwriting process as it enables them to reach underserved markets.
Fixed-Rate Mortgage
Adjustable-Rate Mortgage
Mortgage Refinancing
Interest-only Loans
Jumbo loans
Minimum Down Payment: 3%
BBB Rating: A+
Broad Set of Products
Website
Flexible hours, Spanish Support
Dedicated App
Home Equity/ HELOC
Chase Mortgage is one of the top-rated lenders in the lending industry. Serving more than 60 million households in the U.S with home lending advisors in about 30 states readily available on phones and email shows how credible chase mortgage is.
The Bank offers a full menu of fixed and adjustable-rate loans, including the federal housing administration loan, veteran administration loan and jumbo loan of up to $3Million. Chase also offers a low-down payment and a low-income option called the DreaMaker Mortgage.
Fixed-Rate Mortgage
Adjustable-Rate Mortgage
Mortgage Refinancing
Jumbo Loans
Home Equity Line Of Credit (HELOC)
HomeReady
Minimum Credit Score: 620
Better Business Bureau Rating: A+
Rate Lock Expirations
Simple Process
Turn Times
Customer Service
Underwriting Limitations
Guild Mortgage has highly trained loan professionals who are experienced in government-sponsored programs such as FHA, VA, USDA, low down payment assistance programs, Conventional, Jumbo, and Renovation loans as well as niche products for customer-specific needs.
Guild Mortgage Company avoided the sub-prime market and emerged from the downturn healthy and strong and now they have more than 4,000 employees, and 349 branches and satellite offices in 31 states.
Fixed-Rate Mortgage
"3-2-1 Home" Program
Mortgage Refinancing
Jumbo Loans
FHA & VA Mortgage
USDA Loans
First Time Homebuyers
Banking Relationships With Credit Unions
Turnaround Times
Transparency
Limited Locations
Flexibility
How to Get a First Time Mortgage?
First-Time Mortgage: What are The Steps to Buying a House?
Buying a home as a first-time buyer can be overwhelming, and you may be anxious not to make an expensive mistake. We break down everything you need to know about mortgage lenders for first-time buyers to help you buy your home with confidence.
Here are the 7 important steps you should follow when taking a mortgage:
1. Check your credit score
Check your credit report to know your credit standing, and request for a credit score before you submit your mortgage application.
While it is possible to get a mortgage with a fair credit score, you have higher chances of getting approved if your score is in the good, very good, or excellent credit score range.
2. Get down payment ready
Start saving for a down payment a few years or months before you start the home buying process. The required down payment varies depending on the property price and mortgage term.
A 30-year mortgage loan requires homeowners to make a down payment of about 20% of the home value, while an FHA loan may require a down payment of 0 to 10%.
3. Get preapproved for a mortgage
Before sending your mortgage application, get pre-approved for a mortgage loan to know the amount of loan you can afford, the loan terms you will get, and to determine whether you have a chance of qualifying for a particular loan.
Getting pre-approved for a mortgage also helps you know the maximum monthly payments you can afford, and the amount a lender is willing to approve.
4. Shop for a home
Start looking for a home within your price range once you are confident that the lender is willing to lend you a specific amount of loan.
Use a home buying checklist to determine if the homes you find have all the features you need. You can even take videos and photos for easy comparison.
5. Submit mortgage application
Once you've settled on a house and agreed on a fair price with the seller, you should now prepare and submit your mortgage application to the mortgage lender.
The lender may require you to provide other documents such as federal returns for the last two years, recent bank statements, social security number, other long-term debts you are paying, pay stubs for the last one month, and proof of other sources of income.
6. Close the sale
At the closing stage, you will sign the paperwork required, including the loan documents. Familiarize yourself with the closing process and closing costs that you should expect.
If the closing costs are out of reach, you can ask the seller to chip in and pay part of the closing costs. Once you've paid for the home and signed all the documents, you are free to move in.
What are the Important Things to Focus on As First Time Homebuyers?
The lure of your first home can be overwhelming. As a first-time buyer, there are certain things you should know before taking a mortgage for your home.
Here are important things to consider:
When buying a home, you should have a substantial budget to afford the down payment, closing costs, monthly repayments, taxes, and other homeownership expenses.
Before approving a mortgage loan application, lenders look at your income, household expenses, and other debts you are currently paying to make sure you can afford another loan. If you don't have sufficient savings to pay the down payment, create a savings plan and start saving.
Mortgage debt accounts for the majority of consumer debt. This 2020 NAR Trends chart highlights that the average mortgage loan debt has steadily increased between 2015 and 2019. The total four year increase in this segment is a significant 10%. This suggests a trend of increasing mortgage debt that correlates with the rising house prices.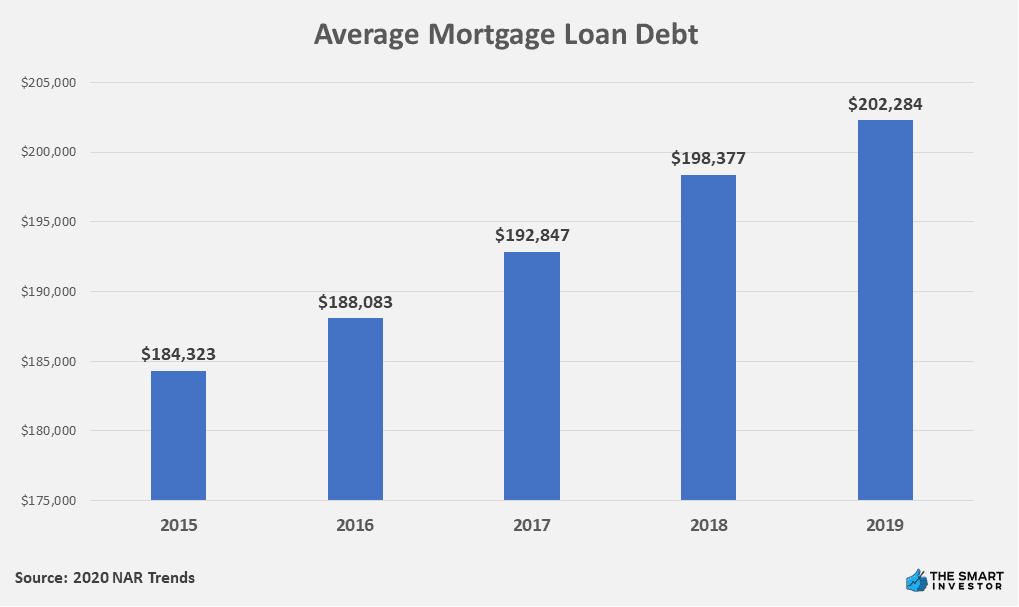 With a good credit score and a strong credit history, you can get your mortgage application approved quickly and at favorable terms. Start by checking your credit report for any errors that may affect your credit rating, and solve the errors before submitting your mortgage application.
The minimum credit score to qualify for a conventional mortgage loan is 620, and a higher credit score can increase your chances of getting approved. You should work to get a credit score of 700 and above to qualify for competitive mortgage rates.
There are different mortgage options that you should consider depending on the amount of loan, loan duration, type of interest rate, and other factors. Understanding the following options can help you negotiate favorable terms for your mortgage loan:
Loan term: Generally, mortgage loans have a term of 15 to 30 years. Short-term mortgage loans have higher monthly repayment and lower interest rates, while long-term loans of up to 30 years have small monthly repayments spread over the loan term, and at higher interest rates.
Interest rate: Choose between a fixed-rate and an adjustable mortgage rate. Fixed-rate loans remain constant over the life of the loan, while adjustable interest rates may start at a lower rate, but this rate may increase or decrease based on the market interest rates.
Loan Options For First-Time Home Buyers
First-time home buyers have an array of financing options for their first home. Here are the mortgage loans options you should consider:
Conventional Loans
Although conventional loans are not federal government-guaranteed, they are common mortgage options for first-time home buyers. These loans require borrowers to have a good credit score and require a down payment of at least 3% or higher.
FHA Loans
First-time buyers prefer FHA loans due to their relaxed qualification requirements, especially if you do not have a good credit score. The Federal Housing Administration provides guarantee for these type of mortgage loans as a way of protecting mortgage lenders from the risk of borrower default.
FHA loans have a lower down payment of 3.5%. Although FHA loans have the lowest credit score requirements, they require borrowers to buy mortgage insurance in form of an upfront fee at the time of closing, and a subsequent annual fee.
USDA Loans
If you are planning to buy a home in the rural parts of the country, you should consider getting the USDA loan, which is guaranteed by the US Department of Agriculture. This mortgage option allows 100% financing to borrowers, meaning that you do not need to make a down payment.
USDA loans have a low interest rate, and they are designed to help low-income home buyers to acquire a home outside the major metropolitan areas.
VA Loans
The Department of Veteran Affairs provides guarantee for these loans, as a way of assisting Veterans, surviving spouses, and active service members to acquire homes.
This loan option offers 100% financing, and it may not require a down payment. VA loans have low interest rates, low closing costs, and accept fair credit scores.
First time homebuyers account for 33% of all home sales. In this chart using 2020 NAR Trends data, you can see that the 22 to 29 year old age group is the most likely to buy a home for the first time, accounting for 88% of sales. This is followed by 52% of sales in the 30 to 39 year old age group. At the other end of the scale, only 6% of 65 to 73s and 5% of 74+ house sales were to first time buyers.
Which Loan is Best For First Time Home Buyers?
With the hundreds of mortgage offerings in the market, it can be overwhelming for first-time home buyers to pick the best loan. Knowing what to ask can help you get the best deal.
Here are
The study exposed the underlying problems among mortgage lenders, despite the industry recording a boom in mortgage origination. The record low interest rates saw a surge in mortgage origination and mortgage refinance as customers moved to take advantage of the competitive interest rate.
However, with a workforce displaced by the pandemic, customers had to deal with slower loan processing, unreliable self-service tools, and a strained customer service.
Lenders recorded a 5% increase in the number of customers using the self-service tools, and a 5% decline in customers using personal service channels such as phone calls and email.
However, even with the increased usage of self-service tools, customer satisfaction with the application and approval process declined. There was also a decline in customer satisfaction with loan refinancing due to the longer processing time.
What Can We Learn from TrustPilot and BBB Ratings About the Different Mortgage Lenders?
Trust Pilot and BBB Ratings are customer review websites that work by allowing consumers to rate and review businesses that they have used or purchase from.
These websites allow customers to create a free account to share their experiences or complaints about specific businesses, and the companies are allowed to interact and respond to customer complaints.
Before taking a loan with a mortgage lender, you should check their latest ratings and reviews on Trust Pilot and BBB ratings to get an idea of what other customers think about them, and any complaints you should know about. These review websites encourage transparency in the way lenders operate to helps build trust between the lender and its customers.
You can search a lender by its name, phone number, website, location, or email address to check if they have a profile on either of the two customer review websites.
Once you see the business profile, you can filter the reviews to check the most recent reviews, most critical reviews, positive reviews, and if there are solved or unsolved customer complaints that you should know about.
How Much Can I Borrow as a First-Time Buyer?
When buying your first home, you should consider the size of loan that you can afford. Generally, lenders use mortgage calculators to determine the amount of loan they are willing to approve based on certain factors.
Examples of these factors include annual income, current monthly debt payments, household budget, expected loan term, and interest rate, etc. Getting these numbers beforehand can help you know the amount of loan you can borrow and pay with your current income.
Most often, lenders are willing to provide a higher amount of loan that you expect. Mortgage lenders are in the business of lending money, and the bigger the loan, the bigger the return on their capital.
Apart from the overall mortgage amount, check standard mortgage elements such as principal, interest, insurance, taxes, and homeowner association fees to know the expected monthly payments and if you can afford them.
When using a mortgage calculator, you will get an estimate of the maximum amount the lender is willing to lend you, and the expected monthly mortgage payments.
When Should I Apply For a First-Time Mortgage?
If you are planning to get a mortgage for your first home, you should determine the best time to submit your mortgage application. Here is what you should do first:
Save a down payment
Before taking a first-time mortgage, save up enough payment to help you reduce the monthly mortgage payments. Paying a down payment of at least 20% can help you avoid mortgage insurance, which is about 2% to 5% of the mortgage loan.
Putting a substantial down payment on the home you want to buy also protects you from market disruptions that may affect the real estate sector, causing a decline in the value of your property.
Pay your debts
Before approving your mortgage application, lenders consider your debt to income ratio to determine your level of risk, and the amount of loan you can afford. Lenders prefer a low debt-to-income ratio to approve a mortgage application.
Pay off your current debts first to help increase your chances of getting a mortgage loan at better terms and interest rate.
What Do First Time Home Buyers Need to Qualify?
The qualifications required to get approved for a mortgage loan depends on the mortgage option and the lender. Meeting these qualifications unlocks various benefits such as zero or low down payment and grants to buy your first house.
Here are the qualifications required for each mortgage option
Conventional Loans
Lenders require a debt-to-income ratio below 50%, and a FICO score of at least 620. The lender also requires a down payment of 3% of the amount borrowed to purchase a home.
FHA loans
These loans require home owners to pay a down payment of 3.5%, and have a credit score of 580. A higher down payment of at least 10% can help you qualify with a credit score of at least 500.
USDA loans
You may qualify to get this mortgage if you are buying a home in a rural part of the country. USDA loans carry zero to low down payments. A credit score of 680 can get you approved for this loan. If your credit score falls below this threshold, you may be required to put more money down, sometimes up to 10%.
VA Loans
You may qualify for VA loans if you are an active-duty service member or veteran with at least 90 days of continuous service. National guards with 6 years of service also qualify for the VA loans. These loans require a no or low down payment, there are is no minimum credit score required to qualify for this loan.
One of the most important factors mortgage lenders use to make a decision is income. Many lenders have a strict policy of only allowing less than 30% of income on mortgage costs. In this chart with 2020 NAR Trends data, it shows the household income of homebuyers. The most popular income bracket is $100,000 to $125,000. Conversely, the lowest income bracket of homebuyers was less than $25,000.
How Much Should I Save For a Down Payment?
A down payment represents your ownership stake in your home, and it is one of the biggest initial costs. While it is possible to pay zero or low down payment on a home, a higher down payment can help you get a lower mortgage interest rate, lower monthly mortgage payment, and put more equity in your home.
When deciding how much to save for a down payment, you should consider the lender's requirement, qualification for homebuyer programs, and your financial ability.
Lenders like to see a down payment of at least 20% if you want to get approved for a mortgage loan at a decent rate and avoid paying annual mortgage insurance. With a 20% down payment, you can lower the amount of loan and build equity quickly.
A bigger down payment will also lower the monthly mortgage payment, and leave you with extra cash to save for retirement or pay other household expenses.
With 20% down, you will not be required to pay private mortgage insurance, which is paid to protect lenders from the risk of home owner default. This insurance is paid as an upfront fee during closing or as part of your monthly mortgage payment.
How Mortgage Shopping Worksheet Can Help You During the Process?
A mortgage worksheet helps home buyers compare mortgage terms from two or more competing lenders. The mortgage worksheet contains a list of variables that occur before and during the mortgage term.
Some of the information contained in a mortgage worksheet include:
Size of mortgage
Size of down payment
Expected monthly payments
Mortgage term in years
Annual Percentage Rate
Whether the mortgage rate is a fixed or adjustable-rate and the associated rates
Cost of private mortgage insurance (if any)
Lender's margin
Expected origination/closing fees
Prepayment penalties (if any)
The mortgage worksheet is completed by the homeowner and their agent. By comparing the terms of each lender, a home owner can determine the lender with the most favorable terms and interest.
If you plan to stay in the house for a long time, check the lender with the least costs in the long-term to help you save money. If the selected lender sticks with the terms offered at the time of closing, you can go ahead and close the transaction with that lender.
However, if the terms change and it becomes more expensive than the second lender, you can switch your application to the second lender.
How to Improve My Chances to Get a Mortgage?
While there are no guarantees that you will get approved for a loan, you should take steps to improve your credit and income status to get your application approved quickly.
Here are sure ways to boost your chances of getting a mortgage:
1. Pay a bigger down payment
Putting a bigger down payment towards your mortgage loan helps reduce the loan to value ratio.
Mortgage lenders are interested in a low loan to value ratio because it protects their stake in case you are unable to make the required mortgage payments in future.
A bigger down payment of 20% or higher reduces the monthly mortgage payments, and you will not be required to pay mortgage insurance.
2. Lower debt to income ratio
This ratio compares your current debt with your current income, whether it is employment income, business income, or investment income.
Lenders use the debt to income ratio to know if you can afford the mortgage, and if your financial commitments allow you to take a new payment.
If your debt-to-income ratio is above 50%, start by paying your debts and find a new source of income to boost your monthly income.
3. Improve credit score
Lenders look at your credit score to determine your credit risk, and your ability to make timely mortgage payments.
If your credit score is below the expected range, start by paying your bills on time, keep credit card balances low, pay any debts you owe, and fix any mistakes in your credit report.
A credit score of 700 or higher is desirable if you want to get favorable mortgage terms and interest rate.
What else should I consider when getting a mortgage for my first home?
Apart from getting your credit score in check and saving up for a down payment, there are other things you can do to help you get the best rate for your mortgage. They include:
Find first-time home buyer programs
As a first-time home buyer, you should not overlook home buyer programs and grants. These programs often have a low rate and they require zero or low down payment.
Overlooking these programs may cause you to wait longer as you save a down payment or miss out on government-backed assistance programs.
Compare rates from several lenders
It pays to compare rates from several lenders instead of getting comfortable with just one rate quote.
Each lender has different mortgage terms and interest rates, and a few points difference can save you thousands of money in interest rates and other mortgage-related costs.
Talk to loan experts and compare offers from different lenders to decide the most convenient option that will save you money in monthly repayments or over the life of the loan.
How do I know how much interest I'll pay?
The interest rate charged on a mortgage depends on the mortgage rate you agree with the lender at origination. The interest rate can either be fixed rate or adjustable rate, and each type of interest has a different amount of interest in each month.
A fixed-rate mortgage has the same monthly mortgage payments for the entire term of the loan, while a variable rate changes as the market interest rates change.
You can check the amount of interest you will pay on a mortgage by looking at the mortgage amortization table. The amortization table breaks the amortized mortgage payments by year or month.
If the amortization table is unavailable, use a mortgage calculator to see the amount of interest you will pay depending on the amount of loan, interest rate, down payment, and the length of the loan.