Should You Consider Suntrust Mortgage?
Suntrust is best suited for the borrower who can deal with technology (if not located in the Southeastern United States) and who meets reasonable standards for credit score (620 – 850), can qualify based on their income and demonstrate down payment and reserve requirements for Suntrust's programs.
You do not have to have the highest credit scores or significant cash down payment for their loans.  Suntrust has a solution for most borrowers, including some that require no cash down and a workaround for jumbo borrowers who cannot meet the reserve requirements.
While Suntrust doesn't have the highest customer satisfaction ratings on the major rating sites, such as J.D. Power and Bankrate.com, they were very responsive to our requests for information.
On Suntrust Secure Website
– Fixed / Variable Mortgage
Reputation - Customer Ratings & Complaints
Suntrust Mortgage Products, Fees, and Conditions
Suntrust has a full complement of mortgage products, offering nine standard mortgage products and three types of specialty mortgages.  Suntrust does not offer loans for people with alternative credit or income that is challenging to document.
Suntrust's fees are between $725 to $2,100, and include processing appraisal and credit report fees. They quote rates with no origination fee, but for certain loans, such as FHA, VA and USDA, there may be an up-front insurance premium or guarantee fee, which are charged by the respective agencies. In addition, there are other closing costs that are not charged by Suntrust and which vary by the location of the property.
Suntrust's turnaround times average 45 days, which may be too long in tight real estate markets, where there are multiple bids for every property and there are multiple offers.
Following is a brief description of the twelve products you can find at Suntrust.
No changes and no surprises with these loans. They are made to agency standards, with the maximum loan $453,100 – $679,750, depending on location of the property.  The minimum credit score is 620.
No changes to the rate or payments for the life of the loan. These loans start with amounts that are $1 higher than the agency conforming limit – at $453,101, up to $769,751, depending on the location of the property.  The maximum jumbo loan is $1,500,000 and a 20% minimum down payment is required.  
Suntrust's jumbo loans also have significant reserve requirements.  This means that, in addition to proving the availability of the down payment and closing costs, the borrower must have six or months of monthly payments (Principal, Interest, Taxes and Insurance) in assets that can be liquidated in an emergency.  The minimum credit score is 720.
These loans are fixed for the first five years and then adjust annually. In other words, these loans have interest rates which are subject to change during their life.  The minimum credit score is 620.
As with the agency loans, there are no changes to the rate or payments. However, these loans are well-suited to those who have limited funds for a down payment or whose credit history is not pristine.  Where most agency loans prefer that you have a 720 credit score, FHA loans allow for 660 or lower and down payments as low as 3.5%.  The maximum loan, depending on the location of the property, is $679,750.  The minimum credit score is 620.
Eligible veterans can obtain 100% financing using their VA eligibility, to a maximum loan of $679,750, depending on the location of the property. No down payment required.  30-year fixed rate loans are the most commonly used VA mortgage program.  The minimum credit score is 620.
These loans are fixed for five years and then adjust annually for the remaining 25 years of the loan. Interest rates are subject to change during the lifetime of the loan.  The maximum loan, based on the location of the property, is $679,750.  For eligible veterans only, up to 100% of the purchase price of value of the property.  The minimum credit score is 620.
Specialty loan programs offered by Suntrust include:
These loans help homebuyers who qualify to purchase a home with a lower down payment, lower interest rates, and reduced mortgage insurance cost. These are available in true conforming (up to $453,100 or in the agency high-balance programs, for which the maximum loan varies by county, with a high of $679,750.  The minimum credit score is usually 640.
Allows qualified buyers purchasing a home in certain rural areas to purchase a home with 100% financing – in other words, no money down. Income limits apply – the borrower has to earn 115% of the US median income or less, to qualify.  Currently, the US median income is approximately $59,000 annually, so 115%, or $67,850, the maximum one can earn to qualify for a USDA loan.  The loan amount may be increased to include the financing of some closing costs if the home appraises higher than the purchase price.  This is the only program in the industry to do so.  The minimum credit score is 620.
Often, these professionals are bogged down in student loan debt.  They earn good money but are challenged to save for a down payment.  Suntrust will make a 100% loan (no down payment) up to $750,000 to these professionals.  The minimum credit score is 720.
A borrower can achieve jumbo loan amounts using Suntrust's Jumbo Loan Solution, a combination 1 + 2
nd
 up to $1,025,500, using a conforming, $453,100 first mortgage and a maximum second mortgage of $572,400.  This avoids the significant reserve requirements and high minimum credit score requirement of jumbo financing
Suntrust Mortgage Pros & Cons
How to Apply For a Mortgage With Suntrust?
Step 1:
Suntrust's website offers a downloadable document that describes all the steps to consider when purchasing a home and getting a home loan to finance it. 
Step 2:
Track down your income documentation, bank statements and other legal documentation that will be needed during the process.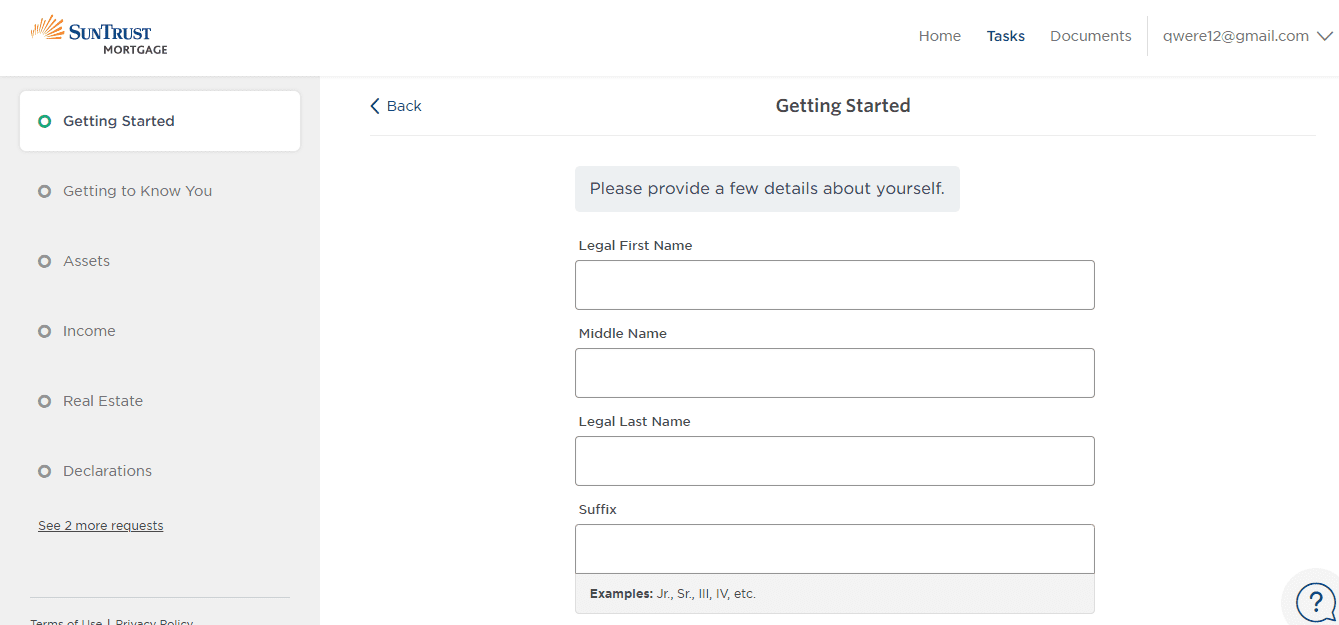 Step 3: 
Start with your salary, self-employment or other income, multiplying it by 29%. The goal is that your total housing expense would not exceed 29% of your gross income.  In fact, the agencies and Suntrust will approve loans with housing expense greater than 29% of your monthly gross income, but that is a good place to start. 
At this point, engage the services of a professional loan officer, who can help guide you through income qualifying.

Step 4: 
It will tell the seller you are serious and will assure the seller that you will be able to close on the agreed terms.
Step 5: 
Most of this work is done by Suntrust, with you supplying documentation as it is requested.
Step 6: 
Your loan goes for final approval and if approved, you will sign the final closing documents and then you close.  
Alternatives Lenders For Consideration
We've summarized some of the most popular mortgage lenders which can use as an alternative to the Suntrust mortgage:
Sofi Mortgage is a solid loan partner for the best loans in the market. The name Sofi is an abbreviation of two words, "Social" and "Finance." The Company specializes in personal finance, and their products are geared towards providing financial empowerment for individuals seeking loans. They require a minimum credit score of 660 and a minimum down payment of 10% for customers seeking to collect a loan. They provide full digital support for clients and do not require private mortgage insurance for jumbo loans.
Some of the loan plans offered by the provider include Jumbo loans, adjustable-rate mortgage, FHA loans, VA loans, cash-out refinance, and fixed mortgages. The initial process to get a loan can be started online, and once the preapproval has been passed, you will be assigned a loan officer who will work you through the loan process.
If you would like a quote for rated and fees, you will need to fill out a form online because Sofi mortgages do not have any available quotes on their website. It has an A rating from the Better Business Bureau, which is a testament to the company's efficiency in delivering on its promise. Sofi Mortgage is a trusted market leader in the lending space.
Also known as Reali Loan, founded in 2011, headquarter in San Francisco and available in 12 states only, Lenda Mortgage is one of the top-notch lenders in the lending industry. The Bank has no physical branch; this implies that all the lending process is done solely online, and the application process is fast. This Bank provides an easy, transparent and free of fees and commission home loans. Reali also provides loans for both investment and residential properties.
Lenda Mortgage offers refinance loan, purchase loan, and fixed-rate loan of 15 years and 30 years. However, at this time, the Bank does not provide the following loans; jumbo loans, adjustable-rate, home improvement loan, home equity loan, or government-backed loans.
To obtain a Lender Mortgage loan, the borrower must have a minimum credit score of 620 and a minimum down payment of 5 %.
Pre-qualification for a loan at Lender Mortgage only takes a few minutes, and this will give an overview of the type of Mortgage you are qualified for. To be pre-approved for a loan, the borrower will need to provide information about their down payment, very important and submit pay stubs.
Overall, Lenda Mortgage has outstanding reviews from customers and was rated A+ by the Better Business Bureau.
Suntrust – About The Lender
Suntrust Bank is a major commercial bank and supplier of mortgages to the US housing market.  It is in the top 20 US banks by total assets and market capitalization and actively participates in the mortgage lending market in all 50 states, through its branch system and online.
Suntrust is a major nationwide lender with a variety of loan options that can meet almost any customer's needs.  Its retail footprint being only in the southeastern United States means that if you want to meet your loan officer face-to-face, you need to live near one of its branches.  However, what it lacks in retail presence, it makes up for in online (online application, chat) and on-the-phone service.   You can apply from your phone, your iPad, any mobile device, as well as your computer and conduct the entire process online.
In addition to home purchases, Suntrust also refinances properties – you can get a "rate and term" (also known as no-cash out) refinance, or you can take equity out of your home with a cash-out refinance, with the exception of Texas, where they don't do refinances in which cash is taken out.