Financial experts, like Peter Schiff, Axel Merk, and Robert Kiyosaki, advocate investing in gold as a store of value and long-term investment.
However, some people might not have enough money at hand to buy gold bullion or coins, or invest in gold via an exchange-traded fund or gold-mining companies. So can one use personal loans to buy gold?
Why Do Using A Personal Loan To Buy Gold?
With most personal loans in the US, you are free to spend the borrowed funds for any purpose. Therefore, you can buy or invest in gold in whatever form you see fit.
The only consideration here is that just like any other financial decision, using a personal loan to buy gold has its advantages and drawbacks, which we will discuss in greater detail below.
There can be several reasons why some people might consider using a personal loan to buy gold. Here are some of those:
Store of value – One of the main reasons gold is popular with some investors is that they perceive it as a dependable store of value. Some people also use it as a hedge against inflation. The fact is that if you spend all of your money on consumer items, they will most likely quickly lose value. However, if you use some or all of the loan money to buy gold, then it can retain some value in the long term.
Portfolio diversification – Some people might invest in gold to diversify their portfolio, instead of focusing all of their investments on stocks, bonds, and real estate.
Liquidity – Generally speaking, gold (especially physical gold) is a liquid asset. If for whatever reason, you decide to sell it, then you can sell it without any complications or lengthy waiting periods.
Here's how the gold price chart looks like in the last 20 years: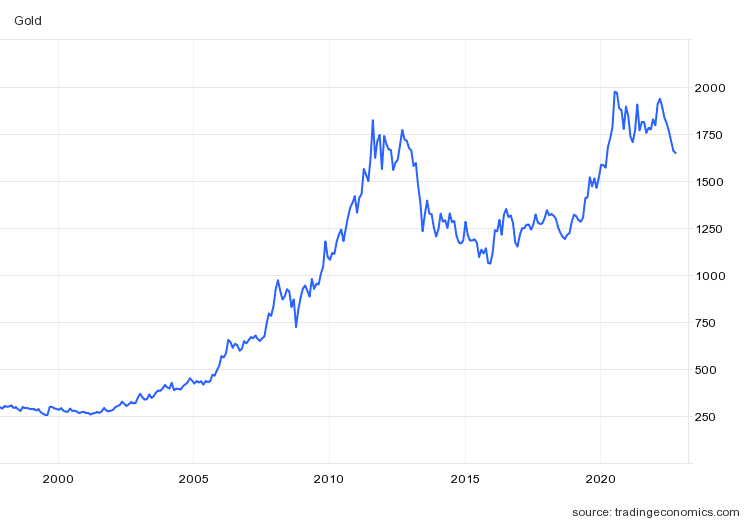 Can You Take A Personal Loan To Purchase Gold?
Generally speaking, there is no specific loan product in a bank issued for purchasing gold. However, you can take out general-purpose personal loans and then use them to invest in gold, whether it will be in physical form, or something else.
Your ability to get a personal loan depends on several factors, such as:
Credit rating
Payment history
Sources of income
Debt to income ratio (DTI)
So if you have the required credit score (at least 550), with solid payment history, a source of regular income, and a lower DTI ratio, then it is likely that you can get approved for a personal loan, which you can use for investing in gold.
Pros and Cons Of Getting A Personal Loan To Buy Gold
There are several advantages and disadvantages to using a personal loan to buy gold. Here are some considerations:
| | |
| --- | --- |
| Hedge Against Crisis & Inflation | |
| | |
Some financial experts compare buying gold to having an insurance policy. Over the centuries, the relative value of gold goods has fluctuated, but it always retains a decent buying power.
Gold is a great hedge against inflation  – gold tends to preserve its value since government can't print gold –  and can't be affected by monetary conditions.
Indeed, gold has always retained some value in the past. However, it is worth keeping in mind that gold price is subject to daily market fluctuations.
For example, if you purchased gold when it was above $1,900, then nowadays your investment has lost 15% of your value. In the future, you might recover from this loss. However, it is helpful to keep in mind that the principal invested in gold is not guaranteed.
Potential returns earned from investing in gold can be considerably lower than the interest rate you have to pay to the bank.
For example, Citibank charges from around 10% to 24% on personal loans, depending on your credit score. So if the gold price rises by 5% in a year, you will still make a net loss of 5% to 19%, depending on the interest rates. The potential losses can be even higher if the gold price falls.
Of course, there is always a possibility that gold prices may rise higher than how the FED interest rates increase, but in this case, the odds might not be in your favor.
Things To Consider When Taking A Personal Loan To Buy Gold
If you think that taking a personal loan to buy gold is the right thing for you, there are some things you might want to consider:
Interest rates – When deciding to invest your borrowed money in gold, it is important to get a relatively low-interest rate. Otherwise, the interest expenses will more than offset any potential gains you can make on gold price appreciation. For example, getting a loan with a 6% to 10% interest rate might be something to consider; however, 15% to 25% loans are hardy worth getting for investment purposes.
Storage fees – Some people are uncomfortable storing their gold at home. This is understandable since there is always some risk of theft, robbery, or fire. Some banks offer to store your gold for you, but different fees are involved. So it is important to check the latest rates before taking out a loan.
Alternative ways to invest in gold – One important thing to keep in mind is that purchasing physical gold is not the only way to invest in gold. So if you do not want to take a risk of keeping gold at home and do not want to pay storage fees, then you can invest in gold ETFs, which are funds that are designed to mirror gold price changes. Alternatively, you might consider investing in gold mining companies, in this case, you can earn some regular income through dividends.