Ally Bank has emerged as a popular choice among individuals seeking competitive interest rates, hassle-free banking, and excellent customer service.
This article serves as a comprehensive guide, walking you through the step-by-step process of opening an Ally Savings Account and shedding light on the requirements you need to know.
In the "Create Accounts" step of the Ally savings account application, you will be prompted to select the account type. Ally offers various types of accounts to suit different needs. The options available for selection include:
Individual: This option allows you to open an account solely in your name, making you the sole owner and account holder.

Joint: Selecting this option enables you to open an account jointly with another person, such as a spouse or a business partner. Both parties have equal ownership and access to the account.

Custodial Account: This option is for those who want to open an account on behalf of a minor. A custodial account allows a designated custodian to manage and oversee the funds until the minor reaches a specified age.
After choosing the desired account type, you will then be presented with different account options within that type, such as Online Savings, Money Market, Certificates of Deposit (CDs), and Interest Checking. Each account type has its unique features and benefits.
Once you have selected the account type and specific account, you will be asked to enter the initial deposit amount. In this case, the default amount shown is $0.00, but you can enter the desired amount to fund your new Ally savings account.
2. Add Your Personal And Emplyment Details
This step in the application process involves providing your personal information and contact details. Here's a breakdown of the data you need to enter:
Name: Enter your legal name as it appears on your official documents.

Birth Date: Provide your date of birth in the specified format.

Social Security: Enter your Social Security number, which is required for identity verification purposes.

Mother's Maiden Name: Enter your mother's maiden name, which is used as an additional security measure.

Occupation: Specify your current occupation or job title.

Employer: Provide the name of your current employer.

Citizenship Status: Indicate your citizenship status, such as U.S. Citizen, Permanent Resident, or Non-U.S. Resident.

Country of Citizenship: Enter the country where you hold citizenship.

Contact Information: Provide your contact details, including your primary email address for communication regarding your account and personal phone number.

Address: Specify your complete street address, including citi, state, zip code and apartment number if applicable.
Next, you'll  provide your consent to receive information electronically. This means that you agree to receive all disclosures, agreements, and other account-related documents in electronic format instead of receiving them through traditional paper mail.
3. Request For Taxpayer Identification And Certification
In simpler terms, this step in the Ally savings account application requires you to declare certain information related to your tax status and citizenship.
By signing this section, you are confirming that the taxpayer identification number you provided is correct or that you are in the process of obtaining one.
You also need to state that you are not subject to backup withholding for specific reasons, such as being exempt from it or not receiving any notice from the IRS regarding backup withholding due to incomplete reporting of interest or dividends.
Additionally, you must affirm that you are a U.S. citizen or a U.S. resident alien and that you are exempt from Foreign Account Tax Compliance Act (FATCA) reporting.
4. Review Terms And Conditions And Submit Application
To ensure transparency and compliance with legal requirements, Ally Bank provides important information about your account through various documents. As part of the application process, you need to acknowledge that you have read and understood the following:
Ally Bank Deposit Agreement: This document outlines the terms and conditions related to deposit accounts, such as savings accounts. It covers important aspects like account ownership, transactions, fees, and liability.

Ally Bank Online Banking Services Agreement: This agreement specifies the terms and conditions for using Ally Bank's online banking services. It covers topics like account access, bill payments, and electronic statements.

Privacy Notice: This document explains how Ally Bank collects, uses, and protects your personal information. It highlights your privacy rights and the steps taken to safeguard your data.
After reviewing it, you can submit your application. Woohoo!
5. Be Ready To Provide Documents
If you receive a notification stating that additional information is needed, don't worry! Here's what you need to know and how to handle it.
Firstly, if you have all the necessary documents readily available, you can upload them directly to complete the verification process. The documents they might ask for are your Social Security Card and one of the following identity verification documents:
Driver's License
State-Issued ID
US Passport/Card
US Military ID Card
Permanent Resident Card
Employment Authorization Card
If you're unable to provide all the necessary documents at the moment, don't worry. You can upload whatever documents you have available and choose the "Upload Later" option.
This will allow you to save your progress and continue with the application process. Alternatively, you can contact Ally Bank at 1-877-247-2559 to get instructions on how to fax or mail your verification documents.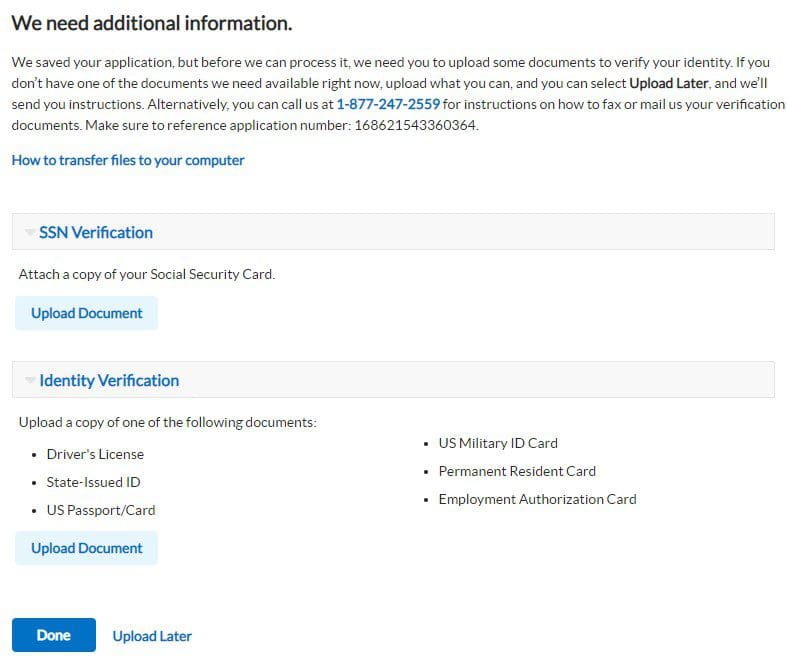 How Can Deposit Funds To My New Savings Account?
Funding your Ally Savings Account is a straightforward process, and there are several convenient methods available. Here's a breakdown of the different options you can choose from:
Transfer from Another Bank or Ally Account: You can easily transfer funds from another bank account or an existing Ally Bank account. This can be done through online banking or by using Ally's mobile app.

Ally eCheck Deposit℠: To deposit checks into your savings account, you can take advantage of Ally eCheck Deposit℠. This feature allows you to conveniently and securely deposit checks using your mobile device. Simply follow the instructions provided within the Ally Bank mobile app to capture an image of the check and submit it for deposit.

Wire Transfer: If you prefer to send money electronically, you have the option to initiate a wire transfer. Contact your bank or financial institution to provide them with the necessary details for the transfer. 

Mail Checks: If you have physical checks that you want to deposit, you can mail them to Ally Bank at the following address: Ally Bank P.O. Box 13625 Philadelphia, PA 19101-3625

Ensure that the checks are properly endorsed on the back with "For Deposit Only" and the signatures of all payees. Please do not send cash through the mail.

Direct Deposit: Setting up direct deposit with your employer is another convenient way to fund your Ally Savings Account. Simply provide your employer with your Ally Bank account details, including the routing number and your account number, and they can arrange for your paychecks to be directly deposited into your account.
It's important to note that Ally Bank does not accept cash deposits.
Yes. As of December 2023, Ally Savings proudly provides customers with a remarkably competitive APY of 4.25%. This APY stands tall compared to the rates offered by other financial institutions, ensuring that your savings can grow competitively with Ally. 
Like other online banks such as Capital One or Amex, Ally Bank stands out by offering a fee-free experience for its customers. This includes no monthly maintenance fees, overdraft item fees, charges for standard or expedited ACH transfers, fees for incoming domestic and international wire transfers, and no charges for official or cashier's checks.
You can reach Ally Bank's customer support team by phone at 1-877-247-2559. They are available 24/7 to assist you with any questions or concerns.