What is Credit Card Travel Insurance?
If you have a travel credit card that offers perks, one of the most common is travel insurance. Many consumers overlook this card benefit simply because they don't appreciate the full potential of this additional coverage.
Credit card travel insurance is almost identical to the regular travel insurance you can arrange through your travel agent. The differences lie in the terms and conditions as they would with any specific policy. Credit card travel insurance typically falls into two policy types; medical coverage and trip protection.
Medical coverage

provides for expenses you incur while traveling that relate to your health. This could be simple: a quick trip to the hospital for stitches to a cut right through to medical evacuation.

Trip protection

provides additional travel insurance. This can include lost luggage, trip cancellation, auto rental collision, and more.
Some credit cards offer both types of coverage, but we'll delve into these insurances in more detail in this article.
How Credit Card Travel Insurance Works
Credit card travel insurance has the potential to cover practically any scenario during your travels. How it works depends on the level of coverage and type of insurance offered with your card. This could include:
Medical: This works as a supplement to existing health insurance, which typically will not cover your costs if you are abroad. You'll be covered for a particular number of days up to a maximum amount and your age may be a factor in your coverage.
Trip Interruption/Cancellation: This coverage reimburses you for a set amount should you need to return home or cancel your trip for a qualifying reason.
Trip/Flight Delay: Should your trip be delayed, typically for a minimum of four hours. You'll be reimbursed for some of the expenses you incur as a result of the delay. For example, if you need to purchase food, drinks or accommodation due to a flight delay, if you keep your receipts, you can claim reimbursement.
Lost or Delayed Baggage: If your luggage has been delayed for at least four hours or it is lost altogether, your insurance will cover any essentials that you need to purchase. There is usually a coverage limit with a maximum amount per claim.
Auto Rental Collision: This is typically a secondary, optional cover when you book a rental car. While you'll still need to have the main coverage in place, you won't need to purchase the additional cover at the rental car counter.
Travel Accident: This provides insurance should you suffer a serious injury when you're traveling. The amounts paid out are based on the circumstances of the accident.
Hotel Burglary: This is a little less common, but it provides protection for your personal items should they be stolen from your room. If you do suffer a burglary, your personal items will be reimbursed.
Cards With Rental Car Insurance

Capital One Venture X Rewards

1X – 10X

10 miles per dollar on hotels and rental cars when booking via Capital One Travel, 5 miles per dollar on flights and 2 miles per dollar on all eligible purchases

1X – 10X

5X total points on air travel and 10X total points on hotels, car rentals when you purchase through Chase Ultimate Rewards®, immediately after earning your $300 annual travel credit. Also, earn 3x points on dining at restaurants and travel (after meeting the $300 travel credit), then 1x points per dollar spent on all other purchases

Marriott Bonvoy Brilliant® American Express® Card

2X – 6X

6 Marriott Bonvoy points for each dollar of eligible purchases at hotels participating in the Marriott Bonvoy™ program, 3 points at Worldwide restaurants and on flights booked directly with airlines and 2 points on all other eligible purchases

The Platinum Card® from American Express

1X – 5X

5X points on up to $500,000 spent on directly-booked airfare and flights and prepaid hotels booked through American Express Travel (per calendar year), 2X points on prepaid car rentals through American Express Travel and 1X points on all other purchases
How to Compare Travel Insurance Plans Between Cards
While credit card travel insurance can provide many benefits, it can feel a little overwhelming if you need to compare the coverage between the cards, especially when you consider more factors when choosing a travel card.
Fortunately, there are some questions to ask that help you decide which program offers the best travel insurance for you.
 The card issuer should provide a copy of the full terms and conditions before you complete the application process. This will allow you to explore the travel coverage levels included with your card.
If you tend to travel with family members, it is a good idea to check whether your partner and any children are covered by your credit card insurance policy.
Typically, credit card insurance covers events affecting your immediate family. So, if your child gets sick before you fly or while you're away, your insurance should cover the costs. However, if you're traveling with more distant relatives or even pets, they are not likely to be covered.
One of the most confusing aspects of travel insurance is knowing what events are and are not covered.
For example, you may be able to use the trip cancellation cover if you are involuntarily made unemployed, but if you voluntarily choose to leave your job, you may not be able to make a claim.
Credit Card Travel Insurance - Limitations You Should Know
Credit card travel insurance can be a convenient option, but there are some limitations that you should know before you decide to use it over a purchased travel insurance policy.
Monetary Limits: The most obvious limitation of your credit card travel insurance is the maximum claim limit. Typically, there are limits on the coverage amount offered by your credit card provider. For example, you may have a maximum claim of $500 for lost baggage if your trip costs under $5,000.
Duration Limits: Likewise, you may be limited to a maximum number of days for your coverage, depending on your insurance package. Some insurance plans also cap the number of trips covered throughout the year. So, if you take multiple trips and travel for an extended period, you'll need to look carefully at whether all of your travel will be covered.
Situational Limitations: As with standard travel insurance, there will also be limits on what situations or events will be covered. For example, most credit card issuers do not offer "cancel for any reason" trip cancellation coverage. So, you'll need to make sure that the specific circumstances meet the acceptable claim conditions.
Pre-existing Medical Conditions: If you or one of your immediate family members has a pre-existing medical condition, it is likely to be excluded from your coverage. This could be as simple as high blood pressure, but if you have cancer or diabetes, you may find the coverage is restricted.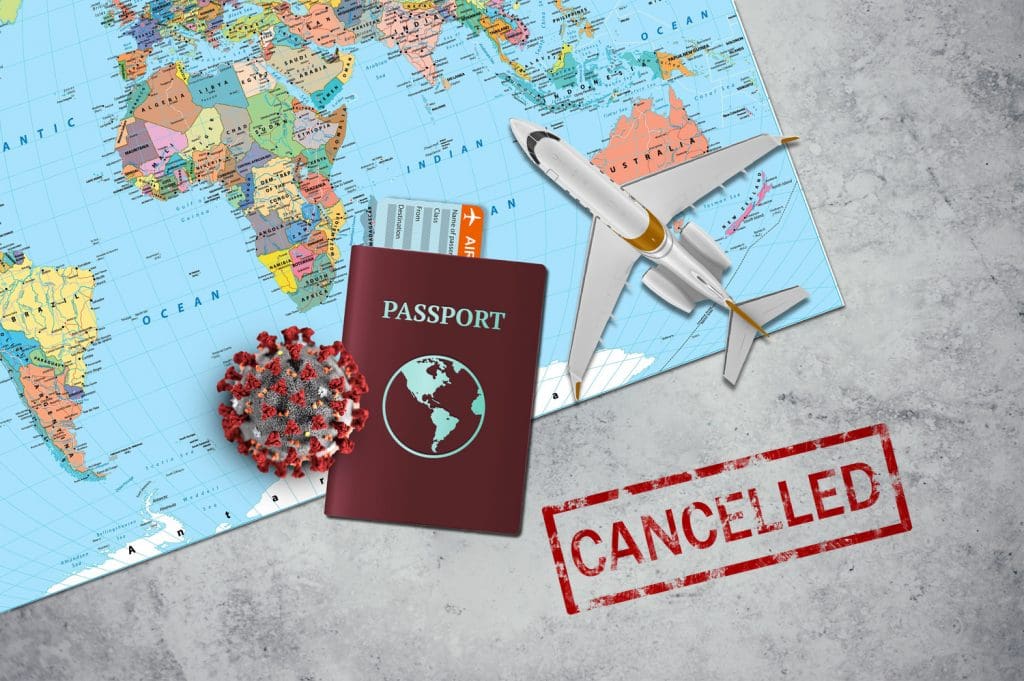 Is it Hard to Get Credit Card For Travel Insurance?
It is not particularly difficult to get credit card travel insurance, you simply need to qualify for an appropriate credit card. The difficulty comes with the terms and conditions, and whether you'll be able to fully utilize the insurance.
For example, you may qualify for a basic credit card, but this may only offer rental car damage waiver insurance. However, if you don't have an excellent credit rating, you are likely to struggle to qualify for a premium card that offers a comprehensive travel insurance package.
So, you will need to weigh your credit card travel insurance requirements with your credit rating and whether you can qualify for cards that offer these coverages.
How to Know If My Card Offers Travel Insurance?
Many of us skim through the card perks when considering applying for a new credit card, but once you have the card, you may forget all the benefits. You will receive a terms and conditions document with your new card detailing all the benefits available with your new credit card. However, if you don't have this paperwork, there are other ways to know if your card offers various travel insurance coverages.
The first thing that you can do is log on to the credit card company's website. You can look at the product page for your specific credit card and find a list of card benefits.
You can also speak to a credit card customer support team member. Most credit card companies have a dedicated customer helpline, and the representative will go through all the insurance benefits offered with your card.
How to Choose the Right Card for Travel Insurance
If you're interested in credit card travel insurance, you need to choose the right card. There are several factors to consider to help you make an informed decision.
Evaluate your needs: The first thing you need to consider is your insurance needs. If you tend to take road trips, flight cancellation insurance will not be of much use to you. So, think about the various travel insurances and what would be included in your ideal package.
Your Credit: Next, you'll need to be realistic about your credit and what cards you can qualify for. The cards offering the most comprehensive travel benefits tend to be premium cards, usually available to those with good to excellent credit. However, some cards offer travel insurance benefits even if you have average or fair credit.
Other Perks & Rewards: credit cards for travel insurance usually come with different rewards and travel perks. Compare travel cards by point/miles rewards rates and other travel perks you can get.
The Annual Fee follows from the previous point, but cards with lots of perks and benefits tend to have the highest annual fees. You'll need to assess the cost vs. benefits of paying a higher annual fee. 
For example, if you frequently travel, having multiple insurances included in your annual fee is likely to be a good value for money. However, if you only travel once per year, the annual fee may not be worth the cost.
How to Maximize your Credit Card Travel Insurance
Credit card travel insurance can be a great perk of your card, but there are ways to maximize the coverage and your card benefits.
Use your card for all travel purchases: If you want to ensure that you can claim for all eligible items, it is a good idea to use your credit card for all your travel purchases. For example, if your flight is delayed and you want to buy food and drink, pay for the items with your credit card. This will create an easy-to-track record of your payment. Of course, you will still need to keep your receipt, but your credit card statement will provide a good record.
Book your travel with your credit card: This is an easy-to-overlook caveat, but many credit card companies will only activate your travel insurance if you book your travel plans with your credit card. So, don't invalidate your potential claim by using another payment method when you book your flights or hotel.
Don't forget about other card perks: While you may be focused on your credit card travel insurance benefits, don't overlook the other card perks. Something as simple as getting reimbursed for in-flight purchases can add even greater value to your card.
What Should You Do If Your Flight is Canceled?
With a few exceptions, your airline is required to cover your basic expenses if your flight is canceled. However, if the cancellation results from bad weather, the airline cannot be held liable.
If this occurs, it is a good idea to phone your credit card helpline, which will explain what type of purchases you can make and the claim maximums. You should also note any reference number the benefits administrator gives you for future reference.
Remember that while you may be covered to stay another night if your flight is canceled, you want to be realistic. Your insurance provider may deny your claim if the purchases are deemed extravagant.
So, don't book a night in the fanciest 5-star hotel! Instead, ask the hotel for an email copy of your room receipt to make it easier to attach to your claim.
What Should You Do If You Lost Your Baggage?
The airlines are legally obligated to compensate you if they lose your baggage. However, if your bags are not at your destination, this doesn't mean that the airline considers them lost. Different airlines have various waiting periods before a bag is declared lost, which can be five to 14 days.
So, if you arrive at your destination, there are some steps you'll need to follow.
Check with the baggage holding office: If your bags have not appeared on the carousel, go to the baggage holding office. Your bags may have been taken there, or they could have details about your bag.
File an airline claim: You'll need to visit the airline's customer service desk and file a claims report. This includes providing contact information so that they can deliver your bag to you if your bag is found.
File your travel insurance claim: Since there is likely to be a delay before you're reunited with your bag or it is declared lost, this is where your credit card insurance can kick in. Your insurance should cover you for any incidentals you need to purchase while you wait for your bags. Your credit card company will detail the claim maximums and any applicable restrictions.
What Should I Do if I Get Sick On My Trip?
Getting sick on vacation is not unusual, but if your symptoms progress to the point where you need to see a doctor, you should first speak to your insurance provider. Your credit card travel insurance should cover medical treatment, but the representative will detail anything you need to do, such as keeping receipts.
If you're overseas, you may need to seek help from the Embassy, particularly if you don't speak the local language. The Embassy staff can also recommend local hospitals and help with contacting family members or arranging transportation.
If you're in the U.S, you'll need to check with your insurance provider to find a doctor in your network in the area. 
What Should You Do If Your Trip is Delayed?
If your trip is delayed, your trip delay/trip interruption insurance will apply. You'll need to know the claim maximums for your coverage, so if you don't have your policy documents with you, you should call the credit card helpline.
Trip delay insurance is designed to cover your basic needs while you're waiting for your journey to continue. This may be something as simple as purchasing food and drink to paying for accommodation.
You'll need to keep your receipts for eligible purchases and your credit card representative should give you a claims reference number which will make it easier to obtain reimbursement later.
Review Travel Credit Cards