One of the perks of a good credit card is access to concierge services. Two of the leading credit card issuers offering concierge service are Chase and Amex.
But, how do they compare? In this article, we'll look at Chase concierge vs Amex concierge in more detail to help you to make an informed decision about which is best for you.
What is a Credit Card Concierge?
If you've ever stayed in a nice hotel, you may have used a concierge to help you to book tickets to a tourist attraction, arrange transportation or even recommend a nice restaurant. This means that you'll have a general idea of how a credit card concierge service could work.
Essentially, by having a certain type of credit card account, you can access a team who can help you to secure tickets, provide recommendations or even help you to shop. Although you could accomplish this yourself by doing some internet research, it takes time and energy.
Generally, credit card concierges are available 24/7, so rather than spending hours searching the internet, you can place a call, explain what you need and allow them to do the work for you. Some concierges even have exclusive connections, so you may be able to access sold out tickets or more exclusive events.
What Does Chase Concierge Offer?
Depending on the specific Chase card, you may have access to one of two Chase concierge services.
1. Chase Basic Concierge Services
The basic concierge services can help you to book restaurant reservations, book event tickets, recommend and arrange delivery of special gifts, recommend local attractions, help access local services or help make travel arrangements including hotel stays and booking flights.
Bear in mind that the concierge agent is not a Chase account services representative, so they cannot help you with any billing issues or reporting a lost card.
Chase cards offering basic concierge services are the Chase Sapphire Preferred® Card and Chase Ink Business Preferred® Credit Card:
Chase Sapphire Preferred® Card

2X – 5X

5x total points on travel purchased through Chase Ultimate Rewards, 3x points on dining and online grocery purchases and 2x on other travel purchases. Plus, earn 1 point per dollar spent on all other purchases

60,000 points

60,000 bonus points after you spend $4,000 on purchases in the first 3 months from account opening

Chase Ink Business Preferred®

1X – 3X

3 points per $1 on the first $150,000 spent on travel and select business categories each account anniversary year, 1 point per $1 on all other purchases

100,000 points

100k bonus points after you spend $15,000 on purchases in the first 3 months from account opening. That's $1,000 cash back or $1,250 toward travel when redeemed through Chase Ultimate Rewards®
2. Chase Premium Concierge Services
If you have a Chase Visa Infinite card, you can enjoy all the same concierge services, but there is a wider variety of options. For example, you may have greater access to reservations at popular restaurants or get tickets for specific events. Additionally, the Infinite concierge is available 24/7.
When you call the concierge agent, you just need to ask your question or query. If it is a straightforward request, the agent may be able to provide an immediate response.
However, if the request is more complicated, they may need to follow up via email or phone. There is no cost to use this service, but any purchases made on your behalf will be billed to your Chase card.
For example, if you use the concierge to book tickets to a concert, there is no additional charge for the service, but the ticket cost will be billed to your credit card. Besides concierge services, you can also enjoy Chase Ultimate Rewards benefits.
Two of the most popular Chase credit cards offered as Visa Infinite cards: the Chase Sapphire Reserve® Card and the United Club Infinite Card .
1X – 10X

5X total points on air travel and 10X total points on hotels, car rentals when you purchase through Chase Ultimate Rewards®, immediately after earning your $300 annual travel credit. Also, earn 3x points on dining at restaurants and travel (after meeting the $300 travel credit), then 1x points per dollar spent on all other purchases

60,000 points

60,000 bonus points after you spend $4,000 on purchases in the first 3 months from account opening

United Club℠ Infinite Card

Up to 4x miles

4x miles on United Airlines purchases, 2x miles on all other travel purchases, dining and eligible delivery services and 1x miles on all other purchases

90,000 miles

80,000 bonus miles after you spend $5,000 on purchases in the first 3 months from account opening
What Does American Express Concierge Offer?
American Express offers Platinum Concierge services for its premium cardholders. It includes The Platinum Card® from American Express, Delta SkyMiles® Platinum American Express Card and the Centurion® Card from American Express.
These services work in a similar way to the Chase concierge, but they tend to have a greater focus on exclusivity. They can assist you with hard-to-get event tickets, reservations, or tours that you may struggle to obtain yourself. They can also help you with gifts such as flowers.
However, where the American Express concierge really excels is with travel plans. The concierge can help you during any travel disruptions and can even act on your behalf to obtain travel refunds that you are owed. Essentially, they can act as a travel assistant.
1X – 5X

5X points on up to $500,000 spent on directly-booked airfare and flights and prepaid hotels booked through American Express Travel (per calendar year), 2X points on prepaid car rentals through American Express Travel and 1X points on all other purchases

80,000 points

80,000 Membership Rewards® points after you spend $8,000 on purchases on your new Card in your first 6 months of Card Membership

Delta SkyMiles® Platinum American Express Card

1X – 3X

3X Miles on Delta purchases and purchases made directly with hotels, 2X Miles at restaurants worldwide including takeout and delivery in the U.S., and at U.S. supermarkets and 1X Miles on all other eligible purchases

50,000 miles

50,000 bonus miles after you spend $3,000 in purchases on your new Card in your first 6 months
How to Get The Concierge Services?
To access the concierge services, you simply need to pick up the phone. The number is listed on the back of your card and on your account paperwork, and the team speaks 13 languages, so you can access help worldwide. As with Chase, the concierge services are free, but you'll be charged for any purchases made using the service. However, any assistance with service related requests is free of charge.
American Express also has some pull due to its reputation. This means that the concierge team can really impress with your requests when you need it. They can coordinate luxury suites in hotels or on cruise ships, arrange destination itineraries and even arrange to have a bottle of nice wine chilling when you arrive.
The concierge can even help you to access a better table at quality restaurants or help you to secure hospital admission if there is a medical crisis. Here is the contact details for Chase and American express:
Which Chase Concierge Services are Unique?
The key unique feature when comparing Chase Concierge with Amex Concierge is accessibility. Unlike American Express, there are two tiers of concierge services available with Chase credit cards, and the tier is determined by your specific credit card, which makes Chase Concierge more accessible.
However, even if you have a basic Chase credit card, you can still access the Chase concierge services. The Standard Visa and Visa Signature Chase cards offer concierge services, but unlike the Infinity Visa cards, the service is not 24/7.
This means that you don't need to have excellent credit or a great financial profile to access the concierge services. Additionally, the available services don't need to be premium. So, even if you just want a recommendation for a nice restaurant when you're in a new city, the Chase concierge can help you.
Which American Express Concierge Services Are Unique?
While you can still obtain assistance with more basic matters, the American Express Concierge Services is an exceptional, premium service. The services are only available to Platinum Amex customers and they tend to be focused on enhancing your travel plans or making your life a little easier.
The concierge team can handle a number of administrative tasks such as dealing with getting a refund for a travel issue or arranging your insurance paperwork if you've needed to arrange medical attention for an emergency or issue.
The Amex concierge team can also help you to take your travel plans to the next level. They can assist you in arranging suites or accommodation, upmarket restaurant reservations or tickets to exclusive events.
This could take your vacation from a nice break to a trip of a lifetime. Of course, you will need to pay for any tickets or services that you book, but the concierge can provide avenues of access that may not be available if you were to try to go it alone.
Chase Visa Infinite vs Chase Visa Signature Cards: What's the Difference?
Visa is one of the largest credit card networks and there are three Visa tiers. In addition to the perks you can receive from Chase, the Visa tier will indicate what other benefits you can enjoy as a cardholder.
Standard Visa cards offer access to basic features such as zero liability security and you can also enjoy concierge services. These features are also available with Visa Signature cards, but there are also additional perks such as trip delay reimbursement, purchase security, airport lounge access and travel accident insurance.
Visa Infinite Cards Offers Premium Concierge Services
However, if you're looking for premium concierge services, you'll need to choose a Visa Infinite card. Infinite is the top Visa tier and it offers all the benefits of the previous tiers, but with 24/7 concierge, VIP lounge access, and access to the Visa Luxury Hotel Collection with VIP status perks.
While not every Visa Infinite credit card offers the same benefit package, the 24/7 concierge seems to be available across the board, particularly with Chase Infinite credit cards. Of course, it is a good idea to check the specifics for each card and evaluate the entire suite of benefits before deciding which card is the best option for you.
What Are The Best Chase Cards for Concierge Services?
While Chase cards generally offer access to concierge services, there are some top picks that offer the best levels of service and perks.
The Chase Sapphire Reserve is another premium credit card that is also part of the Infinite Visa collection, which is a benefit you can't get with the Preferred card.
So, not only can you enjoy 24/7 concierge and other Infinite benefits, but also statement credit as inflight purchase savings, and Priority Pass access with over 1,300 lounges across airports around the world. 
This is an excellent card option for regular or frequent travelers who enjoy traveling in style or want to enhance their travel experiences. Of course, you can accumulate rewards with your purchases, but the main card perks are geared towards making traveling a nicer experience.
United Club℠ Infinite Card
As the name suggests, the United Club Infinite card is a partnership card between Chase and United Airlines. It is an ideal choice for frequent United Airlines flyers who want to access some great perks and benefits. The card has a tiered reward structure weighted towards travel, but you can earn miles on all your card purchases.
The main draws of the card, in addition to 24/7 concierge services access, are up to $100 credit for your Global Entry or TSA Precheck application fees, a one-year complimentary DashPass, 25% off your inflight purchases, and first and second checked bags for both you and a travel companion on United flights, unlike competitor cards such as the Citi® / AAdvantage® Executive World Elite Mastercard®.
However, frequent flyers will also appreciate United Club membership which offers access to lounges in not only United Club locations but also participating Star Alliance partner lounges. This means that you can enjoy light snacks, bar service, free WiFi and a quiet, comfortable place to relax before you board your flight.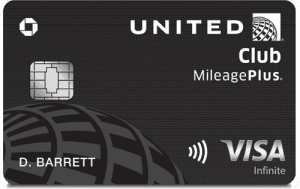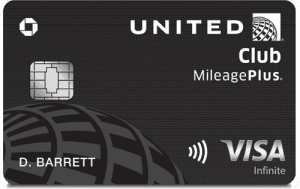 What Are The Best Amex Cards for Concierge Services?
While the Amex concierge services are more exclusive compared to Chase, there are still a couple of top picks that offer the best option.
The Platinum Card® from American Express
The Platinum Card from American Express is a premium card that offers an extensive portfolio of perks with a focus on travel, dining and entertainment. The card has a tiered reward structure weighted towards purchases made using American Express Travel. Compared to the Chase Reserve card, the Amex platinum annual fee is lower.
However, in addition to the American Express Concierge Services, this card also offers access to airport lounges via the American Express Global Lounge Collection, $1,500+ statement credit towards eligible purchases per year and even cell phone protection, which should more than compensate for the annual fee.
American Express Centurion Black Card
The Centurion From American Express is a highly exclusive credit card that is invitation only and consider one of the top Amex cards. It allows you to earn up to one million points per calendar year on eligible purchases with a base reward on any purchases over the spending cap. However, it is the benefits package that really elevates this card.
Firstly, there is complimentary elevation to elite status with several hospitality brands including Hilton Honors Diamond, IHG Platinum Elite and Marriott Bonvoy Gold. There is also Delta SkyMiles Platinum Medallion status, which offers priority check in, enhanced mileage earnings, priority waitlisting and courtesy upgrades.
As with the Platinum card, you can also access the Global Lounge Collection, but there are also exclusive retail benefits and access to shopping services.
Does Chase and Amex Concierge Include Luggage Storage?
This facility will depend on your location and accommodation. However, if you anticipate that you may need luggage storage when you check out of your hotel, it is worth speaking to your credit card concierge.
They may be able to make arrangements with your hotel, so you don't have to worry about it before you book in. However, you may find it more convenient to discuss your luggage storage requirements with the hotel concierge or front desk.
In fact, many hotels promote that they can securely store your luggage after you check out if there is a delay before you make your journey home.